Welcome to Oliver's France!
Peek behind the tourist curtains . . .
It's your new destination, yet one soaked in history, adventure, and magic. From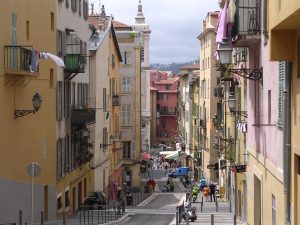 bustling cities to medieval villages, and so much in between, each of France's regions has a unique personality. You'll need to make many trips to explore them all. Oliver's France will help you do that, with guidebooks, blog posts, language resources, and friendly, experienced help from a long term France resident, K. B. Oliver.
I lived in France for 13 years, mostly in Paris and its suburbs, and a year in the French Alps. France has an endless array of wonderful places, experiences, people, cuisine, landscapes . . .  I just love it! And I'm happy to share places I think you'll enjoy, as well as practical pointers to make your travels go smoothly. I'll include insider tips as well, so you can peek behind the tourist curtain and sample the local ways.
You'll read about places you've heard about as well as some new destinations you haven't. When you subscribe to receive posts, don't worry, your inbox won't be flooded. I respect your time and interest, and you'll just get 2 posts per month. They will be worth your time!
I also offer travel books to guide you once you're there. These are not your typical travel books, which drown you in too much information you don't need, and are often confusing to read. Oliver's France travel guides are concise, easy to carry, and easy to navigate. And they all include surprises that only an insider would know. That's what a good travel guide should do, don't you think?
Magical Paris: Over 100 Things to do Across Paris is the ideal book to lead you into any area of Paris like it's your hometown. I wrote Magical Paris like a travel guide I would want to use…clear, lightweight, full of essential facts and off-beaten track ideas. For example, you'll find relevant historical details at just the right moment, not the entire history of France!
Also look for Real French for Travelers, if you want to equip yourself with a few communication skills to better enjoy your trips. It, too, is easy to navigate and understand. Watch for additional resources for learning French. A French Garden: The Loire Valley is a book that offers a rich supply of things to do and see in the Loire Valley . . . and not just castles.  Much more!
I hope you'll join me! I'll do my best to be a helpful tour-guide for your favorite places in France, and those you've never thought about . . . those off-the-track spots you won't read about in any tourist book.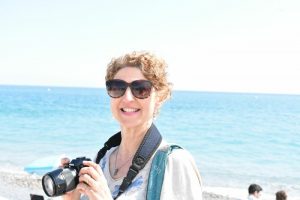 Dive in, discover the magic of France!
P.S. And meet Oliver! Yes, he has been there!