Here are some resources I use and can recommend to you. I hope you find them useful!
Language-Learning
The

Full-length online course

based on Real French for Travelers.  CLICK

HERE

for full information and curriculum for the complete travel French course!
Real French for Travelers Full-Length Course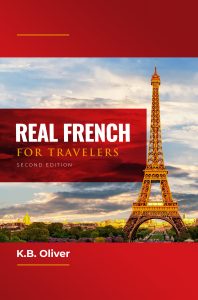 An overview of basic French (from zero!) so you'll be operational on your trip
Travel-oriented vocabulary
Dialogues in realistic travel situations
Downloadable reference sheets
Exercises for mastery with answer keys
Helpful travel tips throughout the course
Starter phrases after each lesson to give you a head-start in French
PDF workbook
Train Travel
The train system is still called SNCF but Ouigo is the current nickname for it. Here's your link for schedules and rates for TGV fast trains. For regional trains, click here.
You can check train itineraries and order tickets up to 3 months in advance. If you're too early, they'll email you as soon as the schedules are posted. See the French Train Savvy post for more.
Hotels
Booking.com I use this company every time I travel. They offer a huge variety of hotels and apartments all over France. They are convenient and competitive. They also have flights, car rental, and other helpful services in a one-stop site. Check out their banner on the sidebar.
Car travel
To calculate tolls, click Here. Calculating tolls is helpful in budgeting for your trip. Along with gas, tolls are significant in France, but you can still save money and have more freedom by renting a car.  See the post Driving in France: What You Need to Know for more helpful facts.
For car rentals, here is the company I use every time I travel to France. I have found them to have lots of choices and to be the most reasonable. They are available in many cities throughout France (and elsewhere, too!) Click on the banner below for more information.


Paris Metro Map and information click HERE  (free)
For excursions and tours, check out Paris City Vision
Note: A few of the resources above are affiliates, which means if you go through this site to use them, I receive a small commission. This costs you nothing extra and helps me keep providing interesting posts about France.)