Alsace is an eastern region of France separated from Germany by the Rhine River. It's a region unique in its own way. Although it is thoroughly French, it bears outward signs of its nearness to Germany. History, also, ties these two countries together.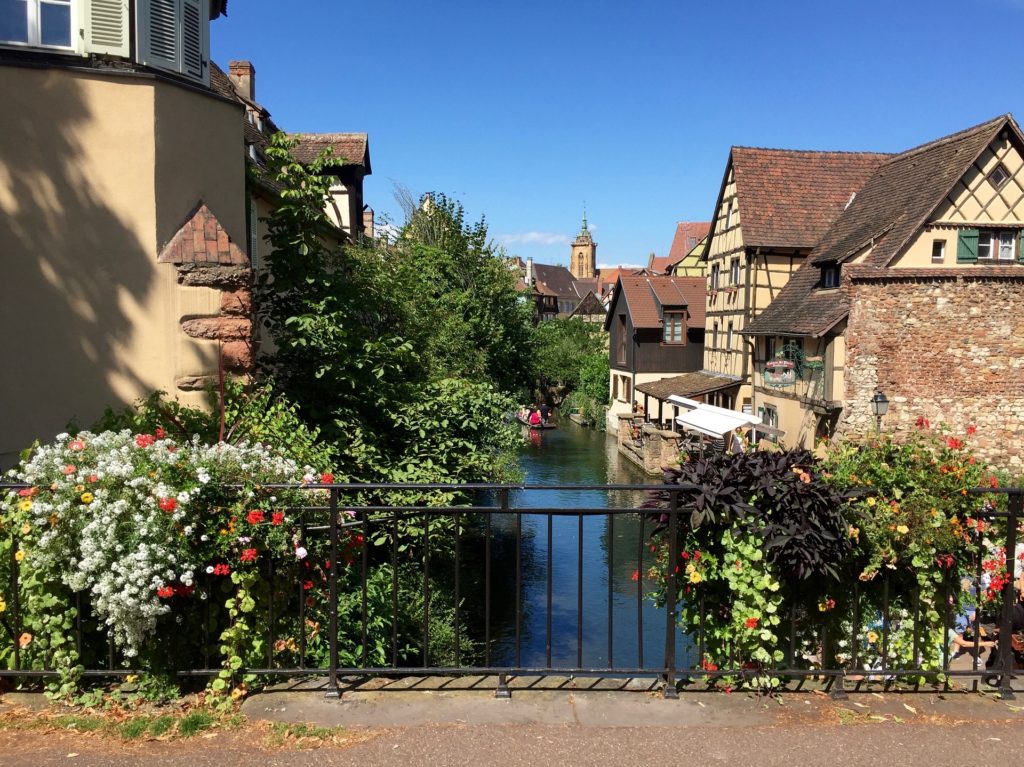 Alsace-Lorraine has been French since the mid-17th century. However, in 1871 it became German during the Franco-Prussian War. In 1918 became French again. 1940 Hitler took it back, but in 1945 it was again restored to France. Between 1871 and 1918 the region had time to soak in German cultural flavors, which it retains to some degree today.
Rolling hills, German-influenced French culture (with its unique Alsatian cuisine, including Flammenkuchen and Choucroute), and wines particular to this region await you. There is much to do here, starting in its major cities, Strasbourg, Nancy, Colmar, and Mulhouse. Many smaller villages and towns worth seeing as well, several of which are on the Wine Route. Alsace also has one of the lowest rainfalls in France.
Alsace Wine Route: The wine route is an itinerary stretching from near Strasbourg down to Mulhouse, with towns and vineyards scattered along the way.  Take in tastings and summer wine festivals. One in late April in Dambach-la-Ville, Guebwiller in late May, and in Andlau in early June. http://www.alsace-wine-route.com/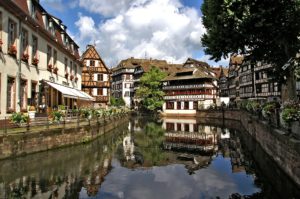 Christmas markets: At Christmas, you are in for a treat, with Christmas markets, villages, exhibitions, light shows, and tours, even a medieval Christmas market in the town of Ribeauville, complete with dancers and strolling musicians. More than 500 events take place at the Christmas season starting on November 25. You'll find markets in many towns of Alsace, including Colmar, Strasburg, Kaysersberg
http://noel.tourisme-alsace.com/en/christmas-events/ and http://noel.tourisme-alsace.com/en
Strasbourg: The European capital is the largest city in Alsace. Cobbled streets and canals line the old town, as do half-timbered houses and shops. Here's a photo of the European Parliament building.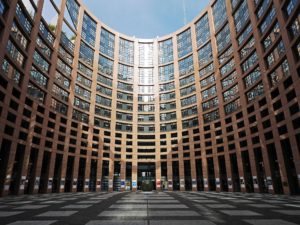 Mulhouse: This city at the southernmost end of Alsace and the Alsatian wine route is known for art and technology, with many technological museums.
Colmar: This town is smaller but some think even more charming than Strasbourg. It is also known as the Alsatian wine capital. You can take a barge to tour the town by the canal in the Petite Venise (Little Venice) area of the city.
The Vosges mountain range: take what's known as the Peak Route, a 45-mile route through the Vosges mountains that permit you to view the lush view, lakes, and forests of the Alsatian Plains and the Black Forest.  Be sure to see the Chateau du Haut Koenigsbourg while you are at it.
Biking: Alsace is a great place to go on a bike tour. It's not mountainous and the rolling hills between beautiful towns provide a peaceful level of effort. For more information, check this website: http://www.cyclinginalsace.com/en/video-cycling-alsace.html You can arrange a tour with a tour company, or do it on your own. Biking itineraries are available online or at tourist info bureaus.
Nancy: A larger city to the west of Strasbourg, you can visit the old town, see the effects of the Art Nouveau movement, and sample the cuisine and the surrounding nature.  http://en.nancy-tourisme.fr/home/
The Protestant "Belt":  Alsace is the region in France that is the
most Protestant. France has a violent and turbulent religious history, and though in general, France resisted the Reformation, it took hold in certain cities, such as Strasbourg, and is still strongly represented today. For more history on this subject see this site:  http://www.museeprotestant.org/en/notice/the-reformation-in-alsace/
On Strasbourg: http://reformation-cities.org/cities/strassburg/?lang=en There are many Protestant churches in Strasbourg that you can visit.
There is much more to see in Alsace than you ever imagined!