Just over an hour south of Paris, France, is a place you might encounter in your dreams, yet you can go there and experience it for yourself. It's the Loire Valley, known as the garden of France, a peaceful paradise of rolling hills covered by vineyards, fairytale castles, and charming, vibrant towns. So much awaits you to discover, eat, drink, and enjoy in the Loire River Valley.   (from the book A French Garden: The Loire Valley.)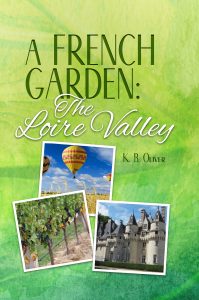 For the last eight months I have been working on a book to guide you joyfully through the Loire Valley, so you won't miss a thing. I hope you'll be as excited as I am to get your copy and discover all you can see and do in this idyllic place along France's longest river.
The last time I went there, I wanted to stay longer. Then when I began writing this book, I definitely wanted to go back . . . many times! There's that much to do!
Such as the city of Tours, right in the center of the Valley. Here's a visual teaser to pique your interest in the Loire Valley.
A French Garden: The Loire Valley offers two hundred pages of tips, overviews, ideas, descriptions, restaurants and hotels, photos . . . everything you need for a trip to the Loire Valley, without everything you don't need. Finally, a travel book that is easy to navigate, breaking the whole Valley into sections. There's even a castle chart so that you can see a number of the most popular Loire Valley castles at a glance. And lots more.
For example, when I thought about what I would want in a guide for the Loire Valley, one thing that came to mind was château-hotels. There's a list of addresses for you so that you can, not just visit castles, but stay in one!
And did you know that the Loire Valley is the second most important wine region in France, after Bordeaux? Did you know that the Loire Valley has over 1,000 castles? And that it is known for mushroom cultivation, hot-air ballooning, and biking? (There's a whole tourist industry built around and for biking.)
There's just too much to tell you about, so I hope you will get yourself a copy of A French Garden: The Loire Valley for your next trip to France.