St. Malo is an intriguing walled city perched on the northwest coast of France. I'd heard of it for years (people pronounced in French like: Samma-low), and I finally had the chance to go. It faces England across the Channel, and sometimes the winds of the Atlantic will make it chilly, even in summer. Still, it is SO worthwhile to visit. It isn't far from Dinan and Dinard, two nearby towns worth seeing. You can hit all 3 on a 5-day trip.
It's construction began in the 12th century. Even today it is surrounded by ramparts that you can stroll on top of for a look down…or below as you wander through the cobbled streets of the old town.
Although St Malo was founded by a Welsh monk, later it became known as a hangout for pirates, or more nicely-said, privateers. These characters worked in cooperation with the government to protect the city and its waters from the English. In its long, colorful history St. Malo has been built and destroyed and built again.
Tragically, it was 80% destroyed during World War II. Much of this was Allied bombing since there was a German presence there. Following the war, the city was rebuilt to nearly precisely what it was before its destruction. Go there today and you can't tell the difference. Houses are granite with gray slate, as they were before the war.
Nearby are two small islands, that can be reached at low tide (and only at low tide!) On one is Fort National and on the other is the tomb of the writer and politician Chateaubriand, born in St Malo in 1768.
Another famous resident of St. Malo was Jacques Cartier, a 15th-century explorer who discovered Canada. The Manoir de Limoëlou is a museum dedicated to his life.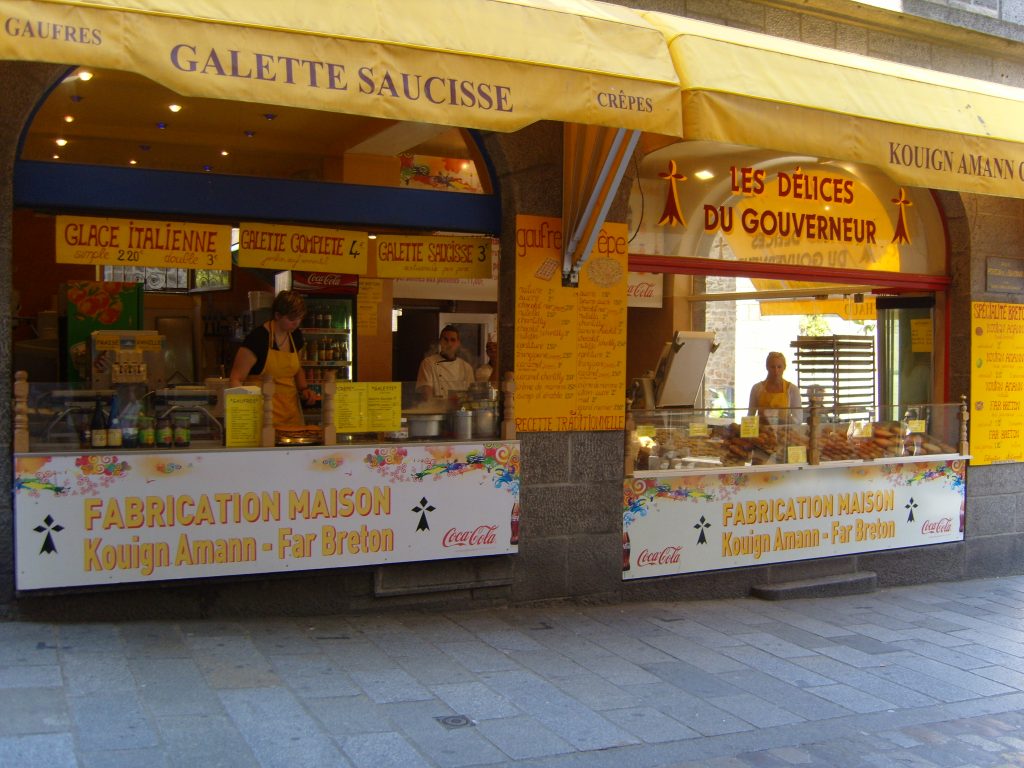 Food Details: It was in this town that I got my first glimpse of Kouign Aman (pronounced Queen-Yamman). I saw a circular pastry and said, "What is that?" I was told Kouign Aman. Of course, I said, "What?" So I had to have some. It's like bread dough with lots of butter, sugar, butter, and more sugar. Don't miss this. Also, don't forget the crêpes, either. They are a must while you are in Brittany, the home of France's authentic crêpes, made from Buckwheat and paper-thin. Have one for a meal, then a dessert crêpe for your sweet tooth afterward. The traditional beverage for crêpes is called cidre, not at all like typical apple cider. It's more like sweet beer and comes in a sweeter variety, doux, and a less sweet, brut.
Some things to see in St. Malo: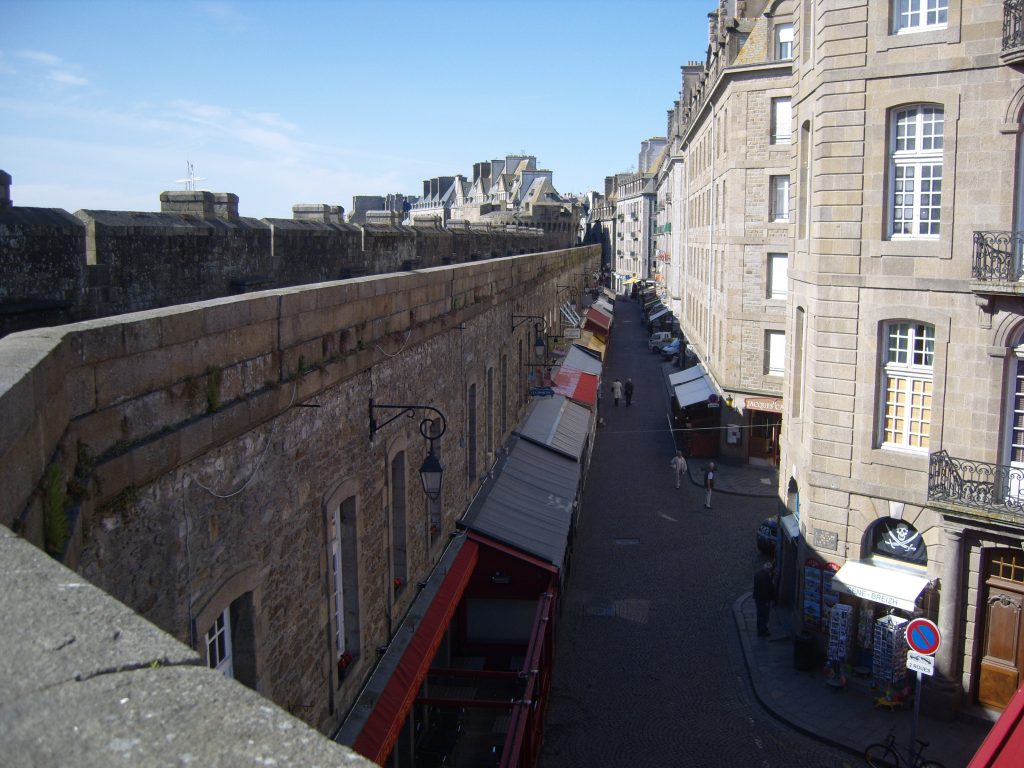 The best of all is wandering the town and walking on top of the ramparts. Eat your way through the city, focusing on crêpes, seafood, and Bretonne pastry. Each region of France has its own signature pastry, and Brittany is no exception.
Fort de la Cité d'Alet: This fort was built in the 18th century and later used by the Germans as a bunker in World War II. Today there is a memorial and some guided visits.
Chateau de St. Malo: from the 15th and 16th centuries. It contains the Musée de St. Malo, a museum of St. Malo history. The lookout tower will give you a stunning view of the city.
Cathédrale St. Vincent: This church was built between the 12th and 18th centuries, but severely damaged during the war. It too had to be rebuilt in parts.
Grand Aquarium: a couple miles south of the city center, has 600 varieties of fish, including a shark tank. Ave. George Patton
Lastly, the city of St. Malo was one of the settings of the recent Pulitzer Prize winning novel, All the light we cannot see by Anthony Doerr.