Wine tours are famously popular in France. But up north there's something besides wine that's drawing foodies and beverage enthusiasts. Apples.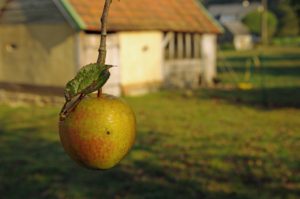 Apples? Normandy is often identified with D-Day landings and World War II history, and rightfully so. But there's a lot more growing and cooking in Normandy. It's true that, though France has many regions famous for wine, Normandy is not one of them. But it IS known for apples and all of the delicious derivatives of this noble fruit.
Why the connection between Normandy and apples? Normandy is France's apple region. There are 800 varieties of apples grown there, and apple orchards have existed since at least the 8th century.
Apples are used to produce three beverages is particular to this region, called  the Pays d'Auge: cidre, Calvados, and Pommeau. Each one has its distinctions, as we'll soon see.
In the heart of this region you can find the 25-mile long Cider Route. This is a tour where your eyes will feast just as much as your palate. In addition to 16 producers of apple spirits, where you can taste freely, the region brims with cathedrals, ancient villages and bustling cities. Lush, pastoral hills are covered with cows and apple orchards, as well as half-timbered houses and hundreds of farms. And don't forget, nearby you'll be able to observe and contemplate the somber history of World War II sites. This area of France is best discovered by car.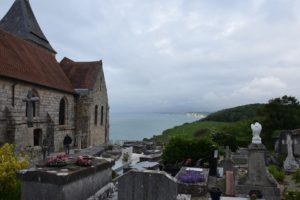 Check this link for a map of the region, as well as other helpful information. The Cider Route is not far from the Normandy coast, below the town of Houlgate. www.calvados-tourisme.co.uk/en/discover/tourist-trails/the-cider-route.php
But this region of France isn't just for its celebrated beverages. The meals are unforgettable as well. Normandy is well-known for all things dairy, and in fact, produces half of France's milk, butter, cheese, and cream. This abundance is reflected in rich, creamy cuisine.
In the cheese category, camembert, Pont l'Eveque, Neufchatel, and Livrot are staples of the region. You'll often find apples as well in Normand recipes. Then with 400 miles of coastland, you won't be surprised to find seafood woven into nearly every menu.
So what are these beverages?
Cidre. Made from apples, this beverage resembles sweet beer in taste more than typical American apple cider. It comes in 2 styles, brut and doux. Brut is less sweet, doux more so. Cidre is often served with crepes, both in Normandy and Brittany. It has low alcohol content, about 3-5%. It is relatively inexpensive.
Calvados can only be made in Normandy, and uses the same process as cognac. Its alcohol content is much higher than cidre, and is aged in oak casks for a minimum of 1 year. It is a digestif, served after a meal. At times it is served in the middle of a multi-course meal to clean the palate, preparing it for the rest. This is known as a "trou Normand", a Normandy hole.
Pommeau. This beverage is an apperitif, made from a mixture of unfermented apple juice and Calvados, then aged in oak barrels. It has an alcohol content of 16-18%. Aside from apple, you'll taste vanilla and honey. A bottle costs between $15-$20.
Apart from tasting apple-inspired spirits and enjoying rich, creamy meals, other things you can do in Normandy include:
Visiting D-Day beaches
World War II museum in Caen
Beachside towns such as Honfleur, Etrétat, and Deauville
Larger towns such as Rouen and Bayeux, with its medieval tapestry.
Tooling around the green, rolling hills, staying in farms that double as bed-and-breakfasts. (check www.logishotels.com/en/ and also
www.chambresdhotes.org/english/Chambres_D_Hotes/Normandy_Chambres_D_Hotes for lodging options)
There are food festivals all year round. Here's a link to find some of them:
http://en.normandie-tourisme.fr/things-to-do/food-and-drink/main-food-festivals-401-2.html