Maybe you've already seen the big sites in Paris and you'd like something a little more out of the way. Something unexpected. Maybe you are tired of crowds but know that there are more unexpected treasures to be found in Paris. Here is a list of 10, though there are many more, that you'll enjoy.
Les Galeries: what are they? These are the first malls in France, dating from the 1850s. Gas lighting was implemented right around that time. These are passageways often with glass roofs, filled with unusual shops and restaurants. Here's a photo to give you an idea. Most of them are in the 1st and 2nd districts of Paris. (see Magical Paris for more listings.)
Les Halles: you'll surely pass through the métro station of Les Halles, but did you know there is a huge underground (and above too) shopping area that has had a big facelift in the last few years? Go to the station Châtelet-les Halles and follow Forum des Halles to find it. It was fun before but now has been completely gentrified.
Place Dauphine: Looking for a quiet place on the Ile de la Cité? Go to the western tip of the larger of the 2 islands in the Seine. Look for a tiny road, called Rue Henri Robert, and you'll be ushered into a quiet space surrounded by small cafés and hotels with a shady square where you might find a game of boules being played.
La Mosquée: Paris has a huge mosque that is beautiful to visit for those of any persuasion. Visit the gardens and view the lovely mosaics for about 3 euros. Then circle around the other side of the building toward the restaurant for a delicious meal of tajine or couscous or a cup of mint tea. Métro line 7 Rue Monge
Les Arènes de Lutèce: This is THE oldest monument in Paris. It is Paris' own Roman arena, complete with ancient seating and animal holding areas. Méro line 7 either Rue Monge or Cardinal Lemoine.
Martin Canal: This place is simply cool, a canal that runs south through Paris and it has 9 locks. You can take a boat ride through the locks. If you don't want to boat (see Canauxrama or look in Magical Paris for more info), at least go look at it as the water fills up or empties out. In the 10th district Métro Gare de l'Est or Château Landon.
Bercy Park and Bercy Village: This is one park that is worth a detour. This is my favorite park in Paris, with 3 sections, two of them floral with fountains and ponds. At one end is Bercy Village, a former wine depot, where barrels of wine were brought from vineyards and stored. Now it's a cool shopping and eating area. Métro line 6 Bercy or 14 St. Emilion.
Parc Floral: I love this place, especially when I want a peaceful afternoon among plants and flowers. One of Paris' botanical gardens. Take line 1 all the way to Château de Vincennes and follow signs to the Parc Floral. The Château de Vincennes will be on your right. The park is free most of the year, though sometimes it's 5 Euros depending on events.
Cimitière de Montparnasse: Lots of people know about Père Lachaise Cemetery. Did you know there's another similar one with more late notables in the Montparnasse neighborhood, 35,000 of them, many artists, philosophers, and statesmen (eg Jean-Paul Sartre, Chaim Soutine, etc.) Métro line 4, Raspail or 13, Gaité.
Musée Marmottan Monet: You may be a Monet fan but not know about this large collection of Monet's paintings, along with impressionists Degas, Sisley, Manet, Renoir, and others. Métro line 9 La Muette.
There's plenty more to see in Paris than you've ever dreamed of!!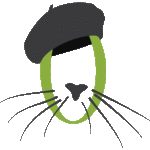 many more ideas in Magical Paris: Over 100 Things to do Across Paris.