Paris A to Z….This post would be much too long if I were to include everything, so I'll unfold a sampling of some known, unknown, quirky, interesting, and wonderful things Paris has to offer. Here you'll find antiques, family-friendly ideas, flea markets, and open markets. I have taken these from my book, Magical Paris: Over 100 Things to do Across Paris. (special categories section)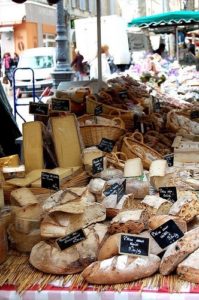 A is for Antiques and Vintage
Marché aux Puces (See listing for Flea Markets, this section);
Passage de la Geôle in the town of Versailles, city center.
Le Louvre des Antiquaires, across from the Louvre Museum,  displays antiques on 3 floors. Address : 2 Place du Palais Royal, 1st district.  Open Tuesday to Sunday, 11 am to 7 pm.  www.louvre-antiquaires.com. Métro line 1, Palais-Royal.
Nearby is the Galeries Delalande, which specializes in nautical, science, and other unusual items. 2 Place du Palais Royal. For a collection of venders in one place, check out Le Villages Saint Paul in the 4th district. Métro line 1, Saint Paul, near the corner of St. Paul and Rue Charlemagne. Tuesday to Sunday 10-12 and 2-6. In the 7th, you have Le Carré Rive Gauche, with high-end antiques from 120 different sources. www.carrerivegauche.com/  Look for blue flags in front of the store.
Le Village Suisse comprises 150 antique vendors on 2 ground floors of 2 apartment buildings. www.villagesuisse.com/en/accueil.htm  Don't forget to check out flea markets (see flea markets in this list, called Marché aux Puces) and auction houses (such as Drouot) as well. Temporary sidewalk sales, called Brocantes, can sometimes include nice vintage items. Look for these events in Pariscope, the weekly publication sold at most kiosks.
F is for Family-Friendly
Jardin des Plantes (see listing in Center section, 5th);
National Maritime museum www.musee-marine.fr
La Vilette expositions and planetarium (19th)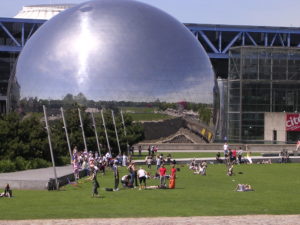 Parc Floral playground area (12th) Take line 1 all the way east to Chateau de Vincennes. Follow signs to Parc Floral by taking the road that runs along the left side of the Chateau.
Paris Plage: between mid-July and mid-August each year the Seine River turns into a beach resort, with tons of sand, potted palm trees, lawn chairs, games, food and fun.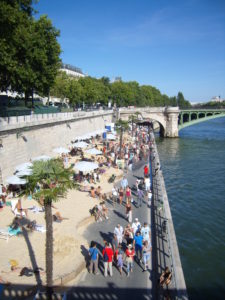 Grevin Wax Museum; along with the typical celebrities you'd expect, there's a special emphasis on notable people in French history. http://www.grevin-paris.com/en
Jardin d'Acclimatation (16th), in the northern part of the Bois de Boulogne. Métro line 1, Sablons. This is a park with something for everyone, especially with kids in mind. http://jardindacclimatation.fr
F is for Flea Market
The 2 main huge flea markets are on the northern edge and the southern edge of the city. Here you'll find everything including antiques, jewelry, silver, knick knacks, art, books, vintage clothing, and furniture.
To the north is Porte St. Ouen:  http://www.marcheauxpuces-saintouen.com/1.aspx. In existence since 1885, it is the 4th most visited site in France, and comprises 15 different markets in one place. There are 1700 vendors, 1400 of whom are antique dealers. The main road is Rue des Rosiers. Hours: Sat 9-18, Sun 10-18, Monday 10-18. Reduced hours in second half of August. Getting there: Take Métro line 4 to Porte de Clignancourt or line 13 to Garibaldi.
A smaller flea market lies to the east, at the Porte de Montreil every Saturday and Sunday from 7 am to 7:30 pm.
Porte de Vanves: On the southwest edge of Paris, in the 14th.  Ave. Marc Sangnier and Georges Lafenestre; every weekend from 7-14. Metro Line 13 Porte de Vanves.  http://pucesdevanve.typepad.com
O is for Open  Markets  (le Marché)
Place Aligre in the 12th; Open Tuesday – Sunday 9-12 reputed to be one of the best and most reasonably priced in Paris. Produce and flowers only. No fish or meats.
Place Monge in the 5th on Sundays (Metro Rue Monge)
Rue Sassure (17th)
The oldest covered market in Paris is Les Enfants Rouge, in the 3rd, small and quaint. M-Sat 8 :30-7 :30 Sunday 8 :30-2 ; 39 Rue de Bretagne, 3rd.
 In the 6th you have Marché Buci; Open daily 9-7 .
Rue Daguerre in the 14th, open daily.
For a whole book on open markets of Paris, check out this web site http://www.marjorierwilliams.com/ written by an American travel writer, Marjorie Williams, who writes frequently about Paris.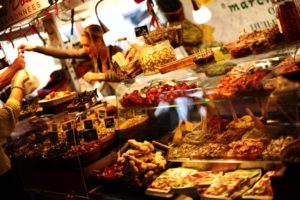 Organic Markets: There are three main organic open markets in Paris, although many if not most markets will have an organic section. Look for a green sign that says BIO. One market is in the 6th, on Boulevard Raspail, Métro Rennes, each Sunday from 8:30 am to 3 pm. Then there is one further northwest, at Batignolle, between the 8th and 17th at Métro Rome or Place de Clichy. Lastly the Brancusi Market in the 14th each Saturday is held at Place Constantin Brancusi, Métro Gaîté (line 13).