It's time for another A to Z skip across Paris, discovering tips and treasures that will enrich your visit. Last time we covered Antiques, Family-Friendly, Flea markets, Open markets, and organic markets. (see blog post Paris A to Z part I)
Today your tour will include:
Best Picnic Spots 1) Gardens at Versailles (free if you don't go into the Chateau or if there's a special water show at the fountains); 2) Parc Floral in Vincennes, Métro Line 1 Chateau de Vincennes. Free except on summer weekends and Wednesdays. Kids amusement area included.3) Quai St Bernard in the 5th overlooks the Seine in a less touristy setting. Open-air artwork. 4) Parc Montsouris (14th) Plenty of green space surrounding a manmade lake. 5) Anywhere along the seine waterfront on either island, Ile de la Cite or Ile de Saint Louis. See Best Parks in Paris parks post for additional ideas.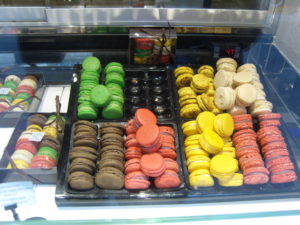 Budget Tips Buy fresh produce at the open market (Marché) ; If you look for hotels in some outlying areas of the city, that is, not in Tourist Central or near the Eiffel Tower, you'll find some better prices. For example, try near Nation in the 12th. There you'll have calm, peaceful streets lined with trees, and one of the biggest transportation hubs right nearby. Or near Chinatown in the 13th, or near Bastille in the 11th. Some hotel options are in the Practical Information section of Magical Paris. Also note the many free activities in the book.
Bus rides worth doing : Bus # 24,29 (Gare St Lazare, Opéra Garnier, Marais & Vosges, Bastille. Side streets),30, 48, 63, 69, 72, 82 Bus information is available at info booths and posted on the walls in Métro stations.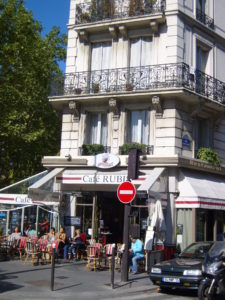 Cafés There are cafes literally everywhere in Paris. Just go in one that has the atmosphere you like the best. Most will offer the same types of drinks and many have food as well. You'll discover many, but here is a link for some of the best cafés, according to the Bonjourparis web site. https://bonjourparis.com/food-and-drink/10-best-cafes-for-specialty-coffee-in-paris/
Cheap lunches Grocery store fixings with baguette, street crêpes, boulangerie "menu", go to the Marché and find the Lebanese or Italian booth with already-cooked delicacies.
As for what goes in the picnic, my recommendation would be a crisp boulangerie baguette (and dessert) filled with cheese, tomatoes, and charcuterie (cold cuts) from either Monoprix or the local marché. If you want to go fancy, though, you can get your fixings from Fauchon or Le Nôtre, world-famous for elegant food and snacks. A patisserie called La Durée is well-known for their multiple flavors of macarons (not to be confused with coconut macaroons, which are totally different). Macarons are light-as-a-feather bite-size treats that look like tiny hamburgers but come in a variety of flavors like chocolate, pistachio, vanilla, as well as less traditional flavors. Find it in the 6th at 21 Rue Bonaparte or in the 8th at 75 Avenue des Champs-Elysées. Pate à choux … what is it ? It is a special light creampuff dough filled with cream. Rue Furstenberg in the 6th.
Gluten-Free Café Pinson, 6 rue de Forez, 3rd (also vegetarian). This web site, Gluten-Free Mom, suggests more options:  http://glutenfreemom.com/travel_gluten_free/paris/#.U9FqLrGtxnh
http://www.parisrental.com/blog/apartment-rental-in-paris/eating-out-in-paris-vegetarian-vegan-and-gluten-free-dining/
Helmut Newcake (bakery) in the 10th; See also Organic and natural food category below.
Jogging  Jardin de Luxembourg 6th, Bois de Vincennes and Lac Daumesnil 12th, Parc Montsouris 14th. You can try the quais along the river banks, but many are cobbled and might cause injury.  Promenade Plantée (also called La Coulée Verte) 12th. This path was established on a railroad that had been abandoned in 1969. 4.5 km (or 2.8 miles) of pedestrian walkways going from Bastille all the way eastward to the Bois de Vincennes.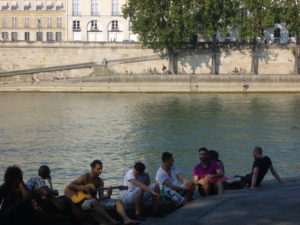 Seasonal Events Paris Plage from mid-July to Mid-August, on the north banks of the 2 islands, fireworks July 14 and New Years Eve on the Champs-Elysées, Nuit Blanche in early October (special shows until late at night), Nuit des Musées (late and free Museum hours, in May). European Heritage Day in France is called the Journée des Patrimoines and is one or two days a year in September. Dates vary, but these are days when certain monuments that are not open to the public (such as the Elysées, the French equivalent to the White House) are open. Other buildings and monuments that normally charge an admission fee are free on this day. See this web site for details.
Terraces and Views Institut du Monde Arab, Tour de Montparnasse (the tallest), Montmartre (in front of the Sacre Coeur Basilica), the Café Moonroof in the 5th at Gare d'Austerlitz will provide a view of the Seine. And of course, the Eiffel Tower and the Arc de Triomphe. For a shorter view, try the terrace atop the Pompidou Center.
These tips are from the book Magical Paris: Over 100 Things to Do Across Paris