And so we continue our promenade through the alphabet of Magical Paris… This is the third in the series of posts adapted from the Special Categories section of the book Magical Paris: Over 100 Things To Do Across Paris. The updated edition of Magical Paris will be available in mid-summer and will include even more…enough for many trips to the enchanted city!
(note: numbers in parentheses refer to the arrondissment or district number)
A is for Art Focus If you love art galleries, you'll find them in Paris. You'll find galleries in the 6th, 20th, Ile de la Cité, and virtually every part of Paris. You can find temporary expositions in the weekly magazine, L'Officiel des Spectacles.
Modern Art:
Head to the Pompidou Center (4th), 4th and 5th floors
Espace Louis Vuitton (8th) 60 rue de Bassane near the Champs-Elysées
Fondation Cartier (6th) 261 Raspail
Home Decor: Viaduc des Arts, 12th, 2 blocks between Bastille and Gare de Lyon in a renovated 19th century railway. The focus here is on home decorating.
Open Air Art: Parc de Belleville summer weekends at upper entrance. Also The Paris Art Market on Sundays. Over 100 artists represented, painters sculptors, photographers, etc. At the foot of the Montparnasse Tower. Métro Montparnasse or Edgar Quinet.
Other Art collections:  J. C. Martinez: Antique prints. 21 rue St. Sulpice www.jean-claude-martinez.fr
B is for Boats Bateau Mouche and Batobus as well as a couple more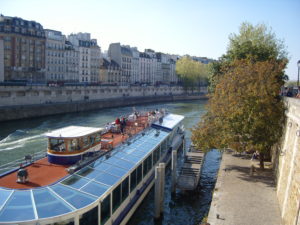 companies will take you on a Seine River cruise for about an hour of tourist commentary in several languages. Some allow you to get on and off (Batobus). There are also dinner cruises available (see Péniche). Canauxrama is a trip through the canals of Paris (including going through the locks). Les Péniches- these are small parked (or moving) boats that have become restaurants, bars, and nightclubs.
C is for Cooking classes www.lcbparis.com  Le Cordon Bleu has cooking classes in English www.cordonbleu.edu. Vaugirard in the 6th district.
Classes in English range from 2 hours to 4 days, or 10 weeks. From 41-1500 Euros. Certificate available.
www.ritzparis.com The Ritz-Escoffier Ecole de Gastronomie Française. Métro Concorde, Opera, Madeleine. Classes in French and English. Starts at 55 Euros (1 hour to 19 weeks)
www.lacuisineparis.com Métro Hotel de Ville. French cooking in French and English. 65 Euros for 2 hours, 95 Euros for 3, and 150 Euros for 4 hours.
You can also find one-time cooking classes that aren't too expensive at department stores such as Printemps.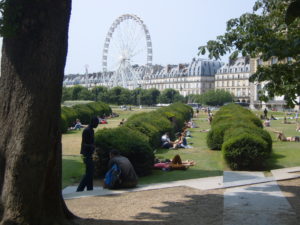 F is for Ferris wheel The Ferris Wheel in the Tuileries Garden near the Louvre is a fixture of the landscape. For information here's a link: www.feteforaine-jardinsdestuileries.com
F is for Fountains and Canal St. Martin Canal (northeast Paris 10th and 19th, Orcq (19th). For a boat ride on this canal or others, consult the company Canauxrama (see Boat listing above).
If you love fountains (and there are SO many in Paris) here's a list in Wikipedia:       http://en.wikipedia.org/wiki/List_of_fountains_in_Paris My personal favorite (so hard to choose) the Medici Fountain in the Parc de Luxembourg.
Another F is for French Classes  If you plan on being in Paris for long enough to learn some French, here are some options for short-term classes.
Alliance Française 01.42.84.90.00 www.alliancefr.org Evening courses (4 hours per week) start at 53 Euros.  General or intensive courses also available. Make reservations at least 6 weeks in advance.
Another option is the Sorbonne, which offers classes all year. www.ccfs-sorbonne.fr Prices and length of courses vary (2 to 12 weeks) check website for current dates, courses, and pricing. The Catholic Institute offers classes as well. Check also my post on French learning opportunities all over France.
N is for Nightlife Entire books could be written about Paris' nightlife.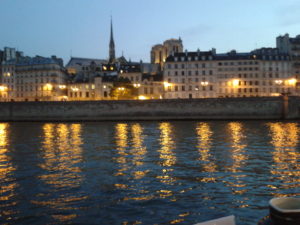 This listing is just a couple of places I learned about recently that look fun, but check the L'Officiel des Spectacles weekly magazine (this is THE "things to do" booklet, available for about 55 centimes at kiosks.)
Rue de Lappe (11th near Bastille), Beaubourg (4th near Pompidou). Check out the Wanderlust, a cool terrace overlooking the Seine at Gare d'Austerlitz. 32 Quai d'Austerlitz. They have goings-on every night of the week, sometimes movies (Mondays, Tuesdays & Fridays), sometimes hip-hop, concerts (music starts at 6 pm), dancing, even fitness activities on Saturday mornings, 13th  Also open for lunch and dinner. www.wanderlustparis.com
Getting there: From the Gare d'Austerlitz, cross the street going towards the river (but don't cross the bridge) and look for an odd-looking lime green building. (Inside there are 3 restaurants, a fashion school, and a couple boutiques.)
Kong Have drinks in this restaurant on the top of the Kenzo store near the Pont Neuf.
Wine bars
Le Rubis  10 Rue du Marché St-Honoré  (1st)
La Garde Robe  41 Rue de l'Arbre Sec (1st)
Au Rendez-Vous des Amis (18th) in Place du Tertre, behind Sacre-Cœur Basilica