If you think French islands, you might think of Guadeloupe or Tahiti. Many French islands can be found in Caribbean or Pacific waters. But did you know there are dozens of islands around the entire coastal outline of mainland France? Two such treasures are Ile de Ré and Ile d'Oléron, both close to the port city of La Rochelle, on France's Atlantic coast.  I'll do a separate post on La Rochelle. For now, we'll think…. Islands.
If you're in the city of La Rochelle, you are very close to Ile de Ré. Just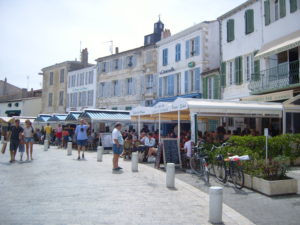 cross a long, beautiful bridge and you are there. There is a steep toll to pay, so don't plan on going back and forth. You won't want to. The best way to enjoy Ile de Ré: by bike. Just go and rent a cottage and bike all around the island. It's calm and peaceful, like a small town (even though the population multiplies by 10 in summer.) Don't worry, though, you won't be bored.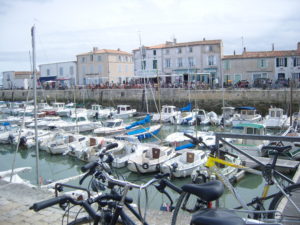 Ile de Ré facts & things to do:
18 miles (30 km) long, about 3 miles (5 km) at its widest point.
Though the island is small it houses 10 villages, connected by narrow roads. You'll want to walk and bike, not drive.
Yes, there are beaches to enjoy, not packed with tourists, but at a nice, easy pace
There are marked trails for walking and cycling.
Main cities are St. Martin (the main port) and La Flotte. These have nightlife, shops, and lots of restaurants.
The old city of St. Martin was fortified in 1681.
Golf, horseback riding, water sports, tennis are all available.
French and international celebrities have been sighted on Ile de Ré.
Though Ile de Ré is known to have as many days of sunshine as the south of France, take sweaters anyway. It can be very cool at night, even in summer.
A lighthouse offers a lovely view of the surrounding area.
You can buy oysters and fresh fish, often caught that day, right on the waterfront. Open markets can supply all the rest you need and more.
You can get from Paris to La Rochelle on the TGV high-speed train in 3 hours.
What I loved: what I loved about Ile de Ré was the small-town atmosphere and being able to bike everywhere. Going to the market to buy fresh seafood, walking along the port city of St. Martin, seeing all the whitewashed houses with green shutters…it was like being in another time period. I'd go back.
note: Ile d'Oléron will be coming next!