Ile d'Oléron
This small island of about 108 square miles off the coast of LaRochelle has had a presence since the 12th century. But like Ile de Re,it has a different rhythm, one that's designed to recharge your batteries.
It, too, is a popular tourist destination, but don't worry, you won't be mobbed by happy tourist crowds. The pace is gentle, and it's all about enjoying yourself. And eating good seafood, of course.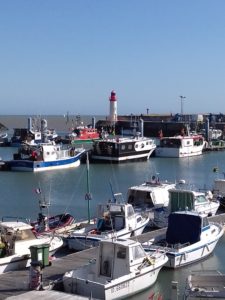 You can get there by car, since there is a bridge from
A few things to know:
You can take boat trips from nearby coastal towns such as St. Denis and LaRochelle
There are 8 tiny communities on the island.
In St, Pierre d'Oléron, the largest town, there is La Cotinière, the 8th largest fishing port in France…seafood haven
Similar rhythm to Ile de Ré (see previous post) where biking is the best mode of transportation as you visit the open markets, beaches, and tour through the streets. And for things to do, don't forget the water sports (sailing, paddleboard, swimming and wave-riding, fishing, to name a few.)
For those who prefer staying on land, there is biking, hiking, and golfing.
Chassiron Lighthouse with its museum and there are several fortifications on the island.
Architecture: village homes to mansions and cathedrals
Nature: There are 2 nature conservation centers that offer tours. You can see an oyster farm, national forests, and marshlands.