When you visit France, there are just some foods you have to eat. It's like getting your passport stamped when you arrive. Some of these you know instinctively. You may make some of these yourself. But you know they aren't the same. They aren't made the same and they don't taste the same as in-country. Treat yourself to French specialties and discover some new ones you didn't know you loved! Eating is part of the experience! (And if you haven't gotten the free e-book yet, "Bon Appetit: Eating and Drinking your Way Across France", you should! Click on the sidebar.)
Crêpes
Crepes originally come from Brittany, but you can find them all over France. The only problem is that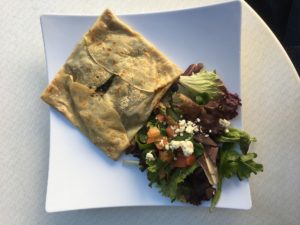 they are not all the same. If you want a quick snack as you walk around, a sidewalk crepe vendor is just fine. but if you want an authentic crepe, go to a creperie. Likely, a specialized restaurant will be run by a Breton (someone from Brittany) and will know what he or she is doing. The Crepe will be crisp yet tender and have an assortment of savory and sweet choices. If you're in Paris, go to the Montparnasse area and look for Rue de Montparnasse (not Boulevard de Montparnasse, which is right nearby), and rue Odessa. Access these most easily at the Edgard Quinet metro stop on the line 6.
Cheese
There are over 300 kinds of cheese in France. It's almost a form of art. Culinary art, at least. Cheese is usually served after a meal and before or instead of dessert. At least once during your stay, get a cheese plate selection after your meal. You must eat cheese with baguette and red wine. Ask your waiter for a good wine to pair with the cheese. When you get the platter, you can usually choose three or so from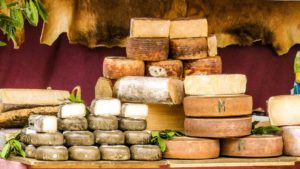 the choices. Try to choose at least one harder cheese and one softer one, along with a goat cheese (which is usually cylindrical, called "chevre".)
Tarte Tatin
This is an upside-down caramelized apple pie that you just have to have. It was created in the Loire Valley by the Tatin sisters. Some say it was originally a mistake. The pie got turned over. At any rate, this pie is a national favorite. If you get the chance to eat some (even if apples are not highest on your list), you won't regret it. You can usually get it with either vanilla ice cream or crème fraîche. My recommendation is crème fraîche, but you could try both at different times and decide for yourself!
Pastries
This is a no-brainer. French pastries are famous, not just because they are lovely to look at, real creations by the masters, but they taste as good as they look. My recommendations are: éclair (chocolate, caramel, coffee flavored), millefeuille (like a Napoleon), Paris-Brest (a crispy pastry with cream filling, shaped like a bicycle wheel and named for the Paris-Brest bicycle race), Opéra (chocolate decadence), croissant au beurre (don't get one that says "ordinaire", which is not made with real butter.)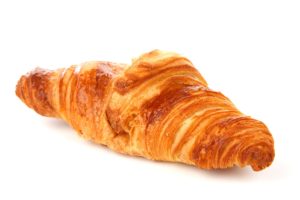 In addition, the tiny tartlettes with raspberry (framboise), blueberry (myrtille), and lemon (citron) are lovely as well.
The classics: Blanquette de veau (a special veal stew well-known in Paris), soupe à l'oignon (yes, they really do have onion soup in France!), coq au vin (chicken with wine), boeuf à la Bourguignon (beef with more wine), mousse au chocolat, and gratin dauphinoise (a potato and cream side dish with garlic and a touch of nutmeg.)
If you're adventurous, you can try the escargots au beurre (with butter, garlic, and parsley) as an appetizer.
For simple lunches, the French have wonderful meal salads, omelets, and the famous Croque Monsieur (like a grilled cheese with cheese and white sauce on top) or a Croque Madame (like the previous, with an egg on top.)
For more tips on finding good food in Paris, check out Magical Paris: Over 100 Things to do Across Paris. Find tips for picnics, markets, and more.