By Cathi Bert-Roussel, guest blogger (Triangle Paws Magazine)
Now it is easier than ever to travel to and throughout France with your dog. With some planning and an understanding of how to navigate your way with a dog in tow, you can have a memorable visit without leaving an important family member at home.  This article presents some tips and tricks on traveling through France with a dog.
Pre-Trip Planning and Travel Documents
Making airline reservations and collecting the required travel documents is fairly straight-forward.  Since airlines limit the number of animals on board, most require customers to call to reserve in-cabin or cargo space for your pet after booking a ticket online.  Personally, I would not recommend traveling with your pet in the cargo hold.  Most airlines that allow pets in cabin charge a nominal rate that can only be paid at the airport during check-in, between $100 and $200 USD.   On travel day, airline agents will confirm you have the correct travel documents and take payment of the pet reservation fee.
The needed travel documents are an EU Annex IV and a health certificate issued by your veterinarian.  The EU Annex IV is a seven-page pet import license that must be completed by your vet and stamped by the USDA APHIS department within 10 days of your departure date.  Prior to entering France, all pets must have a current rabies vaccination and an implanted microchip which is validated by the Annex IV.  The health certificate is an airline requirement certifying your dog is vaccinated against rabies and healthy enough to travel.  The Annex IV form and information on bringing pets to France can be found on the French Embassy website.
The USDA website also provides a wealth of information about traveling abroad with your pet including instructions on how to fill out the Annex IV.
Getting There and Arrival:
Today, more airlines allow pets to travel in-cabin internationally.  They must be in a carrier and stowed under your seat for the duration of the ride.  My dog is on the big side of small, so for his well-being and mine, I try to reserve a window seat with more legroom than the average coach seat.  I also wear a large scarf which multi-tasks as a blanket to cover my dog.  Danny is not an Emotional Support Animal so technically, I am not supposed to take him out of his carrier.  The scarf provides cover if he needs to stretch his legs or wants sleep in my lap.
When you arrive in France and make your way through Immigration, you will wonder when and to whom to show your dog's paperwork.  After multiple flights into Paris, Lyon and Nice I have yet to figure this out.  Other than airline employees, no one has ever asked to see Danny's travel documents.  I've been told by Immigration authorities that Passport Control will only ask to see your Annex IV if they have reason to believe your dog is a threat.  Otherwise, you only need to show your passport and will be waved through.
Pet-Friendly Accommodation
As traveling with pets is on the rise throughout Europe, pet-friendly lodging has become the rule rather than the exception.  However, it's a good idea to call or email to confirm the pet policy before making a reservation.  I have been caught off-guard by a few places which were listed on Bookings.com or Expedia as pet-friendly, only to find out upon arrival that was no longer the case.   As additional insurance, once you confirm the pet policy, tell the proprietor you have a pet when making reservations.
Restaurants & Food Shops
With few exceptions, many restaurants will let you bring your dog in, but it is considered polite to ask at the door first.  Chain restaurants typically never allow dogs, although, I did bring Danny into a McDonalds with no problem in Normandy, so you never know until you ask.  Another pleasant surprise was being able to take him to a Michelin star restaurant in Tournus, famous for their poulet de Bresse.  When I called to make a reservation, I apologetically asked if our dog could join us, assuming I was pushing the limits of possibilities.   Without hesitation, the hostess chirped back "Bien sur, nous aimons les chiens!"  Did Danny get a morsel of poulet Bresse?  You bet he did.
With the exception of restaurants, dogs are not allowed in any food-selling business, including grocery stores, boutique food shops and open-air markets.   But in France rule breakers and exceptions abound, so don't be surprised if you see a dog at your local boulangerie.
Shopping Centers, Department Stores, & Small Shops
Like restaurants, most boutiques will allow dogs to accompany their owners.  But shopping centers are quite different and most have strictly enforced "No Dogs" policies.   Department stores are hit or miss.  Some welcome dogs and some do not.   I have seen elegant Parisian women strolling through Le Printemps and Galeries Lafayette with tiny dogs in their arms, even though dogs are not allowed in these stores.  Other stores like FNAC, Monoprix and Darty will allow small dogs to be hand carried if you politely ask at the entrance.
Public Transportation
Public transportation in France is pet-friendly.  In Paris, leashed dogs and small pets are allowed on the Metro/RER and buses, but must ride in a carrier if small, and muzzled if large.   Small pets may travel for free but large dogs are required to have a child's ticket.  During the many months I rode the Metro all over Paris, I never saw these rules actually enforced.
Dogs may ride SNCF/TGV trains for seven euros each way.  Before boarding, validate (date stamp) your dog's ticket at the yellow Composte machines on the platform.  Failure to do this will result in a fine once on the train.  Canine passengers must be leashed and on the floor during the trip.  Because animals cannot be left unattended and people have to eat, you may bring your pet to the dining car.  SNCF pet tickets can be purchased at one of their many offices throughout France.
Parks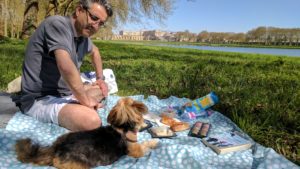 With few exceptions, dogs are not allowed in public parks in most municipalities.  In Paris, only five parks officially allow dogs without limits:  Parc Monceau, Bois de Vincennes, Parc Montsouris, Bois de Boulogne and Parc des Buttes Chaumont.  These pristine, historic parks are wonderful places to wander as each has a very different personality and topography.  You will see many dogs running off-leash with their owners nearby.  Even if you don't speak French, parks provide a great way to meet French people as dog owners love to talk about their pets.  If you know a few French words about your dog's gender, age and breed, you will be fully prepared for any questions you may get.
Other Paris parks which allow dogs but limit them to small areas within are Jardin de Tuileries and Jardin du Luxembourg.  Those spots are difficult to find or located in the worst part of the park.  The city created these spots under pressure from dog owning residents and due to their undesirability, which I suspect was intentional, few dog owners visit these parks with their pooches.
Museums
There is great variability in dog-friendliness of museums across France.  Since there are no uniform rules, all you can do is ask before bringing your dog in.  Except for service animals, canines are not allowed in Paris museums under any circumstances.  ESA's (Emotional Support Animals) are not considered service animals in France.
In Normandy, we had almost no problem bringing our dog into museums at the D-Day sites.  He was usually welcomed with squeals of delight from employees and volunteers.  The exception was at sites operated by the American Battle Monuments Commission (Normandy American Cemetery, Utah Beach, Pointe du Hoc).  The manager at the American Cemetery was so hostile to us because we had a dog, he threatened us with arrest if we set one toe on the grounds.  At Pointe du Hoc, there are signs posted everywhere indicating banned items.  Dogs are at the top of the list.  In contrast to Utah Beach, we could let Danny run off leash on expansive Normandy Beach, which is a fantastic dog-go-crazy zone if your four-legged buddy needs to run off the zoomies.
Bone Voyage
 France is a wonderful place to visit with your dog and well worth the effort pre-trip planning will require.  In most cases, you can take your dog anywhere with you.  And if it seems you can't, try a little French along with politeness, humor and charm.  You and your dog just may find yourself in a Michelin star restaurant enjoying a glass of wine with the chef, who, as it happens has a dog just like yours.
*****************************************************************************
Some Useful Phrases for Navigating France With a Dog
Politeness in Paris (or anywhere in France) goes a long way and opens many doors.  Don't worry If you don't speak French very well or at all.   Below are a several phrases that have helped me.  Always start off every encounter with "Bonjour" and end it with "Merci beaucoup".
Are dogs allowed here? – Les chiens sont-ils permis ici?
May I bring my dog in? –  Puis-je amener mon chien?
May I have water for my dog? – Puis-je avoir de l'eau pour mon chien?
Where is the nearest dog boutique? – Où puis-je trouver une boutique pour chien?
Where is the dog food section? – Où se trouve le rayon des aliments pour des chiens?
Where do I validate my dog's ticket? – Où puis-je composter le billet de mon chien?  (dog SNCF tickets must be validated before boarding)
Author bio:  Author Bio:  Cathi Bert-Roussel is a North Carolina based writer and editor of Triangle Paws Magazine.  She is an avid world traveler with her dog, Danny, who has as many stamps in his passport as his owners.  When not traveling she and Danny sniff out dog-friendly establishments in her home-town of Raleigh.
Oliver's France note: I have moved to France with a cat and the process is very similar (certificates, microchip), though I've never seen a cat in a restaurant! There is no quarantine requirement in France for either cats or dogs.
Another helpful resource for traveling with pets in general is here on the Bookmundi Blog. You'll find more useful tips for your fur kids.