Anytime you go to France, you're likely to be on your feet. Taking comfortable shoes is the first advice you'll get, and good advice it is. Walking tours take your feet and experiences to the next level, as you observe close at hand and learn at the same time.
Self-Guided Tours
You could be led by an experienced guide or take the challenge of a self-guided tour. With this option, you're the leader and you'll figure out how to get where you're going and see what you want to see. You'll find some guided options in the list below.
Guided Tours
A guided tour takes the burden from your shoulders (as you read descriptions and try to figure out where you're going at the same time) and you'll likely learn a ton more since guides are usually equipped with a broad historical background.
Most cities and towns you visit in France will have a tourist bureau, and that's a great source for local walking tours. You'll learn about the history, peculiar and little-known events, and other notable things you'll remember after the trip is over. Many larger towns have tours in English while others are only in French, but provide English audio or brochures to fill in any language gaps.
Guided walking tours will also give you an overview of the city or town, so you can get oriented at the same time. If you schedule your tour early in your trip, it provides a background for everything else you encounter.
When searching for a shorter walking tour, whether an hour, a half or full-day, there is a wide range of pricing and amenities. In Paris, for example, there are one or two-hour tours that are under 20€ per person and other day trips that cost several hundred dollars but may include a meal and transportation. One company, WithLocals.com, offers private tours at very reasonable prices. They have local guides and tours are offered in many cities of Europe and the world. Discover Walks has free and paid tours of Paris. Go to Montmartre, le Marais, and Secret Paris for free.
A Walking Vacation
You can even plan your whole trip around walking or hiking. Enjoy thematic walking tours around what a region is famous for. Examples of this are wine route walking tours in Alsace or around Bordeaux, castle walking tours in the Loire Valley, and cooking walking tours in quite a few places! (You find some suggested links below the post.)
You may want to do a pilgrimage, and combine faith and walking, while you meet like-minded people on the trail. In my observation, most walking tours are quite reasonably priced compared to other tours you might take. And just think, you won't even need to hit the gym after your trip!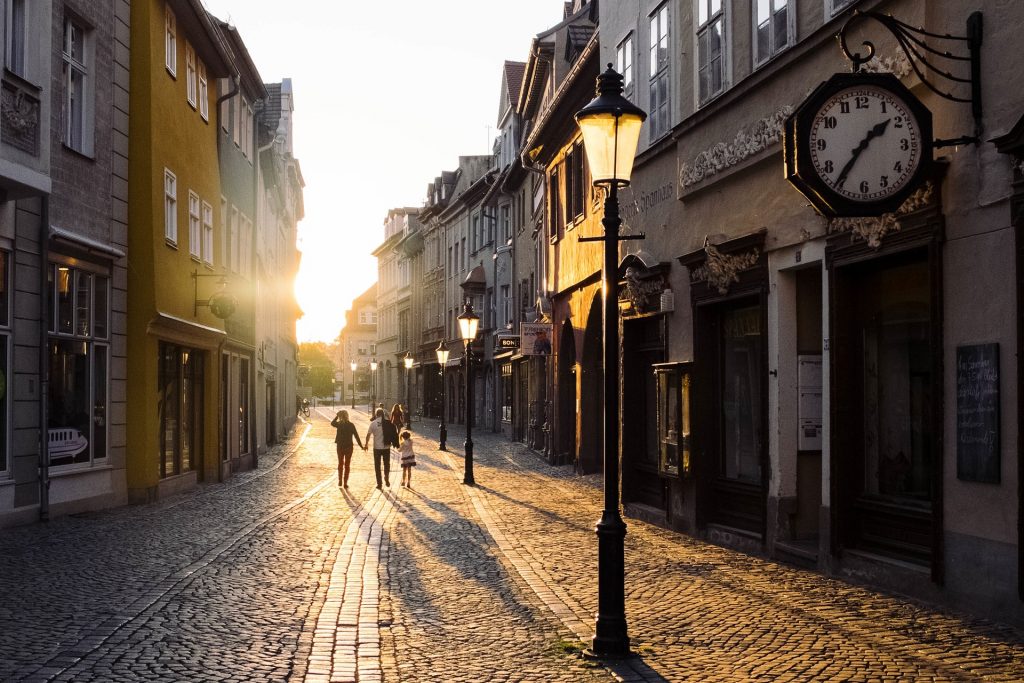 Advantages of walking trips in France
Close-up view of the surrounding area
The people you meet on the tour
Often less expensive than traditional organized tours
Great exercise enabling you to eat more French delicacies!
Questions you may have about walking trips
I'm not in shape for a long walk OR I don't want to walk 20 miles a day! Can I walk a little then ride a van or bike?
Many companies that offer walking tours can custom-create a trip for you and your family. Usually, there's a difficulty level indicated on the proposed tour, and this can pertain to grade (steepness) as well as length. Some companies, for example On Foot Holidays, offer the "full" version of 3-5 ½ hours per day or the "shortened" version of 1 ½ to 3 ½ hours.
What about my luggage? The tour company arranges the transfer of luggage from one hotel to the next. You arrive at your destination and your stuff is already there.
Are meals included? It depends on your package. Some tours are less expensive and only include breakfast. You'll eat other meals in restaurants at your cost. Other tours include two or all meals.
What if I want to ride a bike and walk? Can I do that? Yes, some tour companies have a walking/biking combination, and some even have a barge option if you want to sail down a canal as well. Or you can custom create such a tour yourself!
Is it suitable for whole families? They can be, depending on the members and how difficult the terrain is. You can choose a shortened walking time and mild terrain, or a combination of walking and riding. For very small children, you might want to opt for a half-day tour wherever you are (though that depends on the fitness level of your kids!)
Walking through one of the many stunning regions of France will give you a completely different perspective during your trip. Just one more wonderful and memorable activity you can do in the country with endless beauty and variety!
Here are some Tour companies you can check out (for your info only, not vetted by me, though many have reviews on their site.) Some, such as 10 Adventures and Backroads Travel, specialize in adventure travel including walking tours AND biking tours. 10 Adventures has an impressive variety of tours throughout France. 
Paris Walking Tours (Topical and shorter-length)