Alsace Preview
Since I am still in Alsace, I don't want to do a full post on this adventure just yet. I want to have all my photos organized and give you a better view of this stunning region. I've learned so much, but for now, will just give you some highlights (so far) of what I've enjoyed.
My travels took me at first through Lyon for a couple of days, then on to Alsace. This eastern region was annexed by Germany twice in history but has remained firmly French, albeit with a few German-sounding words and (somewhat) German-tasting sausages. You'll see the difference right away, though. Alsace is distinct. After Colmar, on to Egisheim, Kaysersberg, Riquewihr, and Ribeauvillé, followed by Obernai, and capped off by Strasbourg. So much to share and see. Here are just some high points with more to come.
Beautiful architecture
So many structures in this region have endured over 5 centuries and are still standing, with medieval features, and carvings in half-timbered buildings. Today I walked on a wall from the 14th century and saw several buildings from the 13th century. It makes medieval history come to life! The photo below right is from Obernai, about 30 minutes drive from Strasbourg. Here and elsewhere in Alsace, storks come annually to nest on top of the buildings. There are 4 to 5 adults in this nest plus some little ones.
A few notable examples of medieval architecture from Colmar.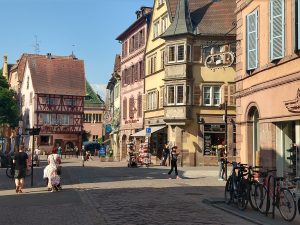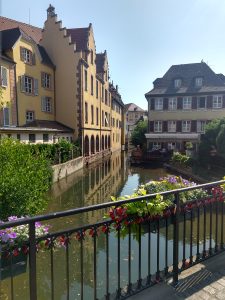 Food in Alsace
The food here is distinct too, and wonderful. There is a heavy emphasis on cheese and sausage. You'll find a special Alsatian "pizza" known in French as tarte flambée and in German as Flammenkuchen (though there are a variety of spellings I've seen!) Another popular favorite is spaetzle (a German noodle) covered in Munster cheese (a strong cheese from Alsace, different from American Munster.) The Tarte is usually topped with a white sauce, cheese, cooked onions, and bacon bits. Variations abound. You can eat the whole thing since the crust is crisp and thin.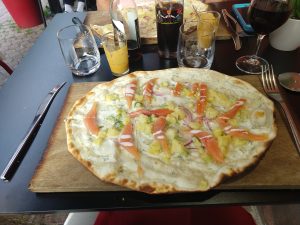 There's a lot to discover, including a whole new category of wine, vin de terroir. That means there are different soils all over the region, and therefore different tastes in the wine. I'll be doing another whole article on Alsatian wines. I think you'll be as fascinated as I was!
So, that's a  brief journey into Alsace. More to come from this wonderful, peaceful region.