Unforgettable Strasbourg
Strasbourg embodies the old Alsatian culture, which is a curious blend of French and German, yet unique, as well as the cutting-edge vitality of a world-class city. It's a city of students, international business, tourism, and culture, Strasbourg is also the site of the European Parliament for the European Union. Though the region of Alsace (now called the Grand Est, or east) contains so many towns, villages, and vineyards, Strasbourg is in a class all its own.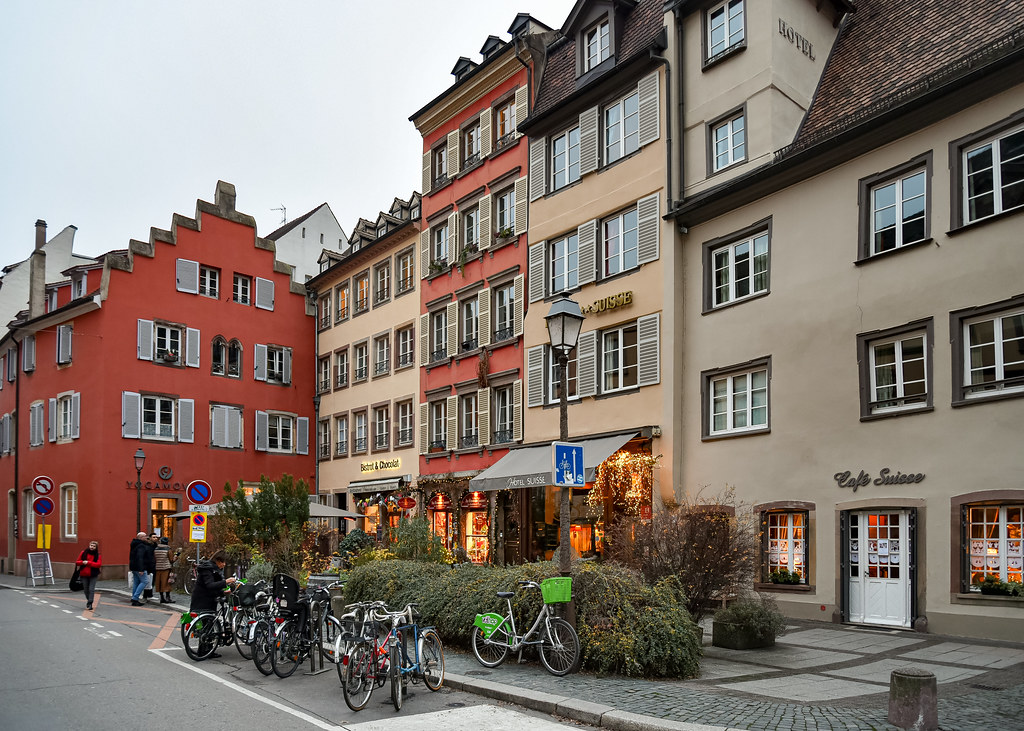 Despite its nearly 300 thousand residents, it maintains remarkable beauty you just want to soak up. Around every corner that magic continues, as you view the half-timbered houses, flowing canals, flower boxes, and cobbled paths in the old part of town.
It's not even off the beaten path from Paris, because you can get there in just over two hours by train. There are 17 trains per day from Paris (15 of these are direct) so you could even make a day trip if you're lacking time. However, once you arrive, you'll regret not having a few days at a minimum.
Historic District
Stroll through the historic district alongside the Grand Ill River and four different canals. This area is called Petite France, filled with architecture from the 16th and 17th centuries. It is also known as the Quartier des Tanneurs, because during the Middle Ages, it was a site used by tanners, fishermen, and millers. This whole area is a UNESCO World Heritage site. Towers visible from this part of the town date from the 14th century and are all that remains of the city wall.
Be sure to locate Grande Ile, the island in the middle of the historic district. Cross bridges, view canals, and capture the beauty in your camera or phone as you walk.
Krutenau District
Southeast of Grande Ile is this lively district full of restaurants, shops, and nightlife. It shares charm with the nearby Grande Ile. You'll enjoy both!
Strasbourg Cathedral
Nearby is Cathedral Square which presents the 11th-century Strasbourg Cathedral in its stunning beauty. It's one
of the tallest churches in the world. After you finish gawking at the outside architecture, you can go inside and
see the astronomical clock from 1547, the 13th-century stained glass, and the ornate interior. The annual Christmas Market takes place in the square in front of the church from late November to late December.
European Parliament
You can visit the Strasbourg European Parliament building as an individual or group during open hours, 9:30 am to 5 pm during the week and 9:30 to 12 and 1:30 pm to 5 on Saturdays. Multimedia guides in 24 languages are available for the visit, which can be reserved ahead or not.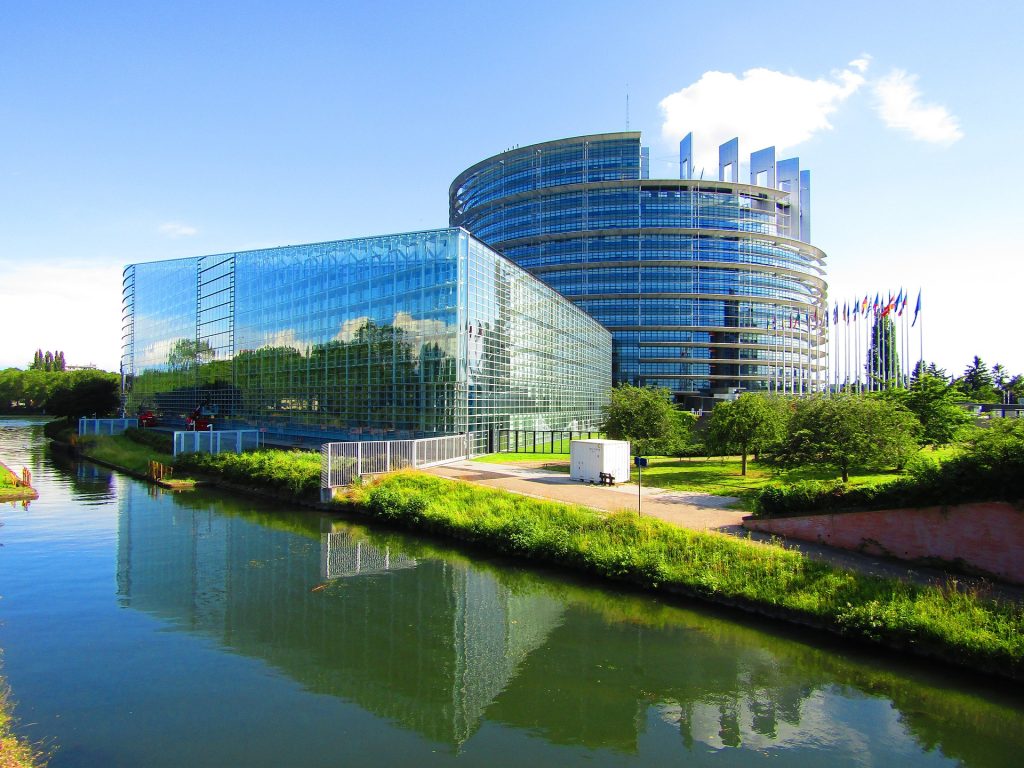 Museums and Arts
Many museums are available for you, offering everything from Alsatian culture to architecture to fine arts and much more (like chocolate and voodoo!) Throughout the year are festivals (including a cool Christmas Market) as well as opera and concerts in many styles.
Food and Drink
Like every corner of France, Strasbourg has its regional specialties of fine Alsatian and classic French cuisine. Some meals not to miss are Tarte flambee and choucroute (sausages and sour kraut), followed by Alsatian white wine, such as Riesling, Gewurtztraminer, and Pinot Gris.
.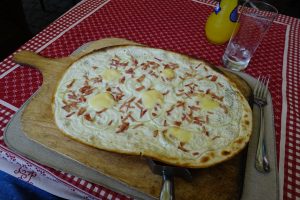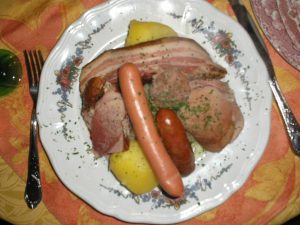 Nearby
While you're in the area, you can visit Colmar (like Strasbourg but smaller and with its own personality!) Keep going for a tour on the Alsatian Wine Route, a series of towns specializing in regional wine. See the Alsace post for more details.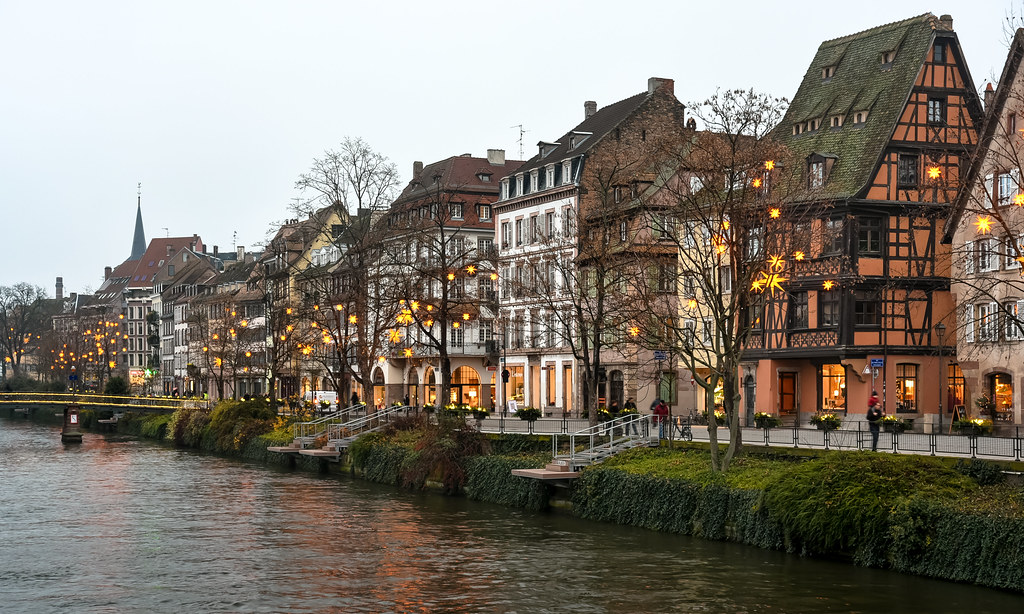 Adorable and memorable villages along the route like Ribeauvillé, Riquewihr, and Kayersberg will round out your Alsatian travels!
Do you like road trips? Here's a New Book full of road trips, including Alsace!
Hit the Road in France: 9 Road Trip Itineraries Across France
Related Posts
French Food Specialties: Normandy and Alsace