Food Specialties Across France: (Part I) Normandy and Alsace
In France, food specialties are tied to the climate and the terrain, both of which are included in the elusive word that has no English equivalent…terroir. Many traditional meals in France, such as tarte aux pommes or coq au vin, have hundreds of versions all over the country, as families have prepared them for generations and passed recipes down.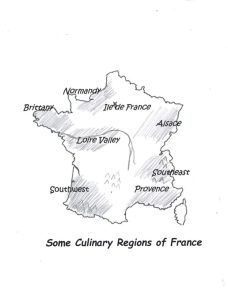 In the next few posts, you'll get a tasty overview of food and drink specialties across France.
Think of French cuisine as using butter in the north and oil in the south. The south uses mostly olive oil, though, in the southwest, walnut oil is favored. Terrain and climate shape everything edible, influenced by the types of animals that graze, the winds that blow, the nearness of the oceans, and the temperature of the sun. Many people associate French cuisine with heavy creams and sauces, but since the 1930s French cuisine has undergone a healthy revolution, and the result is as yummy as ever.
NORMANDY
In the north of France, you find Normandy, facing the English Channel. You won't be surprised that seafood is an important feature of Normandy cuisine. Green pastures cover this primarily agricultural region. Normandy produces 60% of the flax and over 50% of the dairy products for all of France. That is why Normandy dishes make us think of butter and cream.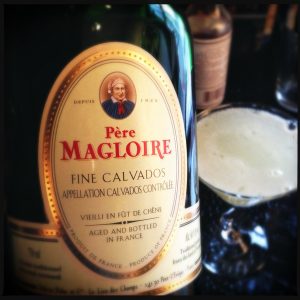 Normandy is also apple country, with 800 different varieties cultivated. Many recipes are prepared with apples, with apple liqueurs, or apple brandy, called Calvados. Seafood.  Normandy seafood includes sole, shellfish, turbot, and herring. In the old days, herring was considered a poor man's dish, although it saved Europe from famine on several occasions. Eel is also popular, as are channel fish and mussels (served with French fries!) Meats.  Many cows graze in the fields of Normandy and supply much of the beef for the country. Tripe is also popular, as is pâté de canard (duck liver pâté) and andouille (a type of sausage.) Cheese.  The best-known cheeses in Normandy are Camembert, Pont l'Evêque, and Livarot, Neufchâtel, Mariolles, Boursin, and Mimolette, resembling cheddar, though the taste is very different. Breads and desserts.  Normandy is the birthplace of the brioche. One distinctive brioche is called coukebootram, made with raisins. Many cookies and cakes contain a lot of butter, and of course, there are many desserts with apples, including apple tarte (tarte aux pommes.) Beverages.  Normandy is not known for wine production. However, many beverages are made from apples. The most famous of these is Calvados, a strong apple brandy. Pommeau is a spirit made with fermented apples mixed with Calvados, and cidre is a type of apple cider with a low alcohol content. Cidre is the traditional drink served with crêpes. A digestive called genièvre is a rare type of gin made from juniper berries and in only 3 distilleries in the north of France. Lastly, coffee is often served with local chicory.
Some classic meals in Normandy
Tripe à la Mode de Caen is tripe braised in cider and Calvados.
Roast pork is often cooked with apples.
Sole Meunière, flour-dredged fish sautéed in butter.
Agneau de Pré-salé: literally, pre-salted lamb. These lambs graze in fields often covered by seawater, so their meat is already slightly salty.
Les sablés (butter cookies), Baked Apples, Crème Brulée, and Mousse au Chocolat. Many Normandy desserts contain a lot of butter and cream. Though the flavors are simple, the desserts can be very rich.
ALSACE
Alsace is a swath of land on the border of Germany changed ownership between France and Germany in the 19th century, once after the Franco-Prussian War and once during WWII. Here you'll see half-timbered houses, blond-haired residents with names like Nussbaumer, and a memorable banquet of special meals and beverages unlike elsewhere in France. Though some cultural features will remind you of Germany, this is not German cuisine or culture, make no mistake! Any Alsatian will hasten to correct you. The cuisine and culture of Alsace are entirely its own. Many classic meals in Alsace will include pork, sauerkraut, and meat. Here are some meals that are well-known in Alsace.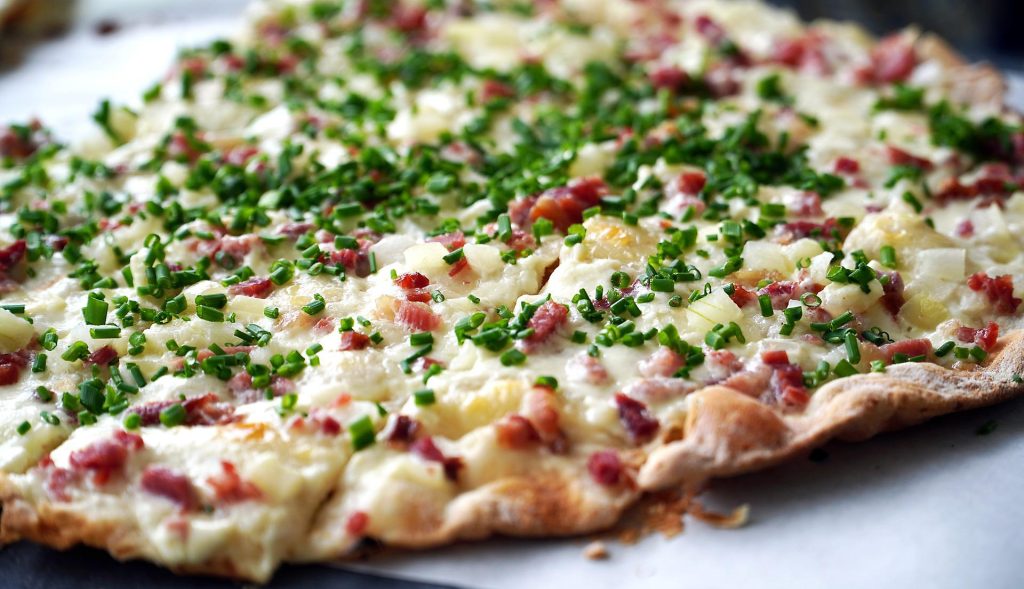 Baeckeoffe is a casserole dish that includes 3 meats (mutton, beef, and pork), as well as potatoes. It is marinated overnight and seasons with leeks, garlic, and parsley.
Choucroute garni is a classic Alsatian dish containing sauerkraut, potatoes, and sausage. Some recipes include apples. The dish is marinated in Alsatian white wine.
Tarte Flambée (photo) is also known in Alsatian as Flammekueche. You can think of it as an Alsatian pizza, but it's more of a delicious flatbread that covers your entire placemat! You won't find tomatoes in this pizza, just cheese, onions, and bacon. There are several variants as well.
One universally-known specialty is Quiche Lorraine, with bacon bits, eggs, and cream. Alsace also has its very own local foie gras.
Desserts. You'll also encounter an appealing array, such as the pretzel or bretzel, as it is called, sold on street corners in Strasbourg or Colmar or in bretzelleries. These can be salty, savory, or sweet. For dessert, try kugelhopf, a type of fruit-filled brioche. Cheese.  The best-known cheese in Alsace is Munster, which comes from the town by the same name.  This strong-tasting soft cheese pairs well with Alsatian Riesling wine. Beverages.  For starters, beer-lovers will enjoy local beer. And there is also plenty to taste for wine enthusiasts. White wines are well-known in Alsace, though Alsatian wines are often undervalued in other countries. They are an undiscovered treasure, in many ways, and the lower price reflects this. Riesling is the most famous type, along with Pinot Gris, Muscat, and Gewürztraminer. In Alsace you can take wine tours on the Route des Vins (Wine Route), visiting lovely villages like Eguisheim, Ribeauvillé, and Kayersberg along the way. That does it for our culinary visit to Normandy and Alsace. Stay tuned for next time when we look at the food specialties of the Burgundy region, the French Alps, and Provence. (You're probably already envisioning red wine, fondue, and black olives!) See you then!