Explore Paris
Finally, you can travel to Paris again! Once you've seen the icons like the Eiffel Tower and Notre Dame, you might just want to wander aimlessly in some memorable neighborhoods of Paris. Here are 5 of them you'll enjoy. Some are better known than others, and all hold interesting sites and photo opportunities. There are more things to see and do than mentioned in each district, or arrondissement, but these will get you started. (Find many more in my book: Magical Paris: Over 100 Things to Do Across Paris.)
Wandering Paris gets you into the real life of the city!
5th Arrondissement   
We'll start here in the area known as the Latin Quarter. There is a ton of things to see and do, but here are a few highlights. You'll likely want to see the riverfront area with the Place Saint Michel, its fountain, and the labyrinth of streets just across Boulevard St. Michel. Here are a few more sites in the 5th you shouldn't overlook.
Rue Mouffetard: Take the metro line 7 to Place Monge. Rue Ortolan will

lead you to Rue Mouffetard, roughly parallel to Rue Monge. It's a lively street with restaurants and cafés and plenty of energy. Feeding into Rue Mouffetard is Rue Pot de Fer, a narrow pedestrian road lined with restaurants.
In the 5th, you'll also see the Mosquée de Paris, the largest mosque in the city. Observe beautiful architecture and even take a tour, if you like (prayer rooms excluded.) On the other side is a wonderful restaurant with tajine and other middle eastern specialties.
As you head east, visit the Jardin des Plantes, with 11 individual gardens and 3 natural history museums inside. If you just want to stroll through the main garden, enjoy the beauty for free before continuing to the Quai Saint Bernard, a peaceful river walk in a less touristy part of the city.
3rd Arrondissement
Le Marché des Enfants Rouges on Rue de Bretagne: the oldest covered market in Paris, with produce to buy as well as restaurants inside.
In this neighborhood, you'll find 2 museums you'll love: the renovated Picasso museum on 5 rue Thorigny as well as the Musée des Arts et Métiers, a museum of industry and progress established in 1794. It has samples of many inventions over the centuries.
Place de la République had a facelift a few years ago, and now is an open square to enjoy people-watching. It's a center of the area, joining the 10th, 11th, and 3rd
11th arrondissement
The undisputed center of this area is Place de la Bastille. If you seek activity and excitement, this is your place. No fewer than 8 roads converge in this spot, in which the center is a tall statue with a golden-winged being on top. In addition to shops and restaurants, nearby is the Marais neighborhood, which you don't want to miss.
Near the metro Ledru Rollin, walk a few blocks east and turn right on Rue d'Aligre, which extends into the 12th You'll run into a lively open market with some of the best produce prices in the city. It's open daily, except for Mondays.
Port de l'Arsenal: I'm not sure if travel books (aside from mine) talk about this peaceful place, but it's a great spot to stroll and relax along the canal. Find it on the south edge of the Place de la Bastille.
20th arrondissement
The last district to be annexed to the city of Paris, this area is known for wonderfully quirky places such as the Belleville neighborhood, home to many ethnicities and the largest artist community in Europe. Rue de Belleville straddles the 19th and 20th districts. Take metro line 2 or 9 to Belleville and go east. (Note: take Rue, not Boulevard Belleville, which goes south.)
Père Lachaise Cemetery: Undoubtedly the best-known cemetery in Paris for its notable residents, including Chopin, Jim Morrison, Oscar Wilde, and Edith Piaf. Take metro line 2 to Père Lachaise.
9th arrondissement
The most popular spot to visit here is the Opéra Garnier, on the bottom edge of this district. It was built between 1861 and 1875 and can hold 2,000 people. Come see the ornate architecture and paintings by Marc Chagall on the ceiling.
Nearby the Opera are Paris' big department stores, Printemps and Galeries Lafayette, along with hundreds of other shopping opportunities nearby.
Near the center of the district is a pleasant square with trendy restaurants and

shops, Place St. George, near metro Pigalle. It's a lot quieter there than the shopping district of the 9th! Nearby is Notre Dame de Lorette, a church where both Claude Monet and Georges Bizet were baptized. The architecture of the church is lovely as well.
These samples of various Paris neighborhoods may be new to you, and I hope they inspire you to get off the beaten track, even in a city like Paris!
There are so many more things to do and see in Paris. You'll find them (over 100 of them!) in my book, Magical Paris.
Welcome back to Paris!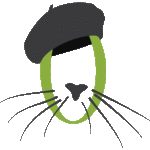 Related Posts
20 Surprising Facts about Paris
Especially Paris (Photo Gallery)
10 Non-Touristy Things to do in Paris
3rd