Dijon and Bordeaux
In July 2022, I went to France for the first time in 3 years. Despite the heat wave, it was good to be on French soil, my second hometown! This post features visits to Dijon and Bordeaux.
Two years ago, when Covid canceled everyone's plans including mine, I'd planned to fly into Lyon and out of Paris. This year, I wanted to follow the same itinerary but was unable to leave from Paris, since there were no seats on the dates I needed to return. (I usually fly on points and these seats are limited, so need to be reserved extra early!) Aside from Paris, I made visits to Dijon and Bordeaux. I have detailed posts on both cities (look for More than Mustard & More than Wine, click or linked below) so I'll give you some new highlights and photos!
Highlights from Dijon
Dijon was as charming as I'd heard, with numerous pedestrian shopping streets, half-timbered buildings, and restaurants featuring regional specialties such as risotto with escargot and mushrooms. And Burgundy wine!
There is a lot more to attract people to this mid-sized town than centuries-old mustard fabrication. I did see the famous Fallot house of mustard (and took a photo of their cute mustard vending machine and sample jars with 8 flavors, including white wine, tarragon, truffle, basil, walnut, and Dijon currant.) The Fallot family has a factory you can visit in nearby Beaune, but Dijon has a storefront where you can shop for mustards. They're great as souvenirs (or gifts) if you don't have a chance to do the factory tour. During my visit, I heard about a shortage of mustard seed crops but was still able to buy several varieties.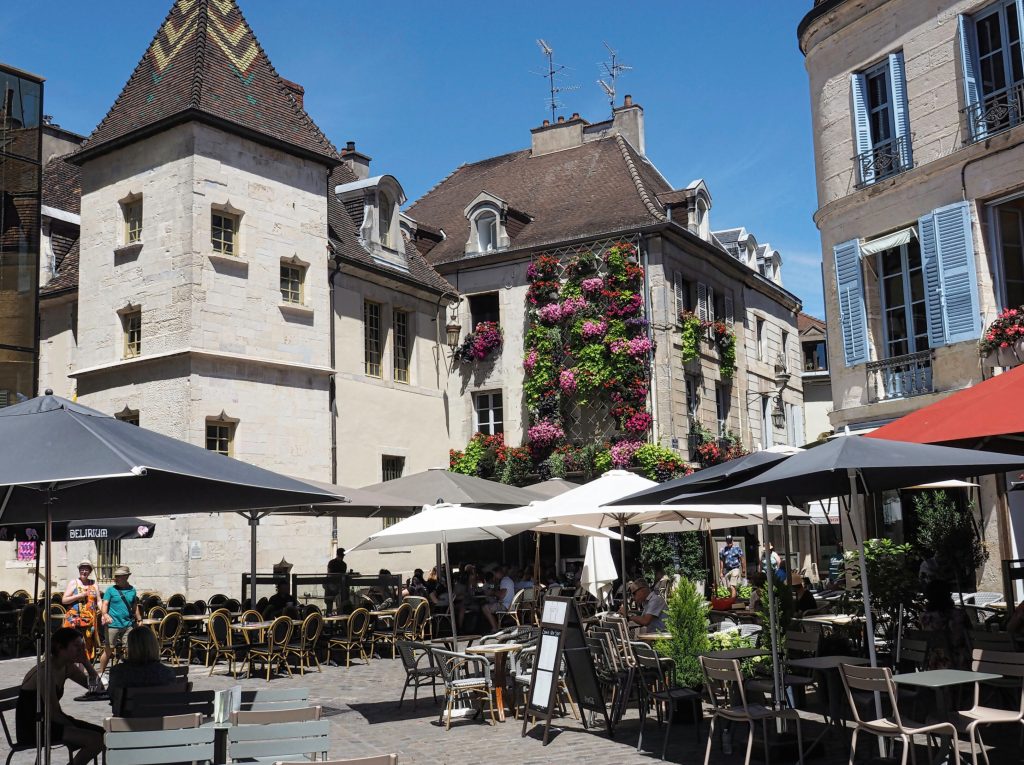 Dijon is a mecca of gastronomy as well. You'll eat well there, and the cuisine is known all over France and the world. Another fun specialty aside from mustard is pain d'épice or spice bread. Think of gingerbread, though it's less sweet and drier, making it ideal for breakfast. It's been made in Dijon since the 14th century. One store where you can find it, Mulot & Petitjean, was founded in 1796. It's the oldest gingerbread factory in Dijon.
Dijon is the capital of the Burgundy region, an important area for wine. See the More than Mustard post for links to wine tours in the area. There was an annual wine festival the weekend I was there (mid-July, for your future planning!)
All around the town were small triangular plaques on the sidewalks with a cute owl inscribed on them. The idea is to follow the owls until you reach a large one of wood carved into the chapel wall of the Notre Dame Church. The owl carving dates from the 15th century and some say it is a symbol of wisdom. Today, a tourist can get a good walking tour of the Old Town by following the owls until they reach the church. Once there, legend has it that by stroking the owl with your left hand, you'll receive a wish. Many have tried, as the worn surface of the owl shows!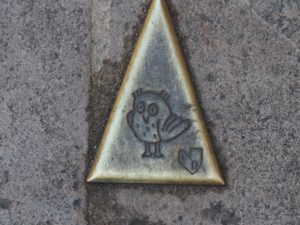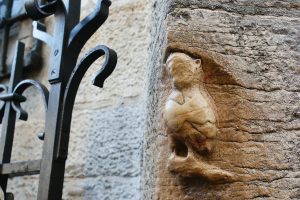 Highlights of Bordeaux
Though I like red wine, it wasn't the main reason I went to Bordeaux. I knew I'd love it, and I did! Still, the wine culture is very interesting, and I was able to taste a few varieties and take a tour.
You can read my post on Bordeaux (called "More than Wine") to get more information about things to do and the history of the town. Like Dijon, there are many pedestrian streets and interesting neighborhoods in all areas, though Bordeaux is much larger (the 5th largest city in France, but very walkable!)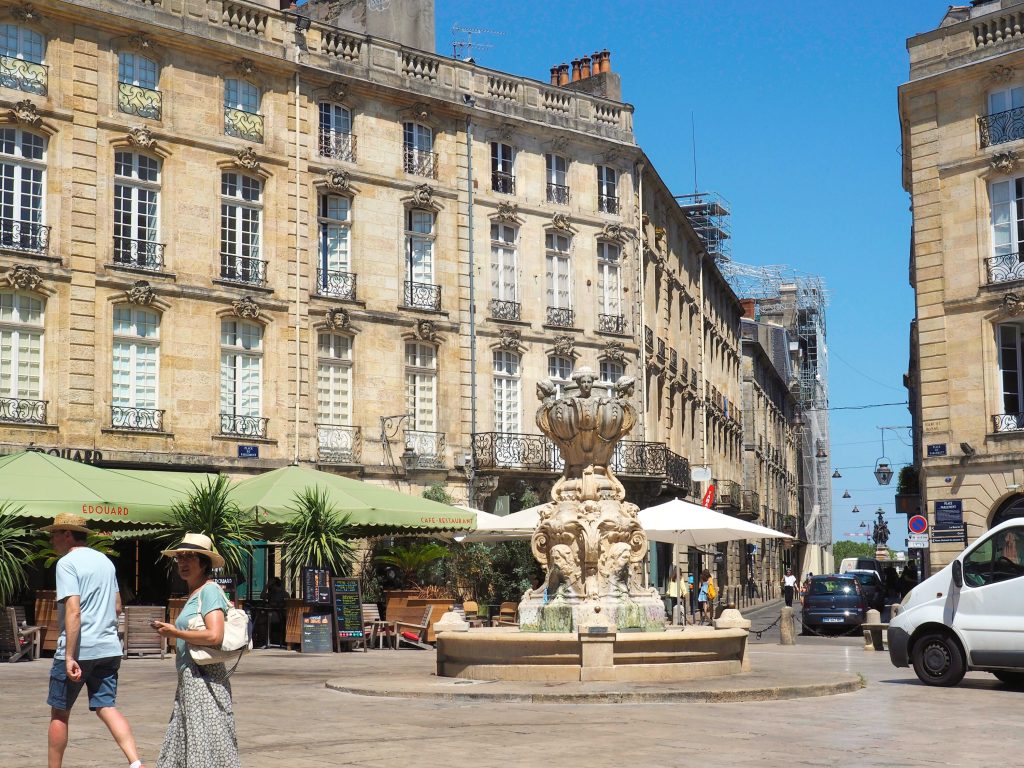 The tram is a convenient way to get around and easy to use. You can get a tram from the train station to the center of the old town, a street called Esplanade des Quinconces. Nearby is the Monument aux Girondins, with fabulous sculptures of furious-looking horses (reminiscent of the fountain in central Lyon.)
A major destination for wine education is the Cité du Vin, an odd-looking museum with several floors. Learn how climates and soil affect the taste of wine. Along with information on the history, trends, and fabrication of wine, there are tasting opportunities, a glass elevator, restaurants, and a boutique. Another wine museum is called the Musée du Vin et du Négoce. It's smaller, but also includes tastings and history. Another fun place is the Bar à Vin, for tastings in a lovely setting apart from museums. It's located near the tourist bureau.
There are tons of things to do in Bordeaux aside from wine education and tasting. You can rent a bike, take river tours, visit one of several art and history museums (a natural history museum resides inside the impressive parc by the humble name Parc Publique.) There are light shows, cathedrals, monuments (300 of them), and the lovely Haussmanian architecture you'll see on wide avenues of Paris. This is no coincidence since they were designed by Baron Haussmann, a Bordeaux native.
One of the most impressive monuments is the Bourse (stock exchange), a semi-circular building facing the Garonne River. In front of the Place de la Bourse sits the largest reflecting pool in Europe. See people walking through it as if they're walking right on the water!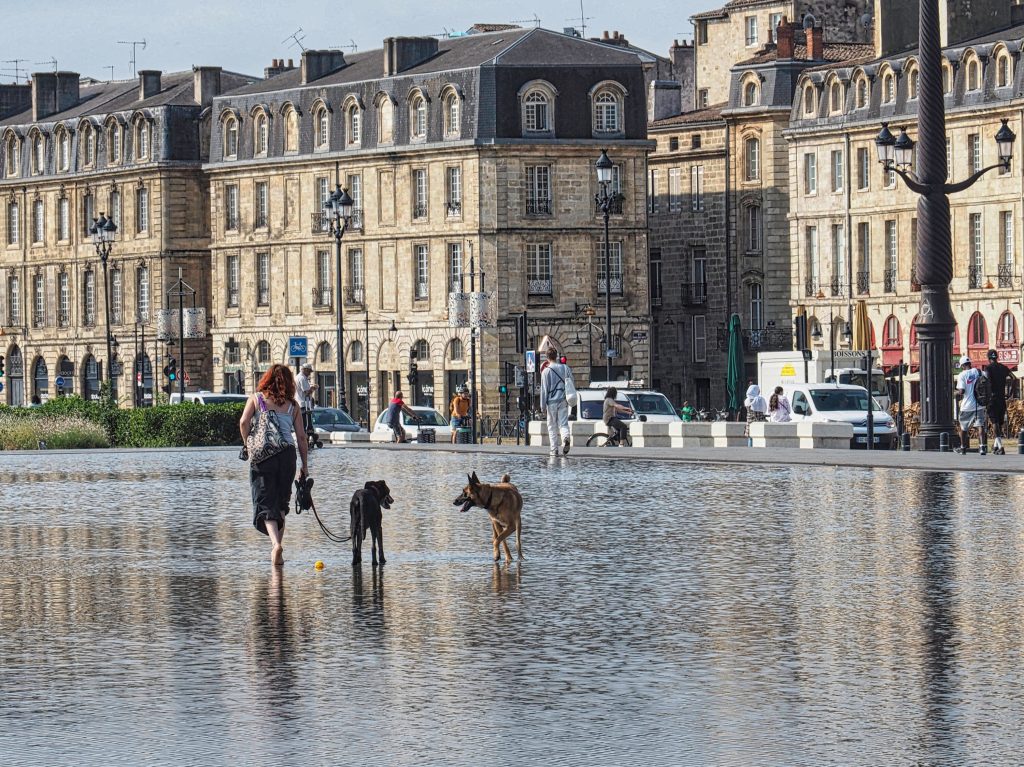 Similar to Dijon and it's "pain d'épice" is a Bordeaux specialty, the canelé. This caramelized treat (which looks like a tiny chef hat) flavored with vanilla and rum is available throughout the city at pastry and specialty shops.
I recommend making a stop at the Tourist Bureau before getting too far in Bordeaux. They're a wealth of information on things to see in the city, tours, and wine information visits. Find the main office on Cours 30 Juillet, near the Grand Théâtre and next to the tram and bus stop Quinconces. You can get a handy booklet called "Bordeaux: le Guide" with many more ideas for your visit. (English version available.)
To get around the town, the tram is the easiest, but buses are great too. There are 4 tram lines and 14 buses. You can get a pass with a certain number of trips good for either one and recharge when you need it. One pass of your ticket covers an hour of travel, so if you change within the hour, you're covered. You can also get from point A to B by boat. This is a great way to visit the Cite du Vin, further north in the central city, with just one "tram" ticket. Catch it along the Garonne Riverfront north of the reflecting pool.
While in Bordeaux, I took a 1-hour bus ride to St. Emilion, a lovely smaller town well-known for fabulous wines. Enjoy the lush vineyards, terraced town, and a wine tour. You can get there by train if you like. It's a bit faster but requires a 20-minute walk into the town. It costs more than the bus, which is a bargain at 2€40 each way.
At the end of my trip, I had to return to Lyon to fly out. I only had time to take a quick walk around the center of town (and enjoy the lovely view of the river from the bridge.) It wasn't long but gave me a thirst to return to Lyon and give that lovely city more time, making a fitting end to my trip!