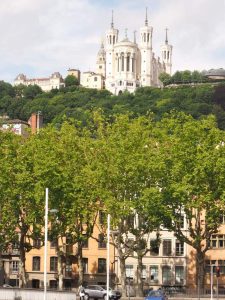 You've heard of Lyon, France, and maybe changed trains there. That was my only experience with Lyon, until recently. Many people told me how nice a city it is, how good the food, how much there is to do. I had to visit it for myself.
Worth a Visit
Lyon is a sprawling city, the third largest in France. There are a half million people, and more in surrounding suburbs. It's also known as the second gastronomic capital of France, after Paris. And your stomach and palate can verify that claim!
Historically, Lyon is known for the silk trade. Several museums show you the history of the trade and also how things are made. I visited one (Soierie Saint Georges) whose only customers are the 40,000 châteaux all over France which need renovations of silk furnishings on a regular basis. Another I saw does screen prints of silk fabric. Most are now in the Croix Rousse district in the north part of the peninsula.
Vieux Lyon
Much of what you want to see is going to be in Vieux Lyon, the old part of town, and on the peninsula just to the west, a narrow slice of land that lies between the rivers Saone and Rhône. There you'll find shopping, many restaurants, and the big city buzz. To the east, you'll find a larger urban center where most people and companies are, as well as two train stations, bus routes, and the tram. Lyon does have arrondissments, or districts, like Paris, though unlike Paris, they are not in any order. (That can be a bit confusing, so get a map and be patient!) You can get tickets for 24 or 48 hours that cover the tram, bus, and metro.
Highlights of Lyon Not to Miss
Vieux Lyon, a large Renaissance district with buildings from the 15th and 16th centuries
Basilique Notre Dame de Fourvière is a beautifully constructed and decorated church on the hilltop. You can climb if you have the strength, or you can take the funicular (the first in the country, and one of two in Lyon) at St. Jean in Vieux Lyon for a metro ticket.
Musée de Confluence: Confluence is the joining of two rivers. At this southern point on the peninsula are the science center and anthropology museum.
On the peninsula, visit the Place des Terreaux. You'll see the city hall, a fine arts museum, and this fabulous statue by Bartholdi, the same artist who created the Statue of Liberty.
Go to some good restaurants!  Those knowns as "Bouchons" are a historical part of the landscape and feature traditional recipes from Lyon. Lyon is known for its food!
Climb up the hill a bit from Vieux Lyon to see a Roman amphitheater. At one time it could seat 11,000 people. Today, only 3,000, and it's used for concerts. There is also a museum, called Lugdunum Musée that will give you the historical background.
If you are interested in the silk trade, there are a handful of ateliers and museums you can see around old Lyon and the peninsula.
Parc de la Tête d'Or: a huge, beautiful park in the north of the eastern section.
The helpful tourist bureau is located at Place Bellecour, at the southern end of the peninsula. They can give you detailed maps and tons of additional ideas for your visit to Lyon!