Traveling through France by train provides many advantages. First, you can view the scenery as it passes by. Train travel is very relaxing and smooth. You're traveling but you can snooze, read, play board games or watch movies on your iPad as you go. It's a great way to get from point A to point B!
French trains are at the top of their game in terms of the extent of the network, pricing, and efficiency. There's the occasional strike, but even then, efforts are made to accommodate travelers.
Compared to renting a car, it's more relaxing. You've chosen your destination in advance and leave driving at hundreds of kilometres per hour to the train! You can get great deals if you book early enough. With the high-speed TGV train, you cover large amounts of space in a short time. Special trains like Ouigo and Inoui,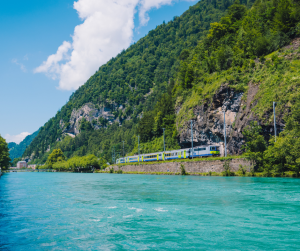 operated by SNCF, offer limited routes at great prices.
When you plan a rail-oriented vacation, you can do everything yourself or you can book a rail travel company. These companies can provide all the services of your trip, including escorts, or maybe only the lodging and itineraries which you follow yourself. There are luxury train trips or even custom trips, depending on the company you use. A couple of companies that cater to different travel desires are VacationsbyRail.com and Road Scholar, which caters to senior travelers.
If you do everything yourself, you can plan out your itinerary in advance, check train availability, book your lodging, then three months before you travel, book your train tickets for the best price and availability. You can get on a notification list from SNCF (the French national train system) so you find out just as soon as the tickets are posted for sale. Of course, the longer you wait, the more expensive and limited the tickets will be. (There are more train tips info on my post, FrenchTrain Savvy.) There is also, of course, the Eurail pass and the France Rail Pass, along with Interrail and Rail Europe.
Unusual train rides…worth the effort!
Some of the "vintage" trains on the following iconic routes are very old but don't worry, they're serviced regularly (each spring). Some of the vintage trains are open, for a more exciting and interesting experience (especially at high altitudes!)
Le Cévenol.  This is an older train route (begun in 1955) whose full route was originally from Paris to Marseilles but currently is only between Clermont-Ferand and Nimes. After you embark in Clermont, you'll see dormant volcanos followed by stunning views over viaducts and gorges. One of the most memorable sights is over the Valley of the Allier (la Vallée de l'Allier), high over the gorge.
As long as you're in Nimes, after a break enjoying the town (where you have both ancient Roman sites alongside modern Provence beauty), you can take another train toward the quirky and memorable area, La Camargue. This ride will also take you past vineyards, by Aigues-Mortes, a famous and historic walled village, and out to the Mediterranean in the town of Le-Grau-du-Roi.
One of my favorite places to be on a train is clinging to the cliffs overlooking the sparkling Mediterranean Sea. It's hard to get that close by car and the view is breathtaking. You can travel eastward from Marseilles or anywhere along the coast to enjoy the overlook. Stops along the way plunge you into Provence and Riviera culture, which you won't want to miss. A wonderful spread lies between Nice and Ventimiglia.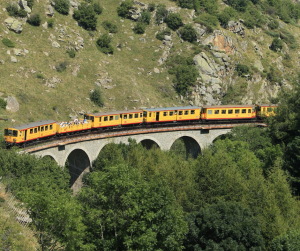 I was going to write about the Little Yellow Train (also known as the canary) in a future post on the Pyrenées, but it fits here (and I'll probably repeat it!) It runs from Villefranche-de-Conflent, a medieval village, to Latour de Carol. It runs through magnificent scenery you won't easily forget and reaches the highest ski station in the country!
If riding through mountains by train interests you, also try the trains near le Mont Blanc, which take you up into the sky toward the glaciers.
You can't go wrong with train travel through France, whether you buy a Eurail pass, go to the heights in a vintage train over the valleys and gorges, or go in luxury with an organized tour. It's the best way to see a lot of France in the fastest and smoothest way possible!