A lot of people write about travel tips for your trip to France. Here are some of mine, so you'll have a smoother experience during your trip to France. I lived for over a decade in this enchanted country so I hope to be a faithful guide for your travels. Whether you are about to take your flight or are planning for the future, keep these France travel tips in mind for a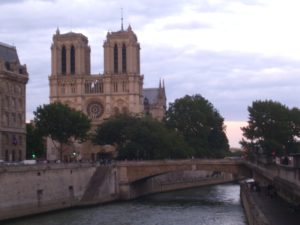 more enjoyable journey!
If possible, don't only visit Paris. If you don't have time to go very far, scoot an hour away to the Loire Valley for a completely different experience. There is a world of magic all over the country. Check the other posts on this website if you don't believe me. And I'm just getting started! Check the post on 10 Day Trips Under 2 Hours from Paris.
When you do get outside of the big cities, try to spend at least two nights (preferably three) in each location. You can use your location as a base to visit nearby areas. This is a good strategy to cover a lot of ground without wearing yourself out.
If you're renting a car, be aware of some of the road rules that are different than in the U.S. (or your home country.) In some smaller towns, people can enter from the right without yielding. Learn this and other rules that will keep you safe. In addition, check a website to get an idea of tolls and driving distance. You can take national routes for a slower but more scenic (and free) driving experience.  Speaking of tolls, always have cash on you, in case the card you're using doesn't work. I don't advise having a car in Paris. You won't need it and it's a pain. Heres a post on Driving in France: What You Need to Know.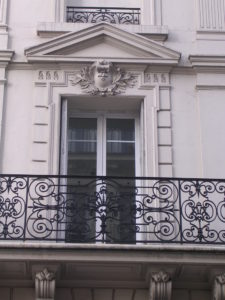 Still on the driving theme, you have several GPS options: your phone (if your roaming plan works and data can handle it), bring a separate GPS if you have a French map installed (this is way cheaper than renting one), or rent one from the car rental company (very expensive, but handy). Another option is the good ole Michelin map, which is very detailed, exists for every small chunk of the country, and reliable. Michelin also has a website for travel tips.
If you want to take a train, book your tickets early for great deals. Avoid companies that charge a booking fee and go directly through SNCF. Ouigo is one of their (SNCF) lines and is often cheaper but doesn't go everywhere. Check the Train Savvy post for more helpful information. If you're looking for a cheaper alternative or something different, or if trains are on strike and you are stuck, here are some ideas: Blablacar is a ride-sharing organization which will help you meet new people as you carpool together. It's also a lot cheaper. For shorter visits, there's Uber. Local buses are private and don't go on strike. They are cheaper as well. And there are other transport companies and private bus companies that can get you where you're going but try to book ahead. Usually strike dates will be announced in advance on the SNCF website.
Try to speak French! I know, maybe you don't know French, but at least learn the polite words. People will respond much better and have a better impression of tourists. Say "bonjour" when you enter small shops. That's important for French etiquette, and anyone can do this. My book Real French for Travelers will give you a good overview of basic communication. At least learn the polite words found in the front of the book…so you'll be a polite traveler. At least. But really, learning a little French will really enhance your travels.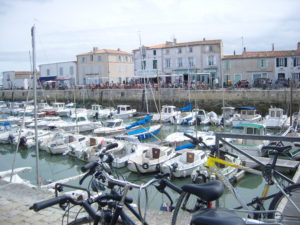 Pay attention to the scheduled hours on shops, banks, and any type of establishment. They may be different than what you are used to. Many smaller stores, or all stores in smaller towns, will be closed for lunch or close early, or be closed on Mondays. These hours will be in 24-hour time, so write these on a notecard in advance. (13 is 1 pm, 14 is 2 pm, etc.)
If you are 26 or younger you will be entitled to many discounts, including trains and museums. Make sure you find out if there's a discount wherever you are going, and your trip will end up costing you less.
Adopt the French attitude about life. They slow down at restaurants, they enjoy beauty, they exercise to go places (walk, bike, rollerblade), and they enjoy relationships. Stop at a sidewalk flower shop and pick up a bouquet for your hotel room or apartment. Visit the open market and take in the noisy atmosphere. Think about why the French lifestyle is so appealing to people all over the world.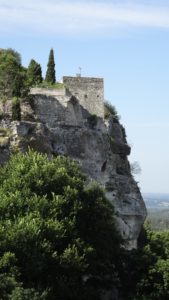 If you don't want to look like a tourist, wear comfy shoes but not tennis shoes. Also, wear a scarf. Dress up once in a while, especially for dinner out. Middle-aged French people usually don't wear shorts (capris are okay for women.) Observe how the French dress and take some mental notes. There is a reason they are known for putting together outfits. Sometimes simple, but usually with a special touch. That being said, if your sneakers and shorts are comfy and you don't really care if you look like a tourist (since you will be one) disregard all of the above clothing tips!
Speaking of clothes, bring a little for all temperatures. Europe weather can be finicky, even in summer months. Bring sweaters as well as short-sleeve shirts. Don't forget your scarf and even leggings. They don't take up much room. You never know, and wouldn't want to be cold. However, you can probably buy nearly anything you forgot to bring.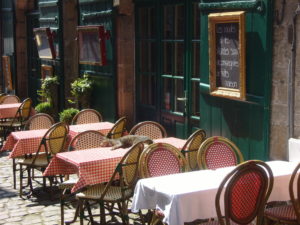 The best seasons to travel are spring and fall. Spring can be chilly but often May is nice. Check the annual rainfall in whatever area you're visiting if you go in May. September is usually very nice and can be quite warm.
Vary your restaurants with trips to the open-air market. Every French city and town has at least one day a week where the streets come alive with fresh produce vendors, flower stalls, and knick-knack tables. Go check it out, not only to experience it but to buy food. You can even sometimes get ready-made food (restaurant quality) you only have to heat up.
Don't stay in big chain hotels, but head for the smaller individual ones. You can get great two-star hotels. They may be a bit small but they're charming, unique, and you won't be spending much time there. If you're in Paris, try to go out from the center or the Eiffel Tower area (where most tourists seem to go.) As long as you have a metro nearby you can get where you're going. Being outside the center will give you more local flavor of residential Parisian life. The post on lodging alternatives will give you additional ideas.
Do NOT plan to make only one trip to France! There are literally hundreds of places and sites awaiting you for many years to come. Make it your favorite place and be a repeat visitor.