Great Packing tips and one great freebie for cheap travel everywhere! See the link at the bottom of the post!
Before You Pack
1.       Know your airline's policy about weight and number of bags
2.      Have a list. Believe me, it saves stress. Each time you return from a trip, you'll be able to revise your list and it gets increasingly helpful!
3.      Think about setting up a small health kit that you can just grab when you're ready to go. Maybe you can even do this on a small scale with aspirin or ibuprofen, sunscreen, band-aids, earplugs, antacids, and sleep aids. You won't have to repack this every time you travel, just replenish items used.
The Packing Process
4.      Don't wait until the last minute. Start a few days ahead for a European trip.
5.      Roll your clothes instead of folding them for fewer wrinkles.
6.      Ask yourself: Is there anything I cannot buy over there? Those are the Priority Items you must take. How likely am I to need this? Can I easily buy it there? Can I buy one there and throw it away before my return?
7.      Your Carry-on: Pack important things like medication, glasses or contact solution, a toothbrush and toothpaste, plus a change of clothes OR at least a pair of clean underwear (just in case.) Of course, include your credit cards, valuable jewelry, e-tickets and itineraries for other destinations, and any important documents you wouldn't want to lose, etc.
8.     Put things in Ziplock bags. Some people like compression bags and packing cubes. If that's helpful to you, go for it! I just use Ziplocks, but might try the cubes one day. Take a few extra plastic bags with you. Put liquid toiletries in a Ziplock bag. If you've traveled, you know why. Cabin pressure can cause them to burp up the liquid…all over your stuff.
9.      Wear the bulkiest stuff on the plane if you need to. OR plan to do that on the return, after you've filled up your extra space with souvenirs and specialty coffee, chocolate, canned fois gras or escargot, etc.
10.  Layer for warmth. This also helps the bulk-in-suitcase factor. Don't think it won't be chilly sometimes! You'll regret it.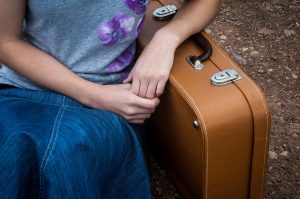 11.   Take a small umbrella. Yes, even in summer. Get a rain poncho that folds up really small. (See my post on rain in Paris.) Never hurts to be prepared. Unfortunately, on my last trip, I was not. But thank goodness for sidewalk umbrella vendors!
12.  Liquids or gels you take on board must be no more than 3.4 ounces and put into a clear quart-size Ziplock or similar bag. You'd be surprised at what is considered a gel for TSA purposes. No peanut butter, no pudding (you'll need other snack food unless it's under 3.4 ounces.) Includes mascara and lip gloss, though these will likely be a small enough quantity to be allowed.
13.  Since all passengers are allowed with one carry-on and one personal bag, make your personal bag a large one! Large purse, large briefcase or backpack, as long as you don't exceed the size requirements for carry-ons.
14.  Pack a small travel-size container of liquid laundry detergent. If you run out of clean underwear, it'll get you by until you can do a proper load. That might be when you get home. Don't forget a portable laundry line you can suspend across the tub. Many vacation rental homes have a washing machine on site. You can find this out in advance.
15.  Plan on several shirts to go with one pair of pants, jeans, or shorts (or skirt.) This will minimize your bulk. Take 2 basic shades of bottoms and plan to wear tops two or three times, depending on the length of your trip. Layers will keep things cleaner unless they are too hot to wear. Then there's always the handwash liquid you brought along…
16.  Remember that Europe's climate is unpredictable. Be prepared.
17.   Pack by outfit and lay things out first. Look at everything and check against your list. Also, check for matching accessories, socks, etc.
18.  Take a fabric weekend-size bag if you think you'll run out of space in your suitcase for your souvenirs, etc. You can fold it into a corner of your suitcase, and if you use it, though you might pay for an extra bag, you won't have to do without those items you found that will remind you of your trip!
19.  Multipurpose all of your clothing, including footwear.
20. Take a washcloth in a Ziplock bag. Most European hotels don't offer washcloths. Use the bag for the wet cloth when you leave the hotel, and also for wet bathing suits.
Here is your valuable freebie: It's a free 7-part mini-course called, Travel More, Travel Cheaper. It's totally free and will give you even more tips.
Click Here for the free Travel Mini-course  
Then next week, I'll send out a link for a huge bundle of travel resources you can get at about 97% off, so stay tuned.
Related Posts:
9 Nitty Gritty Tips for Traveling in France
15 Tips for your Trip to France