Happy New Year! You might need ideas for your next trip to France, since you're planning (or dreaming about) about it in 2019. I thought it would be a great time to bring up helpful previous posts you might read (or read again) to give you ideas! Here are 10 of them. (Just click on the link!)
Eastern and Northern France
Try Annecy, with its pristine lake and lovely canals. Annecy, Jewel of the Alps.
In the Bourgogne region, head to Dijon, where there's much more than mustard.
The Inland Tour covers northern France's coastal surprises, small, charming beach towns.
If you're on a trip in Paris, don't miss exploring Magic Montmartre. Day or night, it's a magic place to visit.
Brittany and Southwest France
Here is my favorite place in Brittany, the town of Dinan.
A close second is Saint-Malo, a very cool place and a treasure on the north coast.
As you move along to the southwest, be sure to explore Dordogne, a southwestern wonder, with some unforgettable sites for archaeology enthusiasts and charming town fans alike.
While you're in the southwest you won't want to miss Bordeaux and many worthwhile towns, vineyards, and beach destinations not too far away.
France-wide
If you're studying French, here are dozens of ideas for doing it in France. What better way to practice and enjoy France than to study French in France ?
As you are touring around, don't be afraid to get lost along the way. Many places in France are worth a detour.
I hope this gets you itching to pull out your passport and French books. (If that's not enough I'll add a couple more links below!) Happy trip planning and bon voyage!
If you're thinking southern beaches try one of these: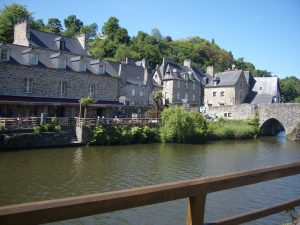 Coastal Secrets 4: Juan-les-Pins and Antibes
Coastal Secret #3: Cavalaire-sur-Mer
Coastal secrets 2: Sanary-sur-Mer