French Christmas Treats
Most people love French food (or the idea of it . . . sauces, cheese, snails) but at Christmas, it goes up a notch. Christmas food specialties in France include:
Oysters (largest consumption of oysters in France all year is at Christmas)
Bûche de Noël (We call it a Yule Log, the familiar cylindrical cake shaped like a fireplace log)
Foie Gras (Goose liver pate, a French delicacy, served as an appetizer on firm toast)
Roast lamb (for the Christmas meal)
Other specialties will get individual attention since this post includes recipes for them. Two are sweet and one is savory. Curious? Read on!
Truffles (Les Truffes)
If you think truffles are ugly mushroom-type plants that are horribly expensive, you're right. But you should also know that there are chocolate truffles that are quite different. (They still look like little brown balls but are addictively sweet and easy to make.) You can find boxes of these everywhere, along with other types of candy (les bon bons) in French supermarkets just before Christmas. They are offered as gifts. Sometimes, I make some for friends or neighbors.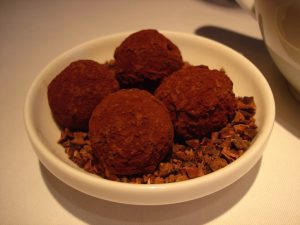 The filling is known as ganache. You can also use this filling for cakes and centers for candies or add butter to make chocolate buttercream.
6 oz. good quality chocolate
1/3 cup heavy cream
1 T. butter
optional: melted chocolate for dipping)
¼ cup unsweetened cocoa
Chop the 6 oz. chocolate and put it into a bowl. Bring the heavy cream and the butter to a boil and pour them over the chocolate. Stir until smooth. Chill the ganache until firm without stirring. (It can be refrigerated for one week.)
With a spoon, scoop some filling onto wax paper. Roll it into a ball with your palms. Do this with the remaining filling. Chill until firm.
Optional step: You can dip the truffles into melted chocolate before rolling them in the cocoa. If you do this, melt the chocolate, and dip each truffle in it, then into the cocoa. Set them on wax paper.
For the sauce melt the chocolate for dipping. With your fingers or a fork, dip the balls into the melted chocolate and transfer directly into the cocoa. Using two forks, roll the balls in the cocoa until they are covered then transfer them to a sheet of waxed paper. Allow them to harden for at least an hour at room temperature or refrigerate them. Store them in an airtight container between layers of wax paper. You can also simply dip the rolls in powdered cocoa.
Variation: You can also roll the truffles in shredded toasted coconut instead of cocoa.
(Source: La Varenne Pratique by Anne Willan)
Fresh fruit Vacherin
This is a traditional dessert of meringue and cream. Some types of Vacherin have ice cream, too (especially the kind you buy ready-made in a French grocery store.) This one has fresh fruit, but there are dozens of varieties of Vacherin.
6 egg whites, room temperature                            1 ½ cups sugar
2 t. pure vanilla extract                                           2 cups heavy cream
¼ cup confectioners' sugar                                    4 cups mixed red and blueberries
Preheat oven to 200 degrees. Coat two baking sheets with cooking spray. Draw a 9-inch circle onto each of two pieces of parchment. Place on baking sheets, one each. Beat egg whites on high speed until soft peaks form, around 2 minutes. Gradually add in 1/4 cup of the granulated sugar. Add remaining 1 1/4 cups granulated sugar, one tablespoon at a time. Beat until the whites are stiff and glossy and sugar is almost dissolved. This may take up to 8 minutes. Add vanilla.
Divide meringue between baking sheets and spread evenly with a rubber spatula, using circles as a guide. Place baking sheets on separate racks in the oven and bake for about 2 hours, switching positions of the sheets halfway through. The meringue should be pure white, crisp on the outside and bottoms, and should be easy to remove from the parchment. Turn off the heat and leave the meringues to cool in the oven for another 1 1/2 hours.
Beat the cream, the confectioners' sugar, and the remaining teaspoon vanilla until stiff peaks form. Place one meringue on a serving platter and spread evenly with half the whip cream. Sprinkle half the berries on top of the whipped cream, then place the second meringue on top. Smooth remaining whipped cream on top. Garnish with remaining berries.                                                                                    (Source: Martha Stewart)
Last but not least, everyone's favorite:
French Onion Soup
This makes a wonderful appetizer à la française for whatever else you're serving. Gooey French cheese on top and thickened by French bread slices. Christmas Eve in particular is a great time for this specialty!
¼ butter
2 lbs. yellow onions, thinly sliced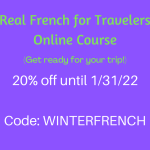 1 ½ quart brown stock*
salt and pepper
1 medium loaf French bread cut into ½ inch slices
¾ cup grated Gruyère or Parmesan cheese
2 T. melted butter
*You can make your own brown stock from beef, veal, and chicken with thyme, bay, and parsley. Break open the bones to release the marrow and add flavor. Otherwise, find a good-quality beef broth for your soup. (Which is what I would do . . .)
In a large saucepan, melt the butter and cook the onions on low heat until they are deep golden brown, about 15 to 20 minutes. Add the stock, salt, and pepper, and simmer for another 10 to 15 minutes. Taste to correct seasoning.
Heat the oven to 300 degrees. Bake the bread until dry and lightly browned, about 15 to 20 minutes. Reheat the soup on top of the stove. Set two or three slices of bread and individual preheated soup bowls. Pour the hot soup on top. Cover the soup with a thick layer of grated Gruyère or Parmesan cheese, sprinkle it with melted butter, and broil until the cheese is melted and browned. Serve piping hot. Serve 6
(Source: La Varenne Pratique by Anne Willan
Some things never change, even in our world that changes daily. Not all news is good, but the good news of the first Christmas merits celebration!
And celebration merits good food! So, Bon Appetit and a very Merry Christmas!
Related Posts
Three French Christmas Markets (video)
What do the French Eat at Christmas?