Up on Brittany's northwest coast, you'll find one of the most beautiful coastlines in France. The Côte de Granit Rose, or the Pink Granite Coast, is waiting for you, with beaches you may have never heard of. I call them hidden beaches because many people outside of France don't know about them, but they are very popular with French visitors.
To attract you further, these towns and beaches are smaller, cooler, and less crowded than the larger beaches of the Côte d'Azur to the south, and nearby towns and villages are full of typical Brittany charm.
Where is the Côte de Granit Rose? It faces the English Chanel from a cove carved into Brittany's northwest corner and is part of the Côtes d'Armor department. It is in this same area you'll find Dinan, which is inland and truly worth a visit. And not far away in a neighboring department is Saint-Malo.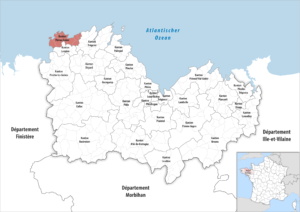 This stunning coastline is dotted with small towns with names like Louannec and Planguenoual. You could find a base town and visit several of them during your stay. Or not. You might simply rather vegetate on the white sand as breezes from the English Channel cool you off.
One of the most popular and beautiful towns on the Pink Granite Coast is Perros-Guirec, on the western side of the Côtes d'Armor. Hidden, rocky coves, walking paths, and sandy beaches provide the perfect tranquil getaway. There is more to do than lie on the beach, however. There are cafés and boutiques under palm trees, as well as fishing villages to explore, and plenty of accommodations. And there's swimming, sailing, nearby castles, camping, tennis golf…
Interesting places near Perros-Guirec:
A fishing village called Ploumanac'h to the west. Paimpol is another traditional fishing village to the east.
You can take an organized boat trip to Seven Islands, the largest bird sanctuary in France.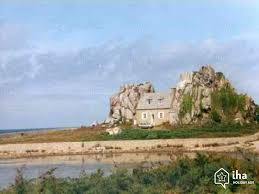 Pointe de Squewel is a beautiful cliffside spot facing Seven Islands. It's a great place to fish.
Tregastel and Trébeurden are nearby resorts you can visit. Tregastel has a historic village and about a mile away, a resort with beaches that are some of the most beautiful in the region. In fact, the stretch of coastline between Perros-Guirec and Tregastel is one of the best to see.
The town of Lannion is full of history, and the River Légeur runs through it.
There is an aquarium close to Tregastel that the whole family will enjoy
The town of Saint Brieuc to the east is historic with lovely buildings and a beach. A coastal road from there will take you to Cap Frehel, which is very scenic.
For a change of pace, discover the beaches, stunning coastline, and small-town charm of the Brittany coast, in particular, one characterized by pink granite!