Paris had record rainfall in the month of May this year. The rest of France was not spared, either. I was in the Languedoc region in late May and took my turn dodging raindrops. The weather in Europe can be touchy.
Fortunately, the sun shines frequently in the late spring and summer, what do you do in Paris when the météo doesn't cooperate?
Here is a list of 15 things to do when it rains (and I purposely avoided the obvious ones, like the Louvre and the Musée d'Orsay, though they are great too.) More details and ideas in Magical Paris: Over 100 Things to do Across Paris.
Les Galeries These are covered passages, little hallways tucked inside a building facade, often topped by a glass roof. Most were built in the early 1800s and are still open today, filled with quaint and artsy shops.One of these is Vero-Dodat, from 1826 in the 1st district on Rue Montesquieu. It's close to the Louvre and Palais-Royal. Another is Passage Vivienne on Rue Vivienne in the 2nd district. The entrance is at 4 Rue des Petits Champs. Once you duck out of the rain you can take some refreshment at the Bistro Vivienne upstairs.
Jardin des Plantes You might be thinking that a botanical garden isn't the place to be on a cold, damp day. But this one has several museums. There is the Evolution Museum, the Paleontology Museum (with 650 skeletons), the Mineralogy and Geology Museum, the interactive Children's Galerie, or one of the 2 restaurants on the grounds. 5th Take line 5 or 10 (Gare d'Austerlitz) or line 10 (Jussieu), or line 7 Censier.
Immigration museum (Musée National de l'Histoire de l'Immigration) This interesting museum is housed in the Palais de la Porte Dorée, which was built in 1931 for the World Fair of 1931. There are three permanent collections and temporary exhibits as well. The museum shares the building with the Tropical Aquarium (below.) Take line 8 to Porte d'Orée (southeast edge of Paris just past the beltline.)
Aquarium Tropicale The Tropical Aquarium houses 500 species of tropical fish in 84 aquariums. There are both permanent and temporary exhibits. A guided visit is available on Wednesdays at 3:30 pm and Saturday/Sunday at 10:45 in May and June.
Musée de Film (Cinémathèque Française) This is a Museum of the Cinema, the place for cinema-lovers. The building itself is of architectural interest, designed by Frank Gehry. There are four cinemas and a video library, as well as a museum containing costumes, props, accessories, antique movie cameras, and a rich history of the film industry going back to the Lumière brothers. It's in the 12th district next to Bercy Park. Take line 6. It's open Monday from 12 noon to 7 pm. Closed Tuesday. Open Wednesday through Sunday from 12 noon to 7 pm.
Montmartre Museum (Musée de Montmartre) The museum resides in the 17th century Bel Air House, the oldest building in Montmartre, and formerly a gathering and studio space for impressionist painters. Come learn more about the history of the area and enjoy the paintings, posters, and drawings done by the impressionists who lived in this area. There are three gardens dedicated to Renoir, who lived here for 3 years. You can visit them if the weather permits, and glimpse the nearby Clos Montmartre, the only remaining vineyard in Paris. 18th                                                                                                                                                                                                                                                              
Gobelins (Manufacture des Gobelins) In 1662, this building was the royal tapestry manufacturer. Prior to that it belonged to Joseph Gobelin, who used it as a workshop for dyeing fabric. You can tour the museum (covered by the Museum Pass) and see 17th century weaving techniques. Visits for individuals, Wednesdays at 3 pm. Groups, Tuesdays and Thursdays at 1 pm and 3 pm, Wednesdays at 1 pm. This is a guided tour. Open 11-6 daily. Take line 7 to Gobelins in the 13th district.
Aerospace museum (Le Bourget) This museum is outside of Paris, but it is THE aerospace museum of Paris. Each year in June is the International Air Show (See website for details.) They have 400 aircraft (150 on display, including the Concord.) There is a large interactive space for children. Take the RER B north to Le Bourget (in the direction of the Roissy Airport.) Open every day but Monday at 10 am.
Movies in VO If it's raining and cold and you're in the mood for a movie…See one in English. Look for the letters VO, or version originale, after the movie title for an American or English movie in English. Some large cinemas are UGC (find them all over, but I like the one in Bercy Village in the 12th) and Gaumont. These will be subtitled in French, so if you're studying French, this doubles as a learning experience!
Department stores Head to the 9th district and check out Galeries Lafayette and Printemps, two large store chains, or to the 7th for Le Bon Marché. Aside from the merchandise, there are restaurants and gourmet food shops inside. Le Bon Marché is good for this, in a section called La Grande Épicerie de Paris. Find it at 24 Rue de Sèvres. The building is from 1838. For gifts or a visual feast! 
Indoor markets On Rue d'Aligre in the 12th is a well-known outside market. If it's raining, the indoor market called Marché Beauvau, in the same square. Open 9-1 and 4-7:30. Closed Mondays. In the 10th you'll find the Marché Couvert St. Quentin at 85 bis Blvd Magenta. Open Tuesday through Saturday 8 am to 8 pm and Sunday 8 to 1. In the 6th, 4/6 Rue Lobineau. Visit Tuesday through Saturday 8 am to 8 pm and until 1:30 on Sundays. For more, click HERE.
Eating/ Cafés Find a particularly appealing café or bistro and bide your time, Paris-style, savoring each bite, indulging in dessert and then coffee (like the Parisians) along with a generous dose of people-watching.
Daytime theatre Productions are sometimes available during the day. Check Opera de Paris, Theatre de Chaillot for dance, and for plays in English (though these are primarily in the pm) check Theatre in Paris.  For last-minute tickets at a discount, check www.ticketac.com You'll find more ideas through this site, though it is in French.
Museum of Science and Industry– (Cité de Science et de l'Industrie) In the 19th district is an interesting park (La Villette) and in it, the largest science museum in Europe. Space and the universe are themes are in Explora, on the first two levels of the museum. On the ground floor is the Cité des Enfants, especially for children. Themed zones allow kids of different ages to interact and learn. There's also La Géode, a 118-foot steel globe, inside which you can see IMAX movies. There's even more to do here, including a submarine and a simulator to live through movie sequences (Le Cinaxe.)
Planetarium In the Science and Industrie building on the north second-floor mezzanine, you'll also find the Planetarium and enjoy the variety of programs they have to offer.
As you can see, you likely won't be bored with a rainy day in Paris. This is just a small sampling of things to do.
More details about nearly all of the above PLUS much more can be found in my book, Magical Paris: Over 100 Things to do Across Paris. It's your go-to volume for Paris, including the things you need and NOT everything you don't need!
Enjoy your trip, but don't forget a scarf and your umbrella!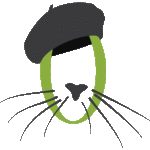 Click HERE for a free booklet, Bon Appétit! Eat and Drink Your Way Across France and bi-monthly posts