Maybe going to a flea market wasn't on the top of your Paris List. But if you are a knick-knack, bargain, or antique enthusiast, it should be! Opportunities for bargains or something simply unique abound at one of two large flea markets in Paris and in fact all of France.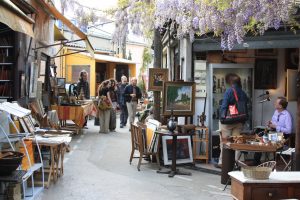 The Biggest, the Best
First, I'll tell you about the mother of all flea markets, Marche aux Puces de St. Ouen, with 15 different markets in one place. This market was established in 1870 on the north tip of Paris (directions following.)
It includes the largest antique market in the world. (Yes, in the world.) Of course, they sell much more than antiques. You'll find over 2000 vendors of all kinds.
Here is a friendly Moroccan craftsman who sells handmade leather crafts with centuries-old techniques. You can find furniture, homemade soap, antique lamps and picture frames, tools, hand-crafted leather and wood, clothing … and the list is endless.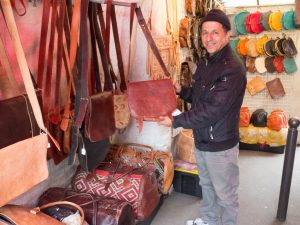 In French, it's called Marché aux Puces. They are open for business Saturday 11 am to 6 pm, Sunday 10 am to 6 pm, and Monday 11 am to 5 pm. They're open all year.
Getting There
To get there, take the Métro line 4 or the line 13 to Porte de Clignancourt. Get off the Métro and follow the crowds a couple of blocks. The town is called St. Ouen and touches Paris.
In the South of Paris
To the south you have another destination for your flea market shopping. It is smaller, with 380 merchants, and is located in the 14th district of Paris. Come find 18th, 19th, and 20th century treasures, Art Déco, and more.  Located at Avenue Marc Sangnier and Georges Lafenestre. It happens here every weekend from 7 am to 2 pm. Take the Métro Line 13 and get off at Porte de Vanves.  http://www.pucesdevanves.fr/
A smaller flea market takes place on the east side of Paris at the Porte de Montreuil on Sundays from 7 am to 7 pm.
Both markets sometimes have special activities and exhibits. They are open all year-round, rain or shine.