20 Day Trips from Nice
Nice is a great city worth seeing all its own. You can spend two or more days there but it's a better idea to keep it as your base for nearby visits to the region. There are endless jaw-droppingly beautiful destinations for you to take in, and most are an hour or less by car or train from Nice.
Depending on how you'd like to plan, you can see any or all these day trips during a 10-day Riviera vacation. If your trip is shorter, you can still pick your favorite excursions in the sunbelt of France. Each of the 11 towns can be an easy day trip from Nice, by car or by train. Keep reading and you'll also see ways to combine them for 9 day trips (for a total of 20 possibilities!)
FIRST decide if you want to rent a car or use trains, or some combination of both. All trips listed except one are possible by train. Which one is faster depends on infrastructure and topography. For example, is there a mountain or peninsula in your way? Are you traveling highways or two-lane roads? In either case, prepare for stunning coastal views.
SECOND plan your itinerary. In most cases, these towns are small enough or close enough that you can combine two of them, though I don't recommend more than two. You want to remember what you see. Some of the towns listed below have their own blogpost in Oliver's France, if you'd like more details.
WARNING: Leave yourself time to spend an entire day in one town, because once you get there, that may be exactly what you want to do! Don't hem yourself in. It's YOUR vacation!
Here is a list of places with the time it takes to go from Nice to each one.
Next, you'll see 9 suggested itineraries.
Last, you'll see some highlights for each town.
You'll have the elements for your own custom itinerary!
Destinations from Nice, France
East of Nice                                   
Villefranche-sur-Mer (Drive east for 24 min on M6098) Goes around the Cap Ferrat peninsula.
Beaulieu-sur-Mer (close enough to Villefranche to walk or take a bus and, of course, drive) Driving time from Nice, 17 minutes on the M6007.
Saint-Jean-Cap-Ferrat While you're on the peninsula, you can also see the luxurious Saint-Jean-Cap-Ferrat (not accessible by train.)
Eze Village: 25 minutes via Route M6007  Also, Eze-sur-Mer (a seaside town by the same name.)
Monaco (32 min by car on highway A8; 1 hour 20 minutes by train)
Menton (40 min by car on Hwy A8; 2 hours by train) Monaco to Menton: 28 minutes by car.
West of Nice
Antibes (1 hour by car on Hwy A8; 23 min by train)
Juan-les- Pins (very close to Antibes; they're considered part of the same town)
Cannes (go west an hour by car on the A8, 34 minutes. 37 minues by train)
Inland west of Nice
Paul-de-Vence (29 minutes by car on Voie Pierre Mathis; no train service)
Grasse (43 minutes by car on A8 hwy; 1 h 10 minutes by train)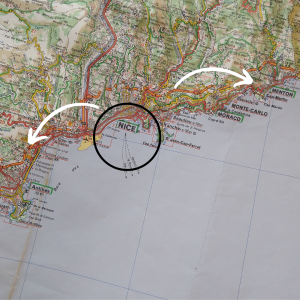 Suggested Combined Itineraries  (See below for town details!)
As you can likely guess, many of the spots on each side of Nice can combine nicely into a day trip.
Day Trip One
Villefranche-sur-Mer and Beaulieu-sur-Mer could be done in a single day trip. They both have similar charm, though Beaulieu is smaller and less touristy. They are so close, you could even walk between them, and the same can be said for Saint-Jean-Cap-Ferrat, on the same peninsula. Villefranche and Beaulieu also share a train route.
Day Trip Two (and Three and Four)
 You can combine Villefranche with Eze Village (or Cap Ferrat with Beaulieu.) Don't try all four in one day (unless that's all the time you have left, or you are partly crazy!) Keep in mind there are two  towns called Eze. One is Eze-sur-Mer, on the water, and the other (Eze Village) is a medieval village perched on a mountainside. Both are well worth a visit and offer different experiences. They are close to each other as well. You could do an "Eze Day" and hit both of them.
To get to Eze village (the one on the hilltop) from Eze station, take bus 83. It takes 15 minutes and leaves every four hours. Train is not advisable. Try to go before 10:30 am, since it gets crowded after that.
Day Trip Five
 Visit Monaco, then continue to Menton. (You can easily spend a full day at each one.) These two towns have a very different feel. You'll love them both!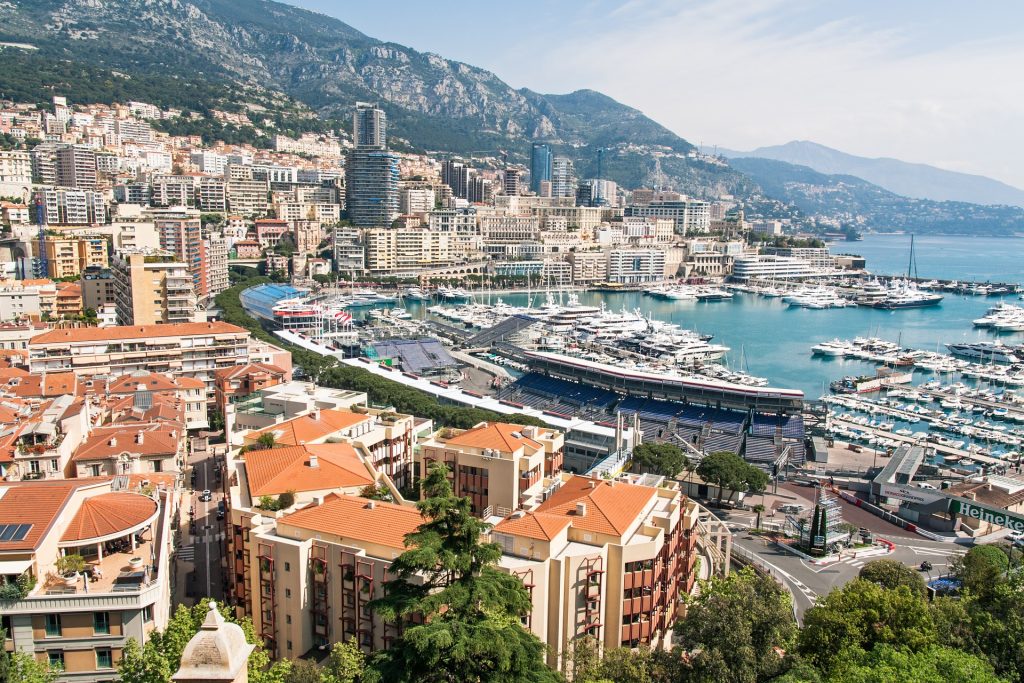 Day Trip Six
 Go west from Nice to the town of Antibes. Continue to Juan-les-Pins. (Or … spend a full day at each one.)
Day Trip Seven
Go to Cannes and spend the whole day there, whether at the beach or wandering the streets behind the film festival buildings.
Day Trip Eight
Head inland to St.Paul-de-Vence, then go west another 37 minutes on route D7 to Grasse, famous for perfume.
Day Trip Nine
Head due west from Nice to Grasse first. After your visit, head south toward the coast to Cannes.
What to See When You Get There
Villefranche-sur-Mer
A stunning and colorful seaside town complete with cobbled streets, shops, restaurants, and everything you'd love to see. This town has been featured in several movies. (That's how beautiful it is!) It also has a beach.
Beaulieu-sur-Mer
A beautiful but less touristy corner of the Riviera. It's a stone's throw from Villefranche, so a good idea to visit them together, unless you have the time for a full day each. It has fewer tourists and is more residential.
Saint-Jean-Cap-Ferrat
Between Villefranche and Beaulieu is this town on the tip of the peninsula. It's worth a stroll since you're in the neighborhood.
Eze Village
This lovely hillside village is a medieval beauty you'll want to see. Because it's up high, you'll love the views, as well as shops, restaurants, and cobblestones (and steep steps.)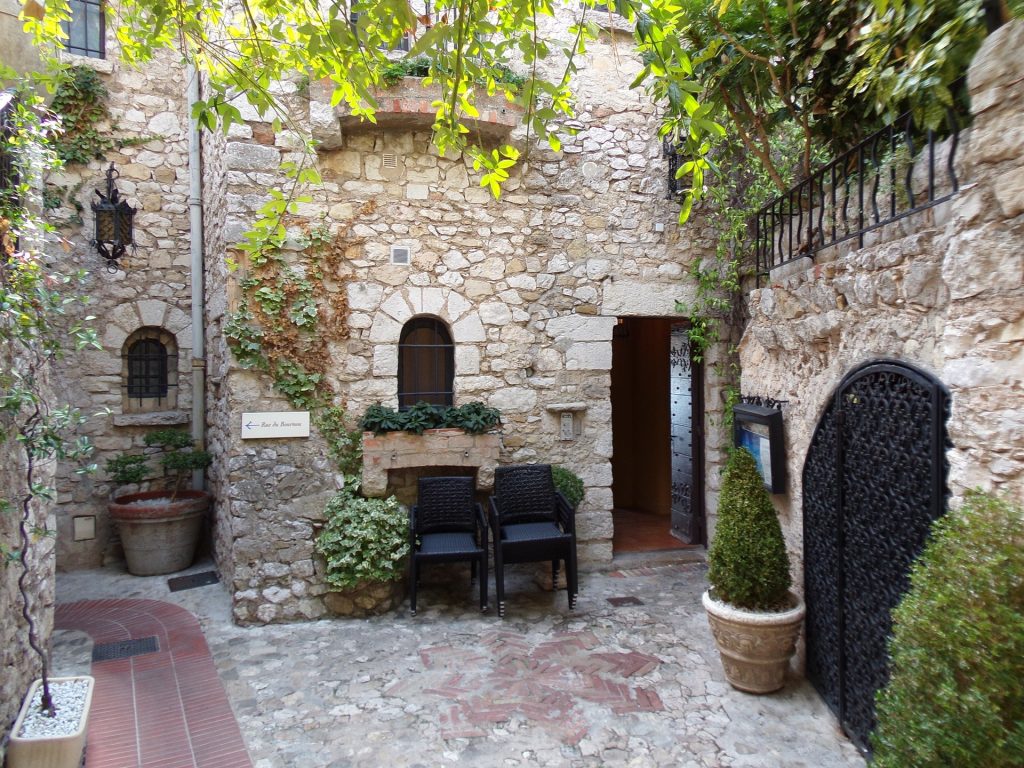 Eze-sur-Mer
This is a fun beach town, but don't confuse it with the Village (which most Eze references are for.) Why not enjoy both since they are close to each other? (Apparently, Bono owns a home here.)
Monaco
You'll want to visit this picturesque second-smallest country in the world, Monaco. Enjoy the views from up high, the casino, the Grimaldi castle, or the Formula One Grand Prix car race. A lovely harbor full of yachts, or the famous Musée Océanographique, there's plenty to see.
A good next destination after Monaco, Menton is just beyond and has a distinctive beachy feel. It's sunny, colorful, and a world apart. It's more affordable than Monaco. It's not called the Pearl of France for nothing.
I love Antibes. There's a lot to be said, but I have a POST on it, so I hope you'll check it out. In the same post is info about the next-door town, Juan-les-Pins, with a beachier vibe that makes a nice contrast with Antibes.
See the above blog post for more information on this fun beach town.
Cannes
This town is worth visiting just to say you did, and it's a nice town to stroll, to look around at the film festival buildings and hype, as well as catch some beach time.
St. Paul-de-Vence
Truly a fairytale village, you must see this hilltop spot if you can. It's popular with tourists, so an early arrival (or better, staying overnight) is recommended.
Grasse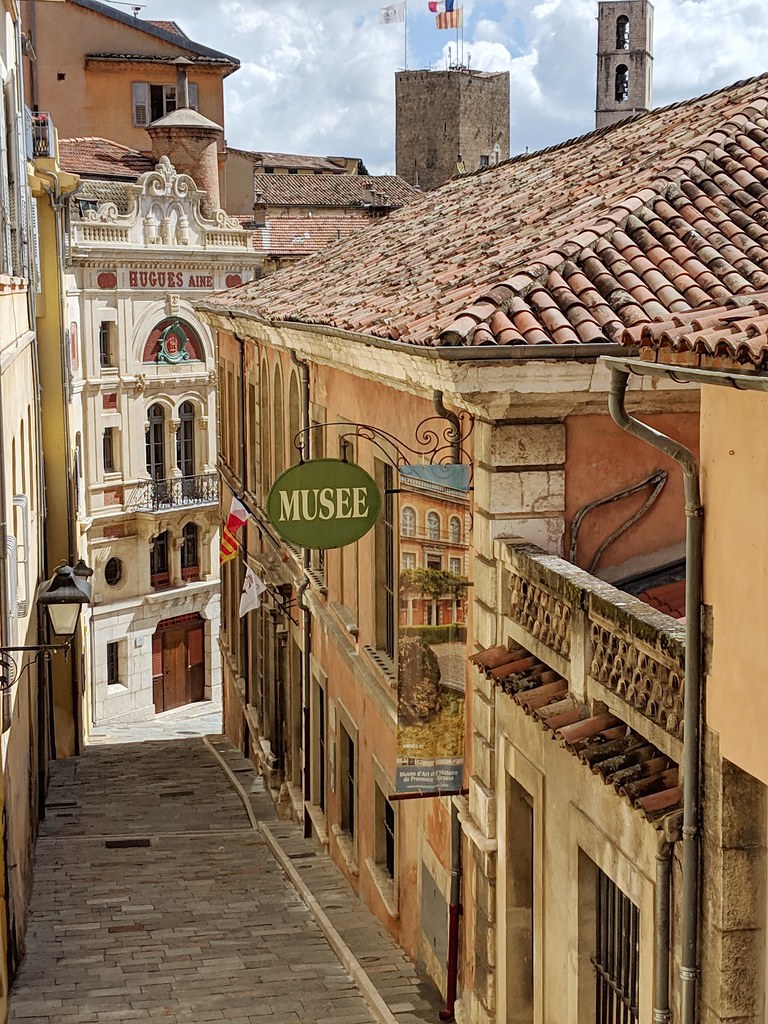 Last but not least, Grasse. This inland town has its own charm and particular characteristic of being the world's perfume capital. Visit the perfume museum or take a guided tour chez Fragonard. Aside from perfume education, there are several interesting museums, olive farms, and lovely strolls down cobbled streets. There's more to do here than I have space to describe.
I encourage you to create your own fabulous itinerary from one or more of these Nice Day trips. As you
fan out from Nice, you'll take in the best Provence has to offer!