A cheery thought as winter approaches . . . Menton, the sunniest place in France and one of the most colorful. It's located on the southeastern edge of the French Riviera. Menton is near Nice and next to Monaco but also touches the Italian border.
This medium-small town has been called the pearl of France but is also unofficially considered the citrus basket of France. The climate suits residents and tourists as well as lemons and oranges. In fact, each year in February, Menton holds the citrus festival (La Fête du Citron). During the festival, you'll be amazed by sculptures and floats made entirely of oranges and lemons. To escape a dreary winter, go to Menton.
If you're staying in Nice, you can get to Menton in a half-hour by either car or train. It makes a nice day trip.
Menton used to be a fishing village tucked along the coast next to Italy until it was discovered by British and Russian aristocrats and wealthy people wanting to warm up. You'll see many Belle Epoch-era mansions reflecting this migration. It was also considered a healthy place to recover from tuberculosis back in the day.
Highlights of Menton
Beaches
In Menton, there are six sand-covered beaches (as opposed to Nice, whose beach has small smooth stones) and two marinas. In such a sunny micro-climate, you'll certainly want to sample the beaches.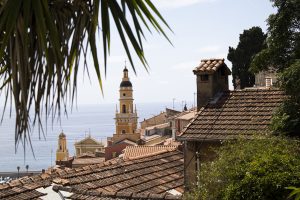 Old Town
After you are drawn in by inviting pastel colors of the buildings, you can wander the streets of Old Town. You'll start near the shore and go upward, getting your exercise along the hilly alleys and narrow streets, enjoying the labyrinth of medieval charm. Nearby is the old port. In the Old Town, you can sample restaurants that feature local seafood and Provençal as well as Italian specialties. Head to Place du Cap for bistros and local color, or Place aux Herbes to visit the market.
Mansions and architecture
In various areas of town are beautiful mansions that were owned by English and Russian nobles who flocked to Menton in the 1800s. History and beauty at the same time! Up the hill from the Old Town is a cemetery with century-old Russian, English, and Polish graves, as well as the 17th-century St. Michel Archange Cathedral.
Lush Gardens
Menton is also known for its gardens, not a big surprise considering the year-round climate. Le Val Rahmeh Botanical gardens contain rare plants from around the world. It's located off Ave. St. Jacques. The garden contains around 1500 species of plants, including tropical fruit trees, olive trees, and a variety of palms.
Serre de la Madone. A stunning garden with a variety of subtropical plants surrounding a pool, and terraces of olive trees. The plants come from various parts of the world, curated by Lawrence Johnston, a British landscape designer.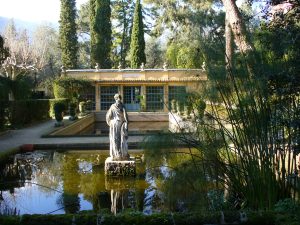 Jean Cocteau Museum
Visit a museum dedicated to this artist and film director, who lived in Menton. The museum contains 1500 works including drawings, paintings, ceramics, and cinematographic works. Admission price includes the Musee de Bastion, a converted 17th-century building on the water (designed by Cocteau.)
Covered Market
Built in 1898, this Belle Epoch building houses the market open daily from 5 am to 1 pm. Sample local and imported produce and specialties.
Find your place in the sun in Menton!
But until you do, here's something to get you prepared … Learn French for travelers! For a limited time, get yourself a discount!
Something Special!
Maybe you can't travel just yet, but it's not too early to learn French for Travel. You may know that I created a special online video course called Real French for Travelers Online Course so you can learn Travel French, including travel-specific vocabulary, dialogues, quick-start phrases, and more. As a winter special, you can have 20% off the course with the code, WINTERFRENCH. (Click the course name for more info.)
Gift Ideas
If you or someone you know wants to be operational in travel French for your next trip, this is a great time. You can offer it as a gift, as well. Simply buy the course with the promo code but give the email address of the recipient. Let them know that the course is a gift from you and they have lifetime access.
If you'd like to offer a simpler gift to the France-lover on your list, how about a copy of Real French for Travelers, Magical Paris: Over 100 Things to Do Across Paris, or A French Garden: The Loire Valley? The traveler on your gift list will love them!
Related Posts: