Cavalaire-sur-Mer. Like many small beach towns on France's southern coast, Cavalaire-sur-Mer began as a fishing village. It didn't achieve tourist status until the 50s, but even today it's a lesser-known treasure on the Cote d'Azur. This is a place I really liked and would love to go back. Since my first visit I have learned a lot more about things to do there!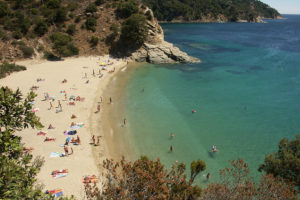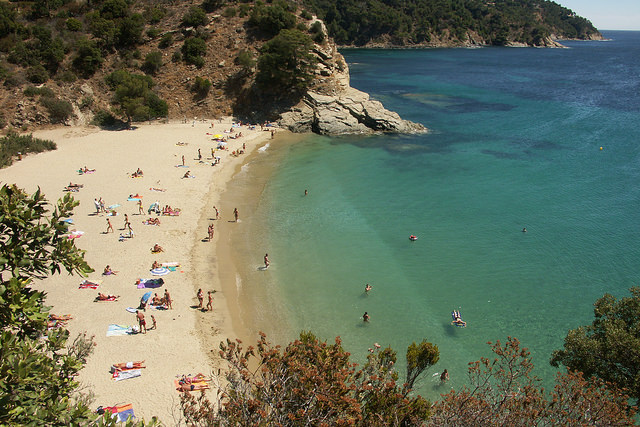 It's not far from St. Tropez but the resemblance stops there. Cavalaire-sur-Mer is a delightfully different and down-to-earth town with about 6500 fulltime residents and 3 km (1.8 miles) of beaches. It's known for being a great family beach town as well as a hub of all kinds of water sports: Jet ski, wind-surfing, sailing, and water skiing. Of course the clean, clear water makes it great to swim in as well!
Cavalaire-sur-Mer is also a haven for scuba diving at whatever level. It's the 2nd most important town in the Mediterranean for diving. Even beginners can have a one or two-day initiation with trained guides. You can dive around one of 12 wrecks within an hour's boat ride from the coast.
This link is in French but gives details of the 12 wrecks within an hour's boat ride from the coast of Cavalaire:   http://www.cavalairesurmer.fr/ot/cms/2005-2027/la-plongee.dhtml    A variety of day and 2-day trips are available in an area called the Gulf of St. Tropez, part of the Mediterranean.
Still dreaming about water activities… there are sailing and catamaran tours by the hour, half day or full day, and at sunset. You can enjoy island day cruises (3 nearby islands in a day), and boat tours of the Calanques (limestone fjords along the rocky coast.)
The Port of Cavalaire has a marina with 1000 boats. There is a fleet of traditional boats, called pointus, which go out and fish every day and return to sell their catch at the port.
All of this water culture just makes me want to go dive in!
If you prefer to stay on dry land there are beaches with fine sand, as opposed to rocks and cliffs, which are abundant in this area of France's coastline. Some beaches, like Le Dattier, are quieter coves, away from the crowds.
Nearby you can visit the picturesque villages of Ramatuelle and Gassin, perched high on a hillside, offering amazing views of the Gulf of St. Tropez.
For hikers, there's a nature reserve and discovery trails. The open market takes place every Wednesday at Place Jean Moulin. There you can get Provence specialties like tapenade, anchoïade, olives, pissaladière, pan bagnat, tarte tropézienne (a luscious cake with creamy filling), and of course, fruits, vegetables, Provence rosé, and local fish caught just that day.
For some historical visits (we're talking ancient) go see the Mont-Jean Oppidum, the remains of a fortress inhabited between the 6th and 4th centuries, B.C.
The Pardigon with archaeological excavations of four sites of Roman ruins, is situated between La Croix-Valmar and Cavalaire. And you can find the Domaine Foncin bastide, a stately home which used to be privately owned, and museum overlooking the sea at the western end of the town.
The closest airport is Hyeres-Toulon, with Marseilles and Nice not too far either. By rail, you can go to St. Raphael or Toulon.
The tourist office is Maison de la Mer, 50 rond point St. Exupery.
My impressions of Cavalaire-sur-Mer is that it gathers the best aspects of a small beach vacation with all the water activities you could want. Seems like a great combination!
Photo by F. Ermert