In the southwest of France there's a happening place… In fact, it's the 4th largest city in France (but has kept many charming aspects) and has the most booming economy of the country. Where is this city? Toulouse, otherwise known as the Pink City, named for a special rosy-colored terracotta stone used for many of the buildings.
Why is Toulouse so popular? The climate is nearly perfect. It's under 100 miles away from the Mediterranean and not much further from the Pyrenees mountains. It's the hub of France's aerospace industry, including Airbus and CTS, Europe's largest space center, as well as numerous satellite companies and research sites.
Toulouse is a university town, with over 100,000 attending the University of Toulouse, founded in 1229. It's considered by many to be a wonderful place to live. In fact, French people from all areas, especially Paris, move there in increasing numbers. There's also an important expat community.
How about to travel? Some of the same advantages will benefit the traveler. It's a nice-size city with plenty of history, art, French charm, and proximity to Bordeaux, the mountains, the sea, and other interests in southwest France.
You can get there by TGV fast train (a trip that recently became even faster, about 4 hours) from Paris or Bordeaux (shorter) or fly directly into Toulouse's Blagnac Airport with regular flights from Paris. There are also low-cost flights from the UK with Ryan Air or Flybe, if you're starting there.
Once you get there, it's easy to get around with many buses, a biking system (Vélo Toulouse), and driverless métros (Does that mean strike-less too?)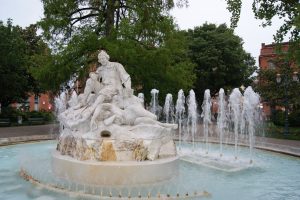 What to see and do in Toulouse
Aerospace enthusiasts, this is your place! The Cité de l'Espace is a museum with everything aeronautical, including an observatory and planetarium, hands-on exhibits, and a life-size replica of a rocket. It's located on the eastern edge of the city.
The Capitole de Toulouse is the city hall, built in 1750, with its Salle des Illustres, a gallery of mirrors with paintings depicting Toulouse's history. It's located in the Place du Capitole, which is the city's main square, alive with activity and events, along with restaurants and cafes.
Just south of the Capitole is the Vieux Quartier, old town Toulouse. Narrow roads are lined with trees and pink or half-timbered buildings, shops, cafés, and restaurants. This area has been compared the Le Marais in Paris.
Jacobins Convent was the first church of the Dominican order. Inside there's a vault in the form of a palm tree and relics of St. Thomas Aquinas. Come see the 13th and 14th-century halls and frescos in this amazing Gothic structure.
Still in the historical theme, the Romanesque Basilica de Saint Sernin dates from the 11th century and is named after Toulouse's first bishop. Entrance is free except the ambulatory, which houses sculptures and a crypt.
At the Musée des Augustins you'll see fine arts from the Roman era to the 1940s, including Delacroix, Toulouse-Lautrec and Monet, and 14th

-century cloister gardens.
You may have heard of the Canal du Midi, on which many have taken barge cruises. The canal flows right through Toulouse. The city is on the River Garonne and also has 3 canals, adding to its picturesque charm.
On the banks of the River Garonne you find promenades alongside, specifically Promenade Henri-Martin and Place de la Daurade.
You could combine a visit to Toulouse with Bordeaux and the wine region there, or keep heading southwest to hit Biarritz. Come find out why so many people are flocking to Toulouse!