Ever think of a cooking vacation in France?
No one can deny France's reputation as a food capital of the world, a destination that makes your mouth water in anticipation. When you visit, you may want to include a cooking class in your itinerary. This post will give you several options.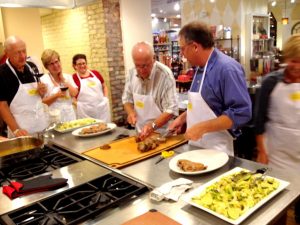 First, you can take an individual class during your visit. You could even do several classes on different themes such as pastries, bread, or sauces (or as a package). If cooking is the theme of your vacation, take a cooking or food tour for several days to a week. Many options exist all over France.
What to Expect
Most classes in cooking schools will include a trip to the outdoor market, meal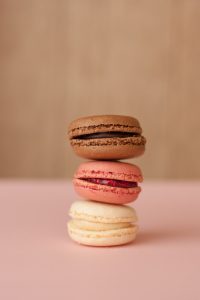 planning, preparation and cooking, and finally sitting around a lovely table to enjoy the results of your labor. You'll have to reserve the class at least a couple of months in advance, depending on the popularity of the classes. Most of the classes are taught in English.
Pricing will vary greatly. The least expensive option will be in a department store, such as Galeries Lafayette or Printemps. The class will last an hour or two and you won't have a market experience.  These classes might not be taught in English. In a cooking school, you can find classes lasting several hours between 100-200 or so Euros per person. Some are more pricey in the case of a 2 or 3-day course with a celebrity chef.
Of course, a week-long cooking vacation will cost more but will include housing, excursions, and several classes. This is an excellent option if you'd like to take a whole cooking vacation instead of one or two classes. (I have just put this on my bucket list!)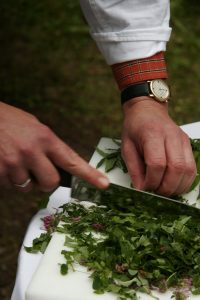 Classes in Provence
Here's what one class participant said about her experience in a one-day cooking class in Provence with Jean-Marc Villard (www.cuisinedechef.com): "We took the train from Avignon to a nearby town, Maubec. Jean-Marc and Alice picked us up in their cars.
First stop:  Naturelement Paysan, a cooperative food market. Jean-Marc explained how the co-op works and bought a couple of things for our meal.  As we browsed, he provided information about many of the products. It was extremely clean and well-kept, run by the farmers and producers.
Second stop:  The home of Jean-Marc and Alice where we prepared the meal in their kitchen. Jean-Marc was very good, and patient. They are both charming and were well-prepared. As we sat outside and ate what we had prepared, I felt like I was in a movie!"
Jean-Marc Villard also does a 2-day class which includes a wine tour.
Provence is a popular location for cooking classes. The company Cook'n with Class has individual classes in Uzès (west of Avignon) as well as one in Paris, and a 6-day cooking vacation in Uzè as well.
More South of France locations for cooking classes
Some cooking courses take place in restaurants as well, such as at La Serviette Blanche in Cannes. Prepare a 3-course meal and enjoy it after! https://www.laservietteblanche.com/Cooking-classes.html
In Aix-en-Provence, Marseille, or St. Rémy-de-Provence, Provence Gourmet has a 6 hour class including a winery visit.  https://www.provence-gourmet.fr/
Cooking class in Paris
Here are some options in Paris for day classes.
Le Foodist      https://www.lefoodist.com/ This cooking school has a similar process to that described above, with a visit to the market and a sit-down meal.
La Cuisine Paris: This school offers classes between 2 and 4 hours and also does food tours. https://lacuisineparis.com/
Cook'n with Class has locations in Paris and Uzè in the south of France, as well as week-long cooking vacations in Uzès. https://cooknwithclass.com/paris/french-cooking-school-paris/  week-long cooking vacation: https://cooking-classes-uzes.com/week-in-uzes/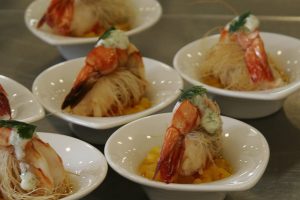 Other week-long cooking vacations throughout France
Kerrouet House is a French dining school in the heart of Brittany where you can take a 5-day cooking vacation and also enjoy the peaceful rolling hills of Brittany. https://www.frenchdiningschool.com/
If you're in Burgundy, east of Paris, check out the Chef's Atelier. It's located in Beaune, the heart of the Burgundy wine country (and their website is gorgeous!)  https://www.thecooksatelier.com/
For a unique combination of cooking AND French instruction, check the Ecole des Trois Ponts, located just north of Lyon. You can choose just cooking, just French, both, or even combine one of these with walking excursions.
The company Lifestyle Vacations has week-long tours in several locations in France as well as day classes in Paris, the Loire Valley, and Provence.  www.lifestylevacationsinfrance.com
If you are near Bordeaux, Le Gargantua is a cooking school with programs anywhere from one afternoon to five days.  http://www.legargantua.com/
There is even a course for gluten-free cooking in Provence.  www.aubergelafeniere.com/
Hopefully, this will whet your appetite to combine vacationing and French cooking on French soil!