When it comes to accommodations, let's think outside the hotel box. If you spend your vacation days on the run and use your hotel only to sleep, they are a good choice (see link below). You get exactly what you need, a bed, a shower and possibly some breakfast. But suppose you want a different lodging experience? You have choices in France. Here are some.
I'll cover apartment rentals in another post. Here we'll talk about gites, villas, and chambre d'hotes. What are they and how are they different?
Gîtes
This French word is pronounced zheet. It is a rural house or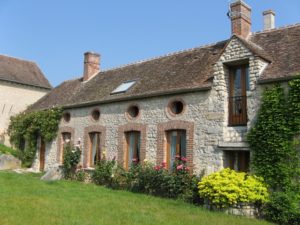 cottage rental. You can find gîtes all over France. It could be a country cottage or a renovated barn or a guesthouse. There was a time when most gîtes were simple, but now a range is available, giving travelers the option of having luxury in a rural setting. You can find gîtes on international as well as French travel websites. Plenty of photos help you select the one you want. Here are some sites to look at for a French gîte.
http://yougite.com/Yougite   (they have all types of lodging except hotel)
https://en.gites-de-france.com/
http://gitelink.com/gites-villas-cottage-rentals.htm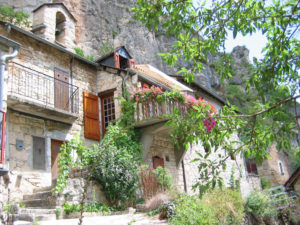 Chambre d'Hôte
This is a bed and breakfast, providing up to five bedrooms in a private person's home. Usually, you'll pay a lot less than for a hotel room, and breakfast is included, unlike many hotel accommodations. It can feel just as private as a gite, depending on the layout.
Staying in a hotel or a rented apartment or home, you might spend your whole vacation never really getting to know French people. That's the advantage of a bed and breakfast, where at least you'll get to know your hosts, who can advise you about what to see and do and who will provide your breakfast. These were around before Air BnB but it's the same concept.
Voilà some links for chambre d'hôtes:
http://ilovewalkinginfrance.com/what-is-a-chambre-dhote/
http://www.chambresdhotes.org/
https://www.chambres-hotes.fr/index_en.html
For the price of a regular hotel room elsewhere or maybe even less, you may be able to enjoy lovely gardens, a pool, and a serene setting…along with a room that doesn't fit the predictable hotel-style mold.
A villa is a name given to a free-standing house that you can rent in its entirety. These can get luxurious, with pools, or beaches nearby. They can be lovely manor houses or stone farmhouses.
www.homeaway.co.uk/lettings/france/r31 You'll have to translate the British pounds.
www.cheznous.com/   They offer cottages, gites, and villas.
As you may be thinking, there can be a lot of overlap among the different terms. You could have a larger gite or a smaller villa. The common denominator is that it's a different experience than a regular hotel room, usually offers either breakfast or the possibility to do your own cooking, and is probably not in a city setting. You may need a car to get there and circulate around during your stay.
Staying in a gite, chambre d'hote or villa gives you a more authentic travel experience in a home, whether you are a guest in a bed and breakfast where the owners live, or you rent an entire house for a week. Either way, it will be unforgettable!
If you prefer a hotel or apartment, there's always my favorite, Booking.com. Booking.com is an affiliate link because I like this company and it's the one I most often use. Using this link or the sidebar link to book your hotel won't cost you more but helps support Oliver's France. Thanks!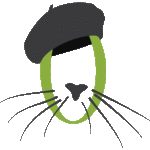 Related Posts
Note: the above links are not vetted by K. B. Oliver. I hope they'll be helpful in seeing what's available and if you want, booking.
Photos: The first photo is of Fontainebleau cottages (offered by Houz.com) The second is Tarns Gorge (offered by Gites de France), and the last is in Normandy (offered by Gites de France.)