Compiègne, France . . . Imagine you've just spent a few days visiting Paris when you get the urge to get out of the city for a day. You don't want to go too far, but you'd like to experience a smaller town, yet one with history, beauty, and things to do.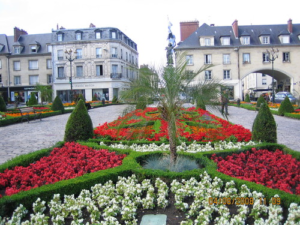 You'll find all of this in the town of Compiègne, about an hour's drive (or 40 minutes by train) northeast of Paris. You might not have ever heard about it unless you're a historian or a World War buff.
Along with being a lovely town with museums, an imposing château, a vast forest and lots to see, many important historical events happened here.
Did you know…
Joan of Arc was captured in Compiègne in 1430 while attempting to free the city.
Marie di Medici was exiled in Compiègne in 1630 when she attempted to oust Cardinal Richelieu.
King Louis XVI and Napoleon both hung out here.
World War I ended with the signing of the Armistice in a railroad car (the original car was destroyed but you can see a reproduction made by the same factory as the original.) During the war, the château was used as a hospital.
In World War II another armistice was signed, this time between occupying Nazi forces and a defeated France.
During the German occupation, an internment camp was set up for deportation to concentration camps. There is a memorial there marking this event.
To Do in Compiègne
You shouldn't miss seeing the château, built by Louis XV and restored by Napoleon, who added the Second Empire style during renovations. The rooms have furnishings from the Napoleon III period. The gardens are done in the English style, in contrast to the more formal French style found in the Loire Valley.
Restoration of the château is ongoing. Compiègne's sister city, Raleigh, North Carolina, helps with these efforts through the American Friends of the Château of Compiègne association.
In the town center is the 16th-century town hall in the gothic style. In the Church of Saint-Jacque from the 13th-century, you'll see where Joan of Arc came to pray on the day of her capture.  Also from the 13th-century is the Church of Saint Antoine, while the Church Saint-Pierre-des-Minimes is older, from the 12th-century. Remnants of medieval ramparts remind you of the long history of this town.
It's worth at least a day trip for a change of pace!