French Market Culture
When I lived in Paris, I had a weekly routine for buying fresh fruits and veggies at the French market. I took my wheeled canvas bag down the elevator and headed out to the local bi-weekly market.
I was consistently amazed at the lovely produce I bought for less than I'd pay in a grocery store. There's a reason that the French market has been a normal part of French cultural life and shopping since the fifth century!
If you visit Paris, you may want to supplement your dining out plans with some open market indulgences. You'll save money, of course, but you'll get that much closer to the French culture, doing things the French way! There are 69 open markets and 13 covered ones, as well as 3 organic markets, so you have many choices.
In almost every town and city in France, there is at least one open market per week. Sometimes there are two or three, and sometimes you can even find daily markets. These will be open every day except one, usually Monday.
You can find out where the local markets are at your hotel or with your host, or a travel book may give you some locations. In Paris, there are many to choose from. Provence, too, has a host of local markets for every day of the week. Wherever you travel, you'll find a local market, whether open-air or covered.
Market Savvy
Open-air markets are set up the night before unless they are available daily. You'll see city workers in the designated square or parking area putting up poles, awnings, and tarps overhead. On market day, the area will be abuzz with shoppers, conversation, and crowds with their shopping lists. You'll see people stopping for a convivial moment with neighbors and acquaintances.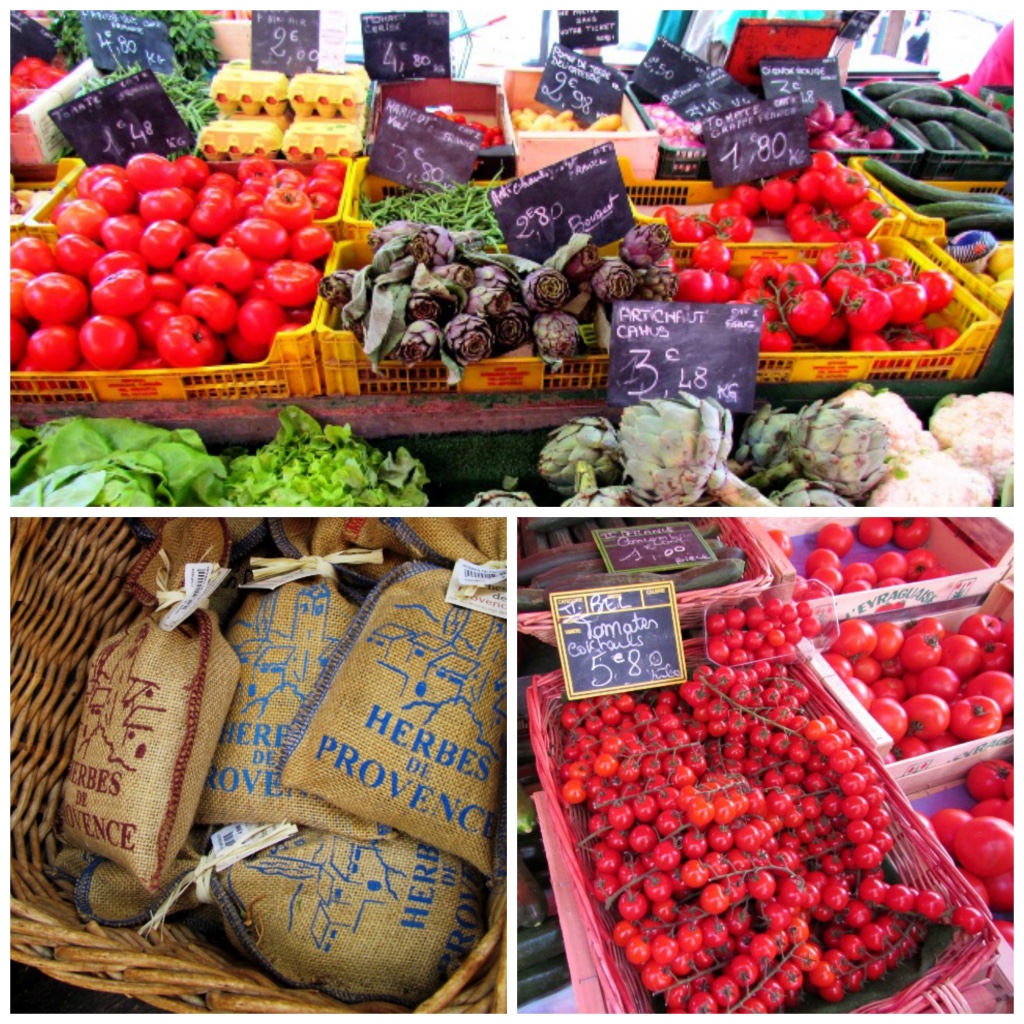 At about 2 pm, vendors will begin putting everything away. Some of them mark down items they don't want to take home (so keep your eyes open for that, if you're there at the right time!) Lastly, the poles and tarps come down and everything disappears until the next time.
Some towns have permanent covered markets. You'll see several of these in Paris. Covered markets sometimes have food courts, where you can buy your prepared lunch and eat it on site. If you're visiting a market on a cold, rainy day, you might make a point to find a covered market!
It's helpful if you have a cloth or canvas bag or a backpack to carry your purchases. If you're going to be in France for a longer visit and plan to buy produce in bulk, you may want to invest in a wheeled canvas bag. At the market, you'll get a plastic bag to carry your veggies, but it's handy to put these into a larger bag.
Vendors will be calling out their prices to anyone in the vicinity. Once you approach a stand. Nowadays, vendors often allow you to choose your own produce and bags are available for people to serve themselves. It's best to take cash for the markets. Some vendors do accept cards, but likely only local cards (such as Carte Bleue) known in France. (You can always try your Visa, though, but have euros as a backup.)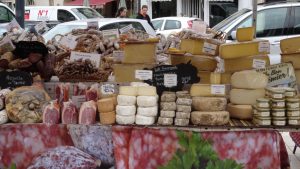 You won't find only veggies and fruits at your open market. You'll likely see clothing, crafts, kitchen utensils, rugs, shoes, flowers, fish, and meats. Some markets sell prepared foods from local caterers.
Questions about French Markets
What kinds of things are sold in a French Market?
Fruits, vegetables, spices, flowers, fish, meats, eggs, bread and baguettes, cheeses, kitchen gadgets, shoes, crafts, bedding (sometimes), rugs, plants….. a lot of things!
How do I buy produce at a French Market? 
Usually, you can serve yourself. Know what you want before it's your turn to be waited on, especially if it's crowded. Ask for "un kilo", about 2 pounds, or "une livre", about a pound. Une livre (not to be confused with un livre, which is a book!) is about 400 grams, nearly a pound. Close enough. If you want less than une livre, for example, a quarter-pound, request that by grams, about 250 grams. If you don't know French numbers, you can write out the number on paper, add the word "grams", and show it to the vendor. (A better idea is to learn French numbers! Check out my book Real French for Travelers or the online course!)
What are some well-known markets on pedestrian streets in Paris?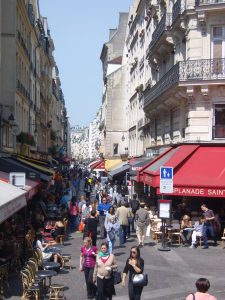 Several pedestrian streets in Paris usually have a weekly or bi-weekly market. Here are a few: Rue Daguerre in the Fourteenth district, Rue Montorgeuil in the First, Avenue Villiers in the Seventeenth, Rue  Cler in the Seventh, and Place Monge in the Fifth (with the fun Rue Mouffetard nearby). These markets and streets are well-known. you'll love the energy and beauty of the market experience. One of the most popular (with locals) is called Marché d'Aligre in the twelfth district. This market is open daily except for Mondays and has the reputation of being the most reasonably priced in the city. They don't sell meat or fish, but you'll have a wide array of fruits, vegetables, and flowers to choose from. On Sunday, there's even more variety. You'll see markets in every corner of Paris and in every town and village across the country!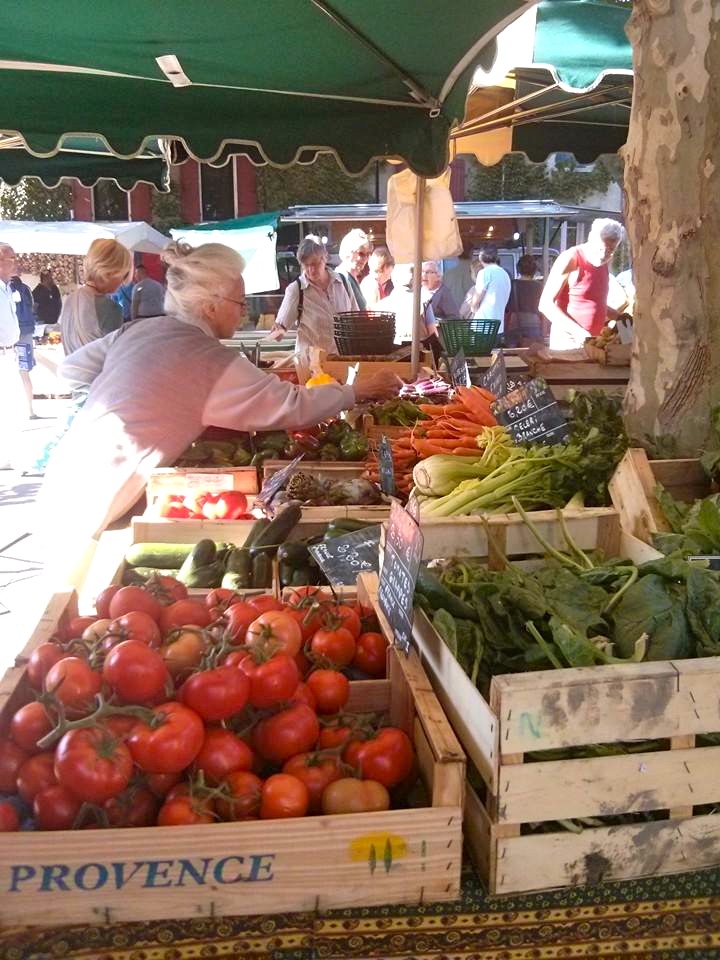 Where are some covered markets in Paris?
St. Martin in the tenth district, Rue de Chateau d'Eau
Les Enfants Rouges: This is the oldest market in Paris. Find it in the third district on Rue Bretagne.
Le Pre Saint-Gervais: This town on the northeast outskirts of Paris (outside the nineteenth district in the center of town.)
Saint Germain in the sixth (Rue Lobineau)
Marche l'Europe in the Eighth on Rue Corvetto
Beauvau in the Twelfth, Place d'Aligre
Passy in the Sixteenth district, Rue la Muette.
Find more HERE 
Where can I find Provence markets when I visit that area? 
Provence is famous for its markets. There, in addition to gorgeous produce ripened under southern sunshine, you'll find Provence specialties you may want to buy as souvenirs, such as Provence tablecloths and tea towels, herb mixtures, pottery, and clothing. Some Provence markets (farmer's markets) take place in the evening around 6 pm to avoid the heat of the day, and to suit peoples' work schedules. You'll find markets every day of the week. The Luberon area (southeast of Avignon) is iconic Provence. You shouldn't miss it, including markets there. Combine a town visit with market day to see both cultural treats at once. For in-depth information, check out the little paperback, Markets of Provence by Marjorie R. Williams. She covers the best markets, specialty markets, and lets you know when and where everything is.
Can I use my credit card at a French market?
Probably not, though it wouldn't hurt to try. But always have cash on hand, in case the vendor doesn't accept foreign cards. Smaller towns are less likely to accept cards, but really, most will not unless it's a local French card (like Carte Bleue.)
Are things cheaper at a French Market?
Almost invariably, yes. For specialty items, not necessarily, but you won't likely find anything unreasonable. Some things won't be of great quality, while others will.
Do the French have local flea markets or antique markets? How can I find one?
A pop-up flea or antique market is called a "Brocante". Many of the vendors are just local citizens that want to have a type of yard sale, but do this in the center of town! You'll likely see these on weekends, as residents and shop owners alike spread their wares on tables or cloths on the ground. These can also be "vide-grenier", which literally means emptying of the attic. Check Vide-grenier.org or l'Anenda des Brocantes.
There are two enormous flea markets in Paris, one to the north (the largest in Europe) and one to the south of the city. Check out the blog post on Paris flea markets.
As you can see, there's much to be said about French markets, as well as tasted, seen, and experienced. It's a part of French culture you shouldn't miss during your visits.
Related Posts