Europe has a reputation for being expensive, and France is included in that assumption. But is it really? Like any other country, some things are more expensive and some are less. If you compare France with the U.S., you'll find that in France…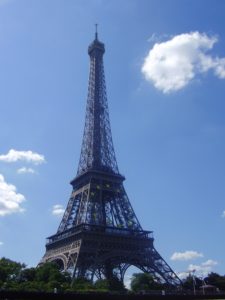 Gas is more expensive
Telecommunications are less expensive (cell phone, internet)
City housing can be expensive, but housing in smaller cities and suburbs is affordable.
Medical care is much less expensive.
Buses and subways are less expensive.
Clothing is slightly more expensive (but it depends on the type of clothing and the store where you go…just like anywhere.)
Food is slightly less expensive and (I think) the quality is generally better.
So you see, it's a tradeoff. It's possible to be budget-conscious wherever you are…even in Paris or other cities in France. Of course, don't go overboard…you didn't come all the way to France to eat peanut-butter sandwiches. (Not that you can easily find peanut butter…)
But don't most of us want to save a little money here and there, even if we've splurged on the hotel or possibly a few of our restaurant choices? (And you should have at least a few memorable meals, since France is known for its food and drink.)
But here are 21 tips that might help you save a little here and there. And of course if you're totally on budget, you'll find a lot of ways to save.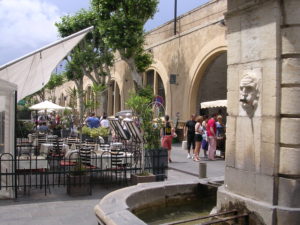 Try 2-star hotels that may or may not be part of a French chain. (Some lower-priced French chain hotels are Ibis, Première Classe, and Novotel.)
If you are going to Paris, book a hotel outside of the city center, further from the touristy neighborhoods where the famous monuments are. Look for other districts such as the 11th, 12th, 20th, 14th, and 17th, or any closer to the edges (though the 16th is quite pricey.) These may be less expensive but you'll also get away from the tourist crowds and have a more authentic experience. (Note: there are things to do in all 20 districts of Paris. Check my book Magical Paris: Over 100 Things to do Across Paris for activities ALL across Paris, with info on off-the-beaten track treasures, including how to get there. There are suggestions for budget traveling as well.)
Go to France off-season, in winter or early spring, or at least before June or July. Avoid July and August, because French school children are out of school then, and everyone hits the road. That's also when it is most crowded everywhere.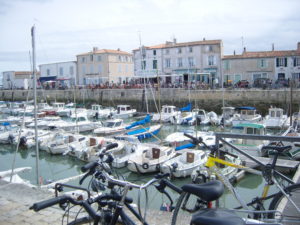 Be sure to buy your train tickets in advance. You can get some serious discounts if you do this, and if you are flexible about what days you want to travel. Check also the ITGV line. It goes only to certain places, usually in the south and southwest of France, but it's worth a look. See the post on Train Savvy for more details.
Go with another family and rent a large apartment together. This will divide housing in half. Consider staying outside of a big city, but still near public transportation.
For the serious money-savers, consider Couch surfing or Air BnB for your housing options, or a youth hostel.
Eat at restaurants just once per day. Do a picnic for one of your meals from time to time.
Buy some groceries at an ethnic food store, such as an African, Asian, or Middle Eastern grocery. Sometimes prices are better than at larger chain supermarkets. And it's a fun cultural experience!
Set a limit to how much per day (total) you'll spend on admissions to museums, etc. That will force you to think one more expensive, one cheaper, and a few outdoor free things as well. Try to toss it up for variety.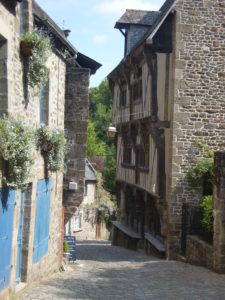 Be sure to include neighborhood wanderings in your itinerary. You will feel closer to the culture, get good exercise, and it's free.
Add some free activities to your daily list (smaller museums, cathedrals, parks.)
Check out an Appart-hotel, which has cooking facilities. You can buy your own groceries and cook at home for at least a few of your meals. Or rent an apartment.
Check out other housing options, like gites or chambre d'hôtes. The added advantage is that you get closer to the culture, since you will be staying in peoples' homes and interacting with them.
Plan out your trip so you can walk more than take public transportation, if possible.
Buy groceries at the open markets. They're lots cheaper and better! Avoid processed goods, which can be more expensive in France.
Buy your plane ticket well in advance, and use a discount comparison company like Kayak, Skyscanner, Thrifty Nomads, Expedia, etc.
Consider going camping for part of your trip, if you like nature and are in one of the many beautiful natural areas of the country (Provence, Dordogne, Auvergne, the Alps, Brittany, Alsace…) Etc.
Try a museum pass (for one price get special admission to several museums) or combination tickets at certain sites. Don't forget to ask about discounts for students, teachers, or seniors. Many museums across France are free the first Sunday of each month.
Visit cathedrals, fountains, parks (there are MANY beautiful, free parks all over Paris, for example. )
Get a package deal with a discount tour company. Sometimes they offer excellent prices. Also check Groupon, which sometimes has travel deals.
It would be a good idea to decide in advance what kind of trip you want. Is it a special anniversary trip and you want to go first class all the way? A honeymoon? You can still save money on some items, like trains and package museum visits. Hey, every little bit helps! And make your MUST SEE list in advance.
Or maybe you just want to get yourself there and then live on the cheap. Or maybe it's a cross between the two. Decide your budget, be comfortable with it, then go enjoy yourself!