Surrounded by the French Alps and squeezed between 2 rivers, the Drac and the Isère, this large city of 160,000 or so people is only a three-hour train ride from Paris. It sits close to the Swiss border and is considered the capital of the French Alps.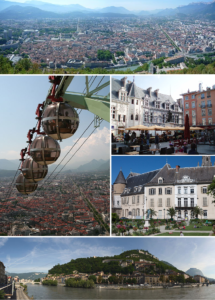 Worth a look and a visit for many reasons. One, it's beautiful there, with mountain views from many vantage points in the city. It's energetic. It's lively. It's on the move.
The downtown has much of what you'd expect in a large, French city…shops, cafes, and a big-city hum. It's filled with students, academics, some tourists, and folks who love being near mountains. It's a large city, though small enough to enjoy without being overwhelmed by stress.
Ironically, the city itself is flat, though there are 20 ski resorts at an easy distance, including Chamrousse and Les Deux Alpes. It was the site of the Winter Olympics in 1968. Grenoble has a lot of hiking. It's a place you can immerse yourself in nature.
Historically, the city was known as an industrial center, specifically for industry and mining, in the 19th and 20th centuries. Today it's an important hub for scientific development. In fact, it is the largest center for scientific research in the country outside of Paris, with a number of research institutes, both private and state-owned, as well as many universities. Areas include biotechnology, space, geology, engineering, molecular biology, and energy.
Near to Lyon and to Switzerland, convenient to skiing and to nature, Grenoble is also a great jumping-off spot for many lovely spots in the southeastern corner of France (Le Mont Blanc, Annecy, Chamonix, Aix-les-Bains, Briançon.)
Things to do in Grenoble
La Bastille: This is the best-known tourist site in the city. Upon a hillside, you'll find an 18th-century fortification built on medieval ruins. You can access it by cable car (téléphérique) or you can hike up. It offers a view of the city as well as a couple of restaurants. Or you can hike one way and ride the other. These gondolas are known locally as Les Bulles (the bubbles), and they really do look like bubbles. http://www.bastille-grenoble.fr
Place St. Andre: lively center of open markets and shops. You'll also find the Café de la Table Ronde, the second oldest café in France, established in 1739.
Bonne Eco District: one of the first Eco neighborhoods in France is 15 minutes walk from the center. It is a model for other sustainable communities in France.
There are 20 art and cultural centers in the city, so the best idea is to go to a Tourist Information bureau and get a listing of what and where so that you can plan your artistic journey. The most notable of these is the Museum of Grenoble, whose works span many generations and developments in artistic style.
Museum of Grenoble: an art museum that was the first to open to modern artists and welcomes over 200,000 visitors per year. It contains 1500 works in 65 rooms, including Ruben, Renoir, Monet all the way to Warhol, Miró, Matisse, as well as some sculptures by Rodin.
The Grenoble Archeological Museum has artifacts dating to the 3rd century
Palace of the Parliament of Dauphiné: renaissance and gothic building built in the 16th century, when it was used as a parliament building up until recently.
Grenoble is known for an herbal liqueur known as Chartreuse (it's that color too) and is 55% alcohol. So be careful.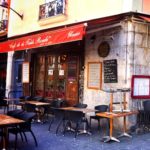 If you're looking for a mid-sized city, history, and nature all rolled into one, this is your place.
Note: the collage is courtesy Wikipedia. Last 2 photos courtesy Blonde Gypsy.