French Monuments and Two in Particular
France attracts 70 million visitors a year. France would like to see this reach 100 million, though this goal was postponed for 2 years by Covid. Here in Spring 2022, we see monuments, museums, and almost everything fully open and ready for the new, eager wave of visitors tired of being cooped up!
As I updated the current issue of Magical Paris (2022 updated version available now!), I was amazed to see all the doors open. Many places still require proof of a vaccine (though not all), and some require reservations. Despite these safeguards, the doors are wide open. Some had extended hours, most had only slight rate increases, some had rate decreases, and all of them offered a big "we missed you" welcome.
Focus on Monuments
In the coming months, Oliver's France will feature well-loved and world-famous monuments from around the country, and surrounding destinations you'll enjoy alongside. There's a reason why people come from around the world to see and enjoy the timeless French culture. What's not to love?
There are 40,000 officially recognized historic monuments across France. UNESCO (United Nations Educational, Scientific and Cultural Organization) has recognized 1073 sites around the world as world heritage sites, and 43 of these (and growing) are in France. Thousands more buildings are historical and cultural treasures, though not officially recognized.
Banks of the Seine: A UNESCO World Heritage Site
The Banks of the Seine, the main area in central Paris along the river, has been recognized as a World Heritage Site since 1991. It was here that the city of Paris began and a large portion of the city is included. The next few posts will include several of these historically significant places, as well as others around France.
The bottom line is there are nearly endless towns, natural areas, and monuments of historical significance to see in France!
In this post, you'll get the overview and a few details on two of the best-loved monuments in France. Both of these are in Paris. L'Arc de Triomphe (or, the Arc of Triumph) and La Sainte Chapelle.
L'Arc de Triomphe  
Arc de Triomphe (Arc of Triumph) This world-famous monument sits at the west end of the Champs-Elysées forming an appropriately dramatic endpoint of this world-renowned avenue. Built between 1806 and 1836, the monument was initiated by Napoleon to honor those who fought in the wars during his reign, and there were many. He was unable to finish the monument since he was exiled before its completion, but it was finished by King Louis Philippe, between 1833 and 1836. At the base of the monument is the tomb of the unknown soldier from World War I, where a flame is rekindled each evening at 6:30 pm.
Facts about the Arc de Triomphe
It took 30 years to build.
The Tour de France bike race ends here.
The annual military parade on Bastille day begins here.
It is surrounded by 12 streets radiating out like a star. For this reason, the area is referred to as Place de l'Etoile (star). You can see this name on metro maps.
There are 284 steps from the bottom to the top of the monument. An elevator is available if you don't want to make the climb.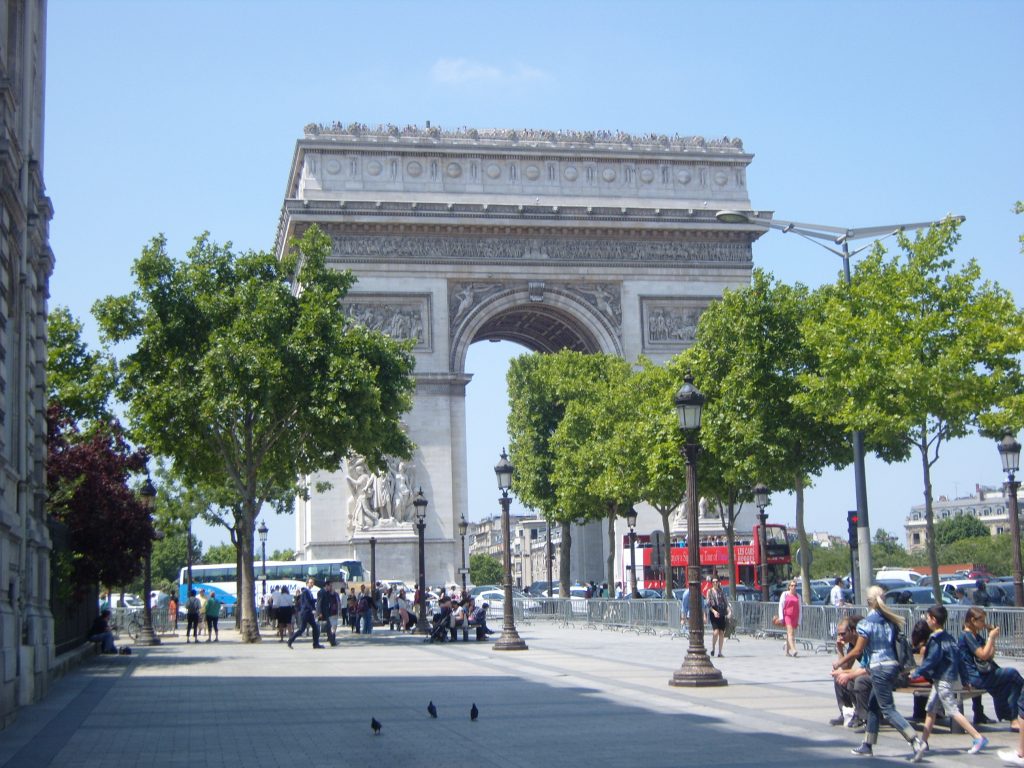 Hours: You can visit the top of the Arc de Triomphe from 10 am to 10:30 pm.
Admission: 13 € to go inside and climb up to the top (284 steps). Students 18-25 cost 9 €. Free for visitors under 18 and EU residents up to age 26. Covered by the museum pass; free first Sunday of each month October through March.
Tip: If you want to go and look at the monument but not go to the top, there is no charge. There are 12 streets surrounding the monument. Don't try to cross over this maze of streets, since you may not make it in one piece. Use one of the two underground pedestrian passageways on Avenue de la Grande Armée, by way of the Wagram Street exit of the Métro, and the Champs-Elysées.
Getting there: Take RER A Charles de Gaulle Etoile, or line 1, with the same name. (33) 01 55 37 73 77   www.monuments-nationaux.fr
La Sainte Chapelle
Sainte Chapelle on the Ile de la Cité is a small but lovely example of Gothic architecture. It was completed in 1248, commissioned by King Louis IX to house the holy relic of the Crown of Thorns and other Passion relics. The 15 panels of stained glass that grace the walls, stunning in the sunlight, comprise the largest collection of 13th-century stained glass in the world. Over half is original.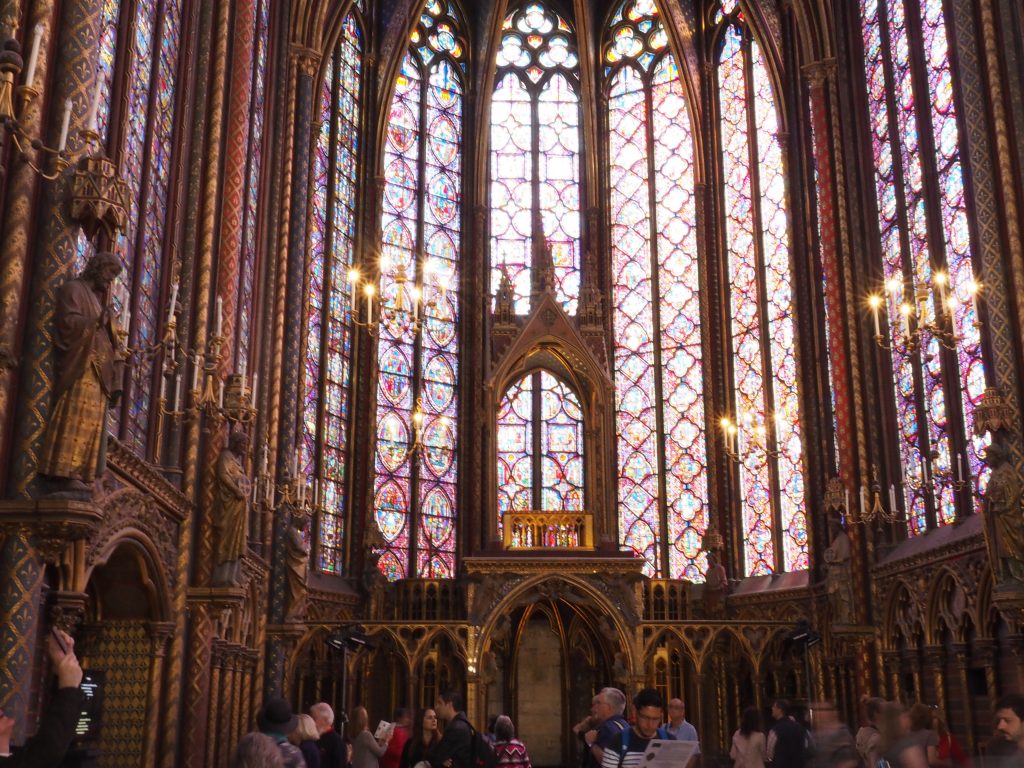 Facts about the Sainte Chapelle
It took only seven years to build
It was also used as the private chapel for the King of France
The holy relics could only be viewed by the royal family at first, but later, people could view them at certain times of the year.
Originally, there were 22 relics. Today, there are three and they have been moved to the Notre Dame Cathedral.
The relics were purchased by King Louis IX from the King of Constantinople for a price that was three times what it cost to build the Chapelle.
Currently, it isn't used as a chapel but is a popular tourist site.
You can reserve the chapel for 2 hours if you want to get married there. They will provide chairs for free.
Hours: Usual hours: Open April 1-September 30 from 9:00 to 7 pm, Monday through Sunday. From October 1 to March 31, open 9 am – 5 pm.
Admission: Adults: 11€50; under 18 free, E.U. residents under 26 free. Combination ticket with the Conciergerie: 18€50, only available online. Covered by Museum Pass. Not free the first Sunday. http://www.sainte-chapelle.fr/en/
Getting there: Métro Line 4, stop at Cité. Go across the Boulevard du Palais.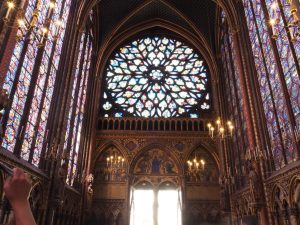 Stay tuned for more inside looks at French monuments and historic sites at Oliver's France.
Complete information on these and other monuments as well as over 100 things to do across Paris: the book, Magical Paris: Over 100 Things to Do Across Paris.
2022 update is available!
Related Posts
French Architecture: What to Know