Making Sense of French Architecture
When you travel to France, your travel guidebook will often use words such as Renaissance, Neoclassical, or Gothic to describe French architecture. What does it all mean?
For this post, I'll give you an overview of some architectural styles you'll frequently see in France. Don't worry, it won't go too deep into detail.
Even if you aren't drawn by architecture, it can be fascinating to know:
how these styles vary from each other,
when in history they were popular, and
what historical events were happening then.
That kind of understanding can take your view of a building to a deeper level. For example, you see the Château of Amboise in the Loire Valley and you learn it's a Renaissance castle. That means it was likely built in the 16th century when many newer castles in that area were constructed. But, why the castle surge in that time period?
Two centuries earlier, during the Hundred Years War with England, French monarchs and nobles fled to this area and built sumptuous castles for themselves to wait out the war (which lasted a while, 116 years, to be exact.) They liked the area so well, they settled in and built even more castles. Of course, castles had existed in that region since before the 9th century, and you can tell an older castle by the architecture.
See why that's so interesting?
Here's the lowdown on 8 styles across history, how you can recognize them.
Gallo-Roman
Rome occupied France for nearly five centuries, beginning with the conquest by Julius Caesar in 58 BC. Some of the most notable examples of ancient Roman architecture in France are in Nimes and Arles in Provence. In both towns, you'll find Roman arenas. Nimes, in particular, has several examples from this period, including the well-preserved Maison Carrée, formerly a temple, Roman gates, and a Roman tower. Outside Avignon sits the Pont du Garde, the highest and best-preserved Roman aqueduct in the world. There's even an ancient arena in Paris!
Pre-Romanesque
This style is identified around the 8th century and is characterized by solid-looking, square structures, often with arches. The Abbey of St. Germain des Pres located in Paris and founded in the 6th century is an example.
Romanesque
10th century through the 13th century. The styles are similar to the pre-Romanesque in that they are not extremely ornate, with some exceptions, such as the beautiful Angloulême Cathedral, with its Byzantine influence. Also, the Church of St. Trophime in Arles and the Abbey of Cluny, a Benedictine abbey in eastern France.
Gothic or Medieval
This architectural style is often associated with French cathedrals since so many were constructed during the Medieval period. These buildings are quite ornate and impressive. This characterizes the Gothic style. The spires are more narrow and delicate-looking than those in the Romanesque period. Examples include the Sens Cathedral in the town of Sens, an easy drive east of Paris, the Chartres Cathedral, a world-renown example of stunning Gothic construction, also not far from Paris, and of course, the Notre Dame de Paris Cathedral.
Renaissance
1300s to 1600s. In the late 15th century and into the 16th, the Italian Renaissance influenced architecture in France. This was not only due to the presence of Leonardo da Vinci, invited to live in Amboise by French King Francis I. Many of the castles in the Loire Valley were built in the Renaissance period, notably, the likes of Chenonceau and Chambord, some of the best-known and most-visited. (For more info on castles, check A French Garden: The Loire Valley)
Baroque
Beginning in the 17th century, this style is characterized by a symmetrical, orderly structure, yet at the same time, extremely elaborate and ornamental. You'll see domed rooftops, detailed facades, murals and frescos on ceilings, and gold-plated roofs, doors, and décor. Good examples are the Château de Maisons in Maison-Lafitte, outside Paris, Les Invalides, in Paris (with its gold dome), and the palace of Versailles. During this era, more emphasis was given to structures aside from cathedrals, including a great priority on the design of magnificent castle gardens. Vaux-le-Vicomte Palace is a great example of the Baroque style with stunning gardens designed by André le Nôtre, the king's gardener, whose work appears in other famous chateaux, such as Versailles.
Neoclassical
Mid 18th century in France and Italy. The more austere, boxy look was a reaction to the over-the-top ornamentation of the Baroque period. Many of the buildings resemble Greek structures, with columns and straight lines. Familiar examples include the Arche de Triomphe and the Panthéon, both in Paris. Also, the Petit Trianon in Versailles and parts of the Louvre.
Haussmann  
This was not a historical movement like the previous cases, yet the work of Baron Haussmann impacted the current appearance of Paris in the 19th century in what is now an iconic style. Other French cities followed the trend. George-Eugène Haussmann was a French official commissioned by Napoleon III to supervise a major urban renewal project. During this renewal, many streets were widened and many building facades were given the style we easily recognize, with mansard roofs, stone-block construction sometimes with ornate decoration and wrought-iron balconies. Sanitation, water supply, and traffic were also improved. Since the renovation pushed a lot of residents out of the center of the city, Napoleon III annexed eight towns surrounding Paris, increasing its arrondissement from 12 to 20, the current number, greatly enlarging the city.
See? I told you architecture in France was interesting! You'll better understand your France guidebook and better appreciate the structures all around you during your next trip to France!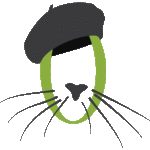 Real French for Travelers Online Course! Get ready for your trip by learning REAL French. You enjoyed the book. You'll LOVE the course!
Another great resource for your next trip: Magical Paris: Over 100 Things to do Across Paris.
Photo credits: Nimes/Chartres photos by Guy Dugas; Cluny photo by Falco