Many people know French specialties like foie gras, Bordeaux wine, croissants, and crêpes. You may even know about Tarte Tatin and Cassoulet. Some are national (and international) favorites and others are regional. But here are a few delicacies you may never have heard of. Prepare to have your palate educated!
Sel de Guérande
In Brittany, there exists a very special kind of salt. It's expensive, rare, and sought-after for gastronomic restaurants. Guérande is a medieval town in southern Brittany. The salt is manually gathered by specially trained workers (les paludiers) who use poles with a fine screen on the end. The rarest, most exotic form of this salt is called fleur de sel. It has a different flavor than ordinary salt, due to trace minerals and higher levels of magnesium.  Sel de Guérande has been gathered in the same way since the Iron Age, though the salt industry here dates later— back to the Middle Ages.
In our day, Sel de Guérande is available all over, and even online.
Riz de la Camargue
In the south of France just below the city of Arles, the Rhône River empties into the Mediterranean Sea. There, a large, marshy area known as La Camargue welcomes 400 species of birds, wild horses, and bulls. And salt flats (yes, the second famous area in France for natural salt.)
You'll find something surprising there, rice. Red and black Camargue rice is known around the world for its delicate, nutty flavor. (This also you can buy online or in French grocery stores.) There are 40 varieties of rice, and Camargue rice accounts for 30% of French consumption.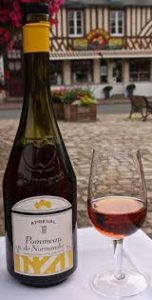 Pommeau
Pommeau is an apple beverage from Normandy. In the world of apple beverages, Calvados is likely the most famous. But in addition to cidre (traditionally consumed alongside crêpes) and Calvados, consider pommeau, a less famous but much-enjoyed apple spirit. Pommeau is an aperitif and is made from unfermented apples mixed with calvados. It is then aged in oak barrels. You can buy pommeau in France, of course, and in certain sellers of imported spirits (including online.)
Chartreuse
Again in the alcohol category, is a naturally green liquid distilled from 130 plants. Not for the faint of heart, however, with 55% alcohol content. Chartreuse was originally made by monks, starting in 1737 at a monastery in Grenoble. It is now widely available (though going to Grenoble to get it would certainly be more fun.)
Calissons de Provence
If you're in the neighborhood of Aix-en-Provence, you'll see many storefronts showcasing small almond-shaped sweets, the famous Calissons de Provence. On the inside is candied fruit with ground almonds. On top, a pale icing. A box of them is a great gift to bring back to your dog-sitter after your trip. Their popularity and fame (and importing) have caused the price to rise, but the taste will be worth it. They've been enjoyed in France since the 15th century.
Kouign Amann
(Pronounced queen-yah-man) It's worth a trip to Brittany to taste this buttery, sweet pastry, simple bread dough layered (and layered and layered…) with butter and sugar then baked golden. No additional fat or sweetener is added, but there's plenty in there with butter and sugar. It's a mouth-watering treat that you can find around France, but the best is at its place of origin, Brittany. I tasted my first kouign amann in St. Malo and got hooked on it. (Let's just say it was a fattening vacation!) I haven't seen anywhere to buy it outside of France, but you can easily find recipes online to make your own. Be patient, it won't look great the first time (but will taste unforgettable!)
Socca from Nice
We've covered sweets and alcohol. Now for something healthy and tasty, too. Socca is a flat savory cake made from chickpea flour. It's great for vegetarians, due to the protein in the chickpeas and olive oil. Top with a variety of foods for a delicious and healthy meal or snack. This is a specialty from the city of Nice, in southeastern France on the Mediterranean. Here's a simple recipe:
https://www.foodrepublic.com/recipes/simple-socca-recipe/
There's so much to see, do, eat and drink in France! Put these specialties on your list and you'll be the well-fed traveler!