Planning and preparing well for your trip to France makes all the difference in maximizing your visit.
PLANNING
Plan the "skeleton" first. The most time-sensitive tasks, then you can fill in the rest.
If you are only just beginning to plan your trip and you're doing it yourself without the help of a tour company
First,  Plan your flight or flights
Second, book your hotels. Lock these in at least 4 months in advance for the best choices and prices
Third, book your train travel or rental car. I have used Europcar several times and find them to be reasonable. Read the post on Driving in France for tips and warnings.
Planning at least 4 months in advance will allow you the best prices and choices for travel and hotels. Train itineraries in France aren't available until 3 months in advance. You should reserve any train tickets as soon after as you can within the 3 months to get the best rate and the best schedule choices.
As for inter-Europe air travel, say you want to fly from Paris to Florence, there are several low-cost airlines available (Ryan Air, Vueling in Spain, Nikki Air, Easyjet, etc.)
Even though the tickets can be inexpensive, the cheaper seats sell out quickly. Also, you might pay up to $35. to check a suitcase, so if you want to save money on inter-Europe flights, try to just take carry-on luggage.
After your travel and hotel "skeleton" is established, you can fill in with your excursions and special reservations. If you contact the Tourism Bureau for the city you're visiting, they can offer great combinations for sight-seeing. For example, if you're visiting the Loire Valley you can get a package or a day trip to visit vineyards and castles, even if you are planning your own trip without a tour. Many cities offer museum packages or guided city tours. I try to stop first at the Tourist Info Bureau whenever I'm in a new city.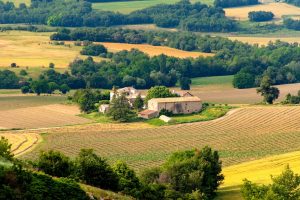 PACKING AND PREPARATION
As for packing, here are some tips for summer and winter as well as some handy additional tips.
Between November and April or even March, the weather in France can be cold or rainy. In fact, it can be unpredictable all year! Always have a few layers, regardless of the season. Always bring a scarf, which warms you up more than you would think.
For Winter or cooler weather
Layers should be heavier and can include fleece-lined leggings, over-jeans leggings, or long underwear.
Don't forget the hat, gloves, and scarf. You'll be glad to have them. I usually bring an umbrella (the small fold-up kind) if I travel in cooler weather up to late Spring.
Sturdy shoes with a thick sole are a big help for your feet, not only for warmth but to avoid aching after a day walking the streets.
For summer or warmer weather
Bring your comfortable jeans and pants. For women, add in a few skirts. Occasionally in France, there is a heat wave in summer and many places don't have air conditioning. I find that skirts are far more comfortable than pants in that case. Then when you go out to dinner, you'll already have them.
European adults don't wear shorts unless they are coming back from the gym. Wear capris instead of shorts and you'll blend in better. Long shorts for guys are okay.
Everyone tells you to wear comfortable shoes, and they're right. If you want to wear tennis shoes, that's fine, though you will stand out as a tourist. If that matters to you, wear other comfortable shoes that aren't tennis shoes. Never bring new shoes. For women's sandal keep in mind that heels on sandals and cobblestones in Europe don't go well together. Flat sandals with a rubber sole are best.
OTHER HELPFUL THINGS
Plastic bags are a big help to keep things organized and protect your clothes from any unwanted air-pressure accidents in your suitcase with toiletries.
Bring a washcloth and a plastic bag if you use them. European hotels don't offer them.
Remember earplugs for the possibility of noisy hotels or plane rides.
USB cable and plug adapter for charging your cell phone.
Leave at home: hair appliances, too many credit cards, too many shoes. Very bright clothing that makes you stand out as a tourist (and might make you a target for pickpockets.)
A suitcase with wheels is very handy, and one with a handle of some kind is helpful. Not all métros in Paris have escalators and not all hotels (older ones) have elevators.
If you book an Air Bnb, be very careful you don't have to cancel. They will keep the service fee AND taxes (even though the money that is taxed is refunded to you.) It can add up.
Ask yourself the following
Do you want to get travel insurance? Your home policy might not cover you abroad.
Does your credit card cover you in a rental car?
Make photocopies of your passport and important documents.
As you pack, think of how you'll protect yourself from possible theft or pickpockets. All big European cities have some risk here and some are worse than others. Plan on keeping money/documents in front pockets or a front-facing bag. See the post, Safe Travels for more on this.
Here are more insider tips to help make your trip great
9 Nitty Gritty Tips for Traveling in France
15 Tips for Your Trip to France
Driving in France: What You Need to Know
Have a great trip!