La Vendée is a department on France's Atlantic coast that bears the nickname, La Côte de Lumière, or of the sunshine (Lumière means light) coast, with a greater number of sunny days than the rest of the west coast.
If you look at a map of France, you'll notice a very long coastline on the Atlantic. This coast has many beaches, towns, and excursions worth your time. In the next couple of months, you'll see a series of 3 posts, La Vendée, Charentes-Maritimes, and Aquitaine, three areas along France's west coast you'll want to learn about!
La Vendée
This area extends from below Nantes (in the Loire Valley) to just above La Rochelle. La Vendee is the name of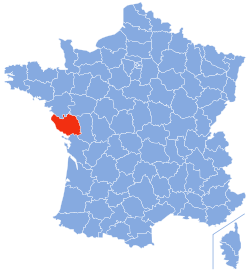 the department (like a county) within a larger region. It contains beach resorts that are very popular among the French. This is especially true for those who don't want to go all the way to the Riviera! In fact, there are 120 miles of sandy coastline to discover!
The beach (and water sports) is only one draw to the region. There are thousands of marked hiking trails and bike paths in the pine forests around the coast, as well as birdwatching in the marshes and fishing in lakes, and rivers. Local cuisine includes regional specialties and fresh seafood. Lodging options range from camping (and glamping) to hotels to apartment rentals.
Destinations in La Vendee
Les Sables-d'Olonne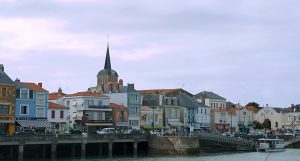 This beach resort town sits on a bay reputed to be one of the world's most beautiful (awarded in 2021.) It's the jumping-off point for La Vendee Globe, a famous boating race that ends in South Africa. Enjoy the boardwalk, restaurants, water sports, historic villas, and a beautiful wide beach. With 5 ports, there's plenty of maritime history and seafood sampling opportunities. There are festivals throughout the year.
Saint-Jean-de-Monts
Saint-Jean-de-Monts is a sunny family-friendly resort close to Nantes. After storm damage, the lovely pier was restored in 2013 and includes a Ferris wheel. It is the closest town to the islands of La Vendee, Ile d'Yeu, and Noirmoutier. Fine sand covers the wide beaches (22 of them!) All parking is free. Enjoy festivals, outdoor concerts, and a variety of restaurants and beach bars.
In the Region of Saint-Jean-de-Monts
Exploraparc (family fun, featuring tree-climbing, trampolines, archery…you get the idea.)
Golf with an ocean view, horseback riding, and lots more.
Ile d'Yeu This unspoiled island has rocky coasts, beaches, wetlands, and hidden coves awaiting you there, perfect for peace and tranquility under the sun. Access by ferry (or helicopter!), you can rent a bike for a day trip tour of the island. It's only accessible by boat in a 1-hour crossing from St. Gilles Croix de Vie or 30 minutes by ferry from Fromentine-Port-Joinville, providing service all year round. There are little towns there and about 5,000 residents.
Noirmoutier You'll find more gorgeous tranquil beaches here on this island paradise. It's accessible only at low tide by car on the Passage du Gois. It has about 25 miles of sandy beaches, plenty of water sports, and a small-town vibe. Come for fresh oysters, to see salt flats and mimosa trees, and a visit to the medieval château (yes, there's a château here!), cobbled streets, and a local market.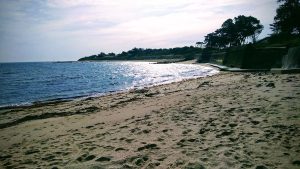 Other seaside resorts in La Vendée
Saint-Gilles-Croix-de-Vie : sport fishing, world-famous sardines, the small Boisvinet beach, or the larger Grande Plage with a beautiful boardwalk.
Bretignolle-sur-Mer: has 6 fine, sandy beaches (including one nude beach!)
La Tranche-sur-Mer is the southernmost Vendée beach town, with several miles of sandy beaches. Here, you can learn to surf or sail at a surf school. It's a peaceful setting, further out on a rocky coast (but still has lovely, sandy beaches.)
More To Do in the Region
Le Puy du Fou This unique theme park is in the town of Les Epesses, near Nantes. It welcomes over 2 million visitors a year and takes you through various epochs of history (the Roman Era, the Middle Ages, etc). Includes 4 time periods with costumes, and shows, on 500 acres. Shows include live translations. The park has won 20 international awards. https://www.puydufou.com/france/en/must-see-france
Marais Poitevin (inland) : famous marshlands for birdwatching and nature lovers, over 370 square miles (970 km2). Near the town of Coulon.
What to do there: Boating in canals, peaceful strolls, biking, fishing, canoeing, observing wildlife, visiting nearby villages, and being immersed in nature. You'll be refreshed! https://www.parc-marais-poitevin.fr/en/stories-experiences/12-things-to-do-marais-poitevin-in-summer
France is bordered on three sides by water, so many opportunities exist for beach lovers. Stay tuned for more posts on Atlantic Coast destinations.
Related Posts
15 Memorable Beaches in France
Atlantic Coast Islands: Ile de Ré
Atlantic Coast Islands: Ile d'Oléron