Discover French Beaches
What comes to mind when you think of French beaches? The Riviera? D-Day Beaches in Normandy? France is surrounded on three sides by the coastline and has hundreds of beaches. Here's a list of 15 of them by region, all around the country, luxurious resorts to rocky outcrops with amazing views. These beaches are worth a visit!
Beaches in Brittany and Normandy
Beaches in Brittany and Normandy are great for exploring, hiking, visiting small towns, and eating seafood and crêpes. Naturally, you can swim too, despite colder water. Many beaches in this area are coves with rocky shores. The main attraction for many of them is the view and the wild beauty of the place. That said, there are also plenty of more traditional beaches where you can bask in the sea air under an umbrella.
Etretat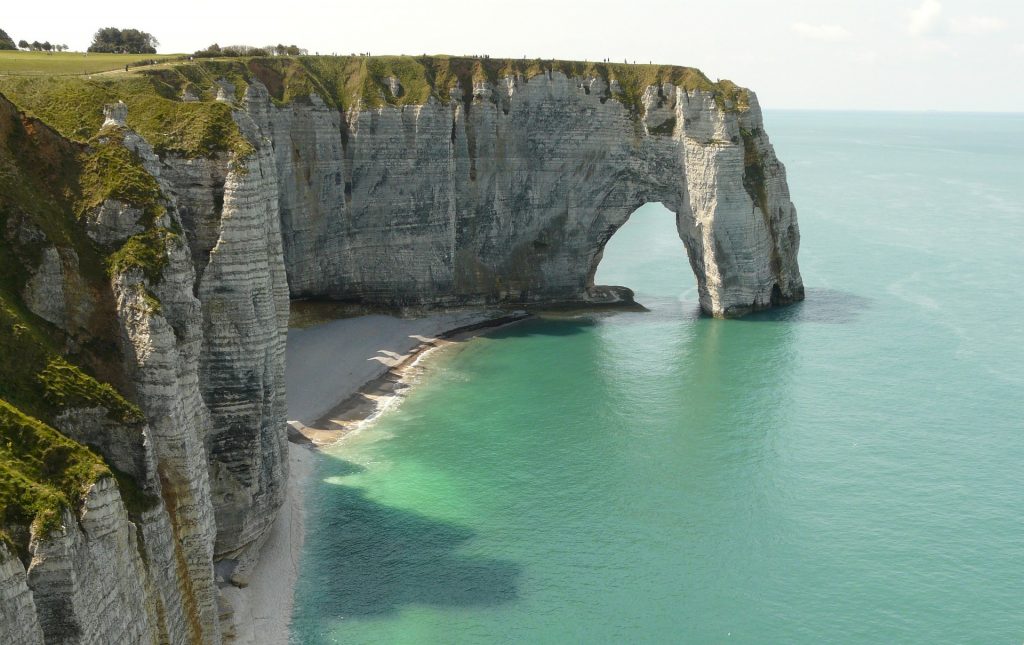 You've seen the photos and now you know the name. Though there are beaches along the 80-mile stretch, these famous cliffs painted by Monet and visited by multitudes are the main attraction. You'll also love hiking, swimming, and eating. Les Jardins d'Etretat is a lovely park with more stunning views. There's also an 18-hole golf course to the west. August and September are the best for swimming.
Deauville
Deauville is a Normandy beach resort town that has attracted the rich and famous since the 1800s and is called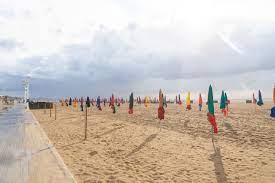 the Parisian Riviera (due to its proximity to Paris.) Along with a wide beach, there's a boardwalk, cute boutiques (the first store of Coco Chanel), shops, restaurants, and plenty to do. Chalky white cliffs mount in the distance. There's also a casino, a covered market at the Place du Marché, and historic hotels. And nearby, polo and golf.
La Baule-Escoublac
This is one of the longest beaches in Europe (believe it or not!) It lies on the southern edge of the Brittany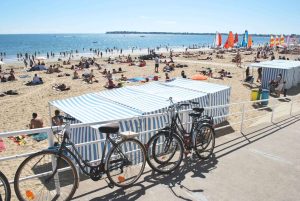 peninsula. Let's just say it's on the west coast near Nantes. It has wide beaches, a boardwalk adorned with shops and restaurants, and plenty of resort amenities, including stylish hotels.
The Crozon Peninsula
The Crozon Peninsula in Brittany is near the town of Morgat and is a haven for nature lovers. Think craggy cliffs, pine trees, and lots of hiking. You'll love the natural caves, rocks, and tidepools. There are many inlets and rocky coves for a private beach experience. Find the Armorique Regional Natural Park on a map and look west to the end of the peninsula. Look for Crozon and the beaches will be nearby.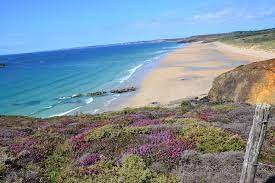 Plage de Sainte-Evette
Plage de Sainte-Evette in the town of Esquibien near Quimper on the extremity of Brittany is also known for water sports because of high winds. (Brittany's watersports capital.) Activities include diving, boat tours, sailing, paddle boarding, & windsurfing lessons.
More Northern France Beaches
The Northern Tip: Beach Tour (Normandy)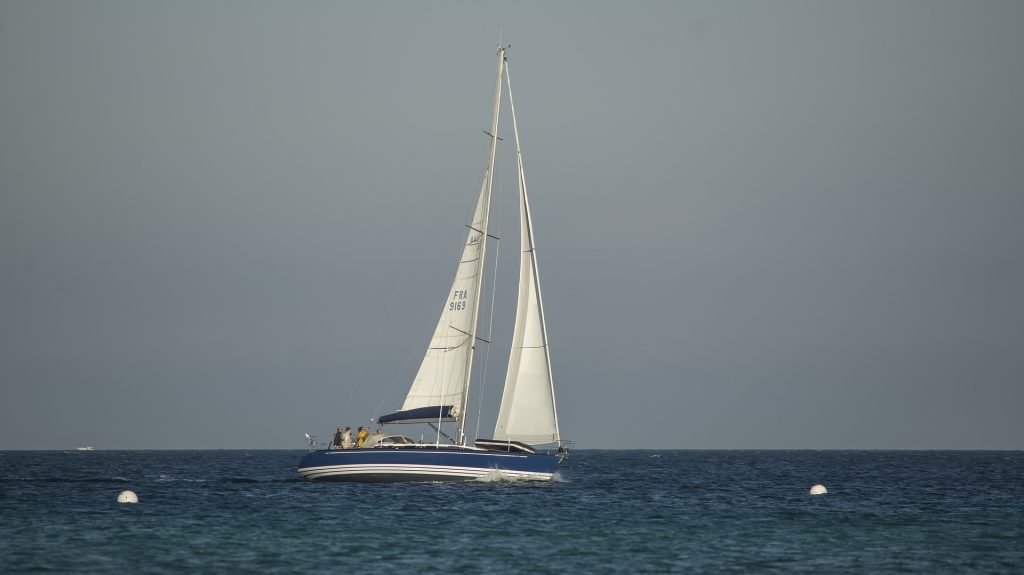 Beaches in Western France
La Conche des Baleines
La Conche des Baleines is the biggest beach on the northwest tip of the French island of Ile de Ré (see a separate post on this cool island).  It's great for watersports. The whole atmosphere of the island is laid-back and best discovered by bike. Buy fresh fish and shellfish at the seafood market and cook it at your rented bungalow. The Island is near the bustling town of La Rochelle.
Lacanau Beach
This well-known resort 50 miles west of Bordeaux also has an annual surf competition in August. There's a lot more to do that will interest you. Nearby pine forests have bike trails and a lake where you can sail. Of course, you can visit many places nearby for wine tours (Médoc) and other nearby beaches.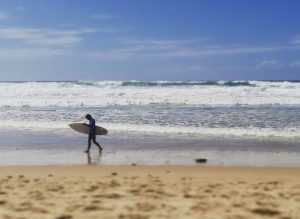 Dune du Pilat
Dune du Pilat isn't far from Bordeaux, in the coastal area of Arcachon. This is the tallest sand dune in Europe, at over 300 feet tall! There are 154 steps if you'd like to go to the top. It's a popular tourist destination. The entire dune is believed to move between one and five meters per year, because of wind. At the foot of the immense dune is the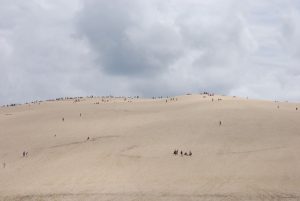 Corniche Beach and it's easy to access through the main entrance to the dune. You'll find other beaches as well unless you simply want to climb on (and gawk at) the dune itself. Petit Nice Beach is further south.
Biarritz and la Plage de la Côte des Basques
Near the seaside resort of Biarritz is one of the most popular beaches in France for surfing. Enjoy the wide sand beach and the Spanish coast and mountains nearby. Surf schools exist if you want to take a lesson. At high tide, however, the beach nearly disappears. Check the tides before you put on your bathing suit!
Otherwise, the town of Biarritz was a popular destination for royalty from the 1800s. Today this rather small town is still popular to visit for the beach and stunning beach views. There are also plenty of shops and restaurants, as well as nearby places worth a short road trip 
More Western France Beaches
Bordeaux (Arcachon area beaches)
Beaches in Southern France
Palava des Flots (near Montpellier)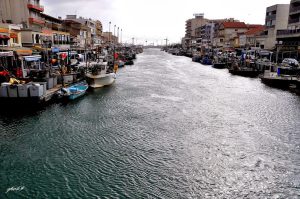 This lively resort near Montpellier is very popular among the French. The calm waters are good for swimming, but also for sailing, windsurfing, kayaking, and kitesurfing. There's plenty to do aside from the beach, with canals (get a great view from the cable car over top), a port and marina, several museums, and a casino. The large city of Montpellier is a short distance away if you'd like to visit there too.
Calanques National Park
You can stay in Cassis or Marseille, both of which are nearby and interesting to see on their own and have easy access to the park. Most people enjoy the Calanques by boat rides that leave from Cassis, but if you'd like to make it a beach day (including swimming), you'll need to hike to one of two amazing ocean inlets. They are called Calaque de Port Pin and Calanque d'En Vau. If you're not staying in Cassis, the park itself is best accessed by rental car.  Plan on 20 to 30 minutes to hike to Port Pin and 45 minutes for Calanque d'en Vau, the more beautiful and less crowded of the two. You see it's worth the hike. If you prefer to see it by boat, that option is very easy in Cassis.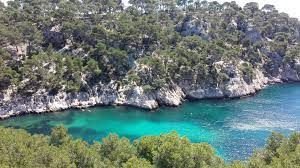 Porquerolles
Further up the coast toward Nice is a lovely town called Hyeres. From there, you can take a ferry to the island of Porquerolles (the largest of 3 islands on the city's coast.) The shortest ferry leaves from La Tour Fondue port every 30 minutes, just south of Hyeres. If you want an unspoiled beach, with fewer crowds, this is your place. It's an easy day trip but you can also stay on the island. Swim, snorkel clear waters, do water sports, enjoy wine tasting, or visit the quaint town.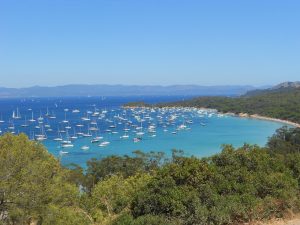 Plage du Lavandou
The small resort town of Le Lavandou is family-friendly and low-key but provides water sports, festivals, and a wide beach. Nearby is Sainte Maxime, worth seeing, with an Old town and harbor in both towns. Along the waterfront in the Old Town, you'll be able to choose from numerous restaurants and enjoy the beach culture. To the east of the beach is a large port filled with fishing and other boats. In addition to the beach of Le Lavandou, there are numerous small beaches along the coast to the east of the town.
Pampelonne Beach
Pampelonne Beach is the busiest and longest beach in St. Tropez. Yes, you'll see yachts and fancy hotels, but also places for people who aren't celebrities! Also in St. Tropez are the famous Tahiti and Nikki beaches. Upscale or down, your choice. Many beaches on the Cote d'Azur have pebbles, but Pampelonne has soft sand. It's the most famous beach in the area.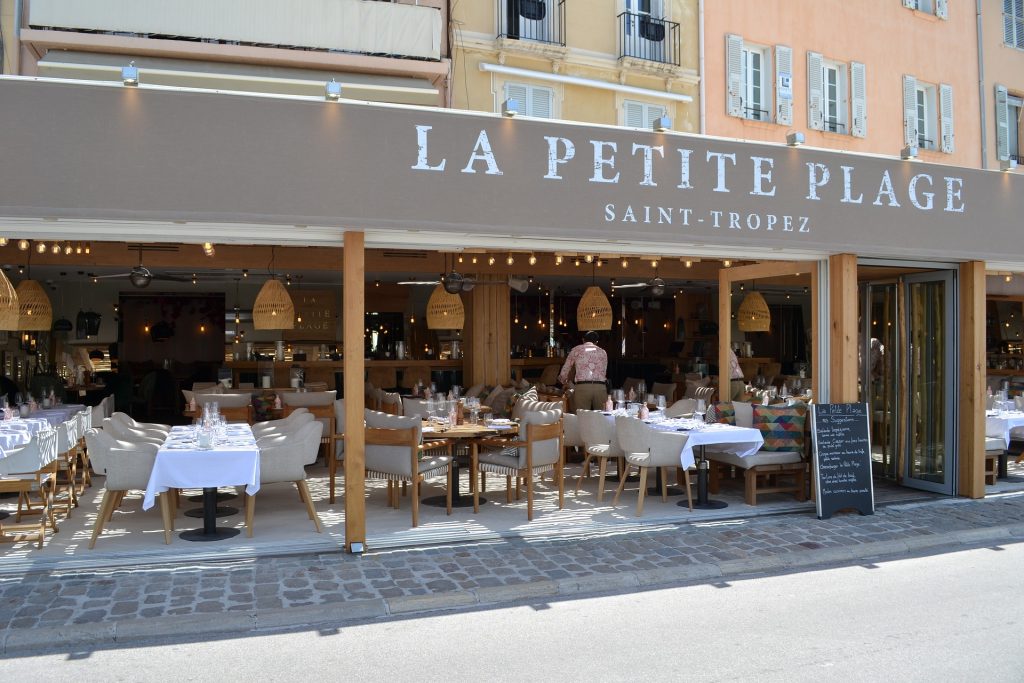 Does that make you hunger for sun and sand? (and Travel?) It does for me! Being a beach-lover and a France lover, it's great to have a few great beaches to add to my ever-growing must-see France list!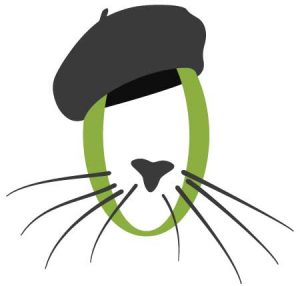 More Southern France Beaches
French Coastal Secrets #1: La Ciotat
French Coastal Secrets #2: Sanary-sur-Mer