Smart shopping in Paris is easier with a few tips from a long-term resident. Here you'll find ideas for getting bargains as well as the lowdown on where to shop.
Whether or not it's your first trip to Paris, you might like some tips for your spree. Here is your overview of all kinds of Paris shopping!
Shopping Tips
First things first. Take a collapsible bag in your suitcase. You'll be glad you did, to take back the extra baggage you'll acquire on your trip.
Have a look around first before you buy anything, whether clothing or décor. Learn what your clothing size is in European styles. Be sure to try on clothing before buying, since sizes will not always be predictable.
If you can, shop one of France's 2 annual sale periods, in June or July and January. Each week that the sales continue (normally 3), the discounts get greater, but the choices become more limited. Look for the word "soldes" on shop windows.
Don't shop in stores you can find back home. The prices will be higher in Europe, on top of the exchange rate.
For more ideas on shopping in France, check out Magical Paris: Over 100 Things to Do Across Paris, which touches categories like clothing, art, and antiques, as well as budget tips and more shopping streets.
SHOPPING STREETS
Depending on whether you are looking for good value at a reasonable price or high-end luxury, you'll head to different places. Some streets have both, such as the Champs-Elysées, which has flagship designer shops next door to European chain stores.
Regular shopping
You can find reasonably-priced clothing, shoes, and household items in the following places:
Rue de Rennes is a long north-to-south street in the 6th district has loads of shopping. On its southern end, it meets the 15th, where you'll find a big mall in the Montparnasse area (see malls, below.) On the north end, it crosses Boulevard St. Germain, another slightly pricier area.
The western end of Rue de Rivoli begins where the Champs Elysées dead-ends at the Place de la Concorde. Then it continues east through the 1st and 4th districts. This turns into St Antoine, which takes you to the heart of Le Marais, then Bastille.
Faubourg St. Antoine (11th) is another busy shopping street on the opposite side of Bastille running east, where you can find a variety of products and pricing.
You can find chain stores, boutiques in mid-price and luxury categories and a lot more at French malls, described below.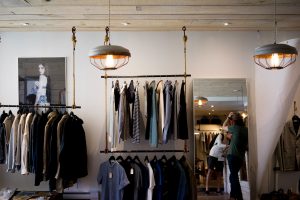 Higher priced, yet not luxury
As mentioned above, St. Germain in 6th has clothing and shoes and in the same district, you'll find art and antiques.
Check out Rue du Commerce in the 15th  district . In the 4th district, Le Marais has a lot of higher-end boutiques and designer shops, but this area also has some second-hand stores (called Friperie or Troc, or sometimes Déjà-Porté.)
Luxury Shopping
You'll find luxury items on the Rue Faubourg St. Honoré in the 8th district north of the Champs Elysées. And north of there, you'll arrive at the Boulevard Haussmann, a street known for the Grands Magasins, or department stores (see below.)
A destination bordered by three famous avenues in the 8th district is known as the Triangle D'or or golden triangle, where you'll find luxury boutiques. The legs of the triangle are Avenue Montaigne, Avenue George V, and Rue François 1er. 
Head to Rue de la Paix in the 2nd district for pure luxury (though once you see the prices you'll stick to window-shopping!) Chanel is on Rue Cambon and Louis Vuitton has a store on the Champs Elysées and another on at the Place Vendôme (also loaded with luxury stores.)
And of course, there is the Champs Elysées, which has lost some of the luxury reputation, now mixed with regular stores. But it's fun to go there and browse and take in a cabaret or movie.
Department Stores
Take metro Chausée d'Antin and you'll arrive at Boulevard Haussmann, where you'll find two of France's historic department stores, Printemps and Galéries Lafayette. If you visit at Christmas, you'll definitely want to see the lavish decorations of both.
Le Bon Marché is located in the 7th district at 24 rue de Sevres. There you have a pricey (even though bon marché means inexpensive) though interesting department store. One area you must see there is the gourmet food section, which covers an entire floor.
BARGAIN SPOTS
Yes, there are bargains, too, in Paris. Here is a list to get you started:
Marché aux Puces: flea market. More details in the Flea Market post. There are 2 in Paris, one in the north at Porte de la Chapelle and a smaller one in the south.
Every area of town has an open market once or twice per week. In addition to produce, there are clothes, rugs, crafts, shoes, and much more.
Look for the French version of yard sales. These are called brocante or vide-grenier (emptying the attic.) They will be pop-up street sales you'll see for just a day or two, normally on weekends.
Second-hand stores (see French terms above.)
A term for outlet is stock. If you see that, check it out.
Vintage shops: you'll find these all over, but many in Montmartre and Hôtel de Ville areas and at Métro Jacques Bonsergent.
Depot-Vente: this is another name for second-hand, but usually for furnishings and décor instead of clothing.
Détaxe (Duty-free) If you spend 175 euros in the same shop, ask the salesperson to fill out a détaxe form. You can show this at the airport at the Détaxe counter before checking in to get a refund for the VAT tax, known as TVA (about 21% in France.)
MALLS
There are several malls around Paris, and many are very similar to malls anywhere else. Here are some locations :
Place d'Italie in the 13th
Porte de Bagnolet on the eastern edge of Paris
Les Halles, the newly-refurbished underground mall. It has everything, including two movie theaters.
Bercy 2, a mall near Porte de Bercy on the southeast edge of town
Beaugrennelle, a newer mall boasting 120 shops. It is near the Eiffel Tower. The roof is a "green roof", home to many regional pants and 6 beehives.
OneNation is a discount mall outside of Paris in the southwest in the town of Les Clayes-sous-Bois (department 78.)
La Vallée Village is near Disneyland Paris, with 100 boutiques and outlets.
All of this should definitely keep you busy and empty your wallet before you fly home!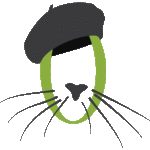 More Paris tips:
20 Packing Tips for your Trip to France
9 Nitty-Gritty Tips for Traveling in France
15 Tips for your Trip to France