Hiking in France
France is ideal for hikers. It supplies endless landscapes perfect for hiking, along with well-marked trails. The verb is randonner in French, while a hike is une randonnée. On the one hand, hiking in France can be a serious business. Thousands of miles of well-marked and maintained trails exist across the country and in every region. Specialized markings, maps, and amenities are readily available. Markings, consisting of colored stripes on trees or on the asphalt, let you know you're following the right path and which type of trail you're on. The best time to hike is May through September or October, though this will depend on elevation.
Types of Trails
In France, there are three types of hiking trails (along with the more casual hikes you'll find in so many other places.) The longest ones are labeled with GR (called the Sentier de grande randonnée) and extend from the Atlantic to the Mediterranean. These trails always have a number, such as GR-7 or GR-23.  Its markers are red and white. They extend across the country, even continuing into neighboring countries. You can pick these up anywhere along the way. The GR trails allow you to cross entire mountain ranges if you wish, as well as travel into neighboring countries.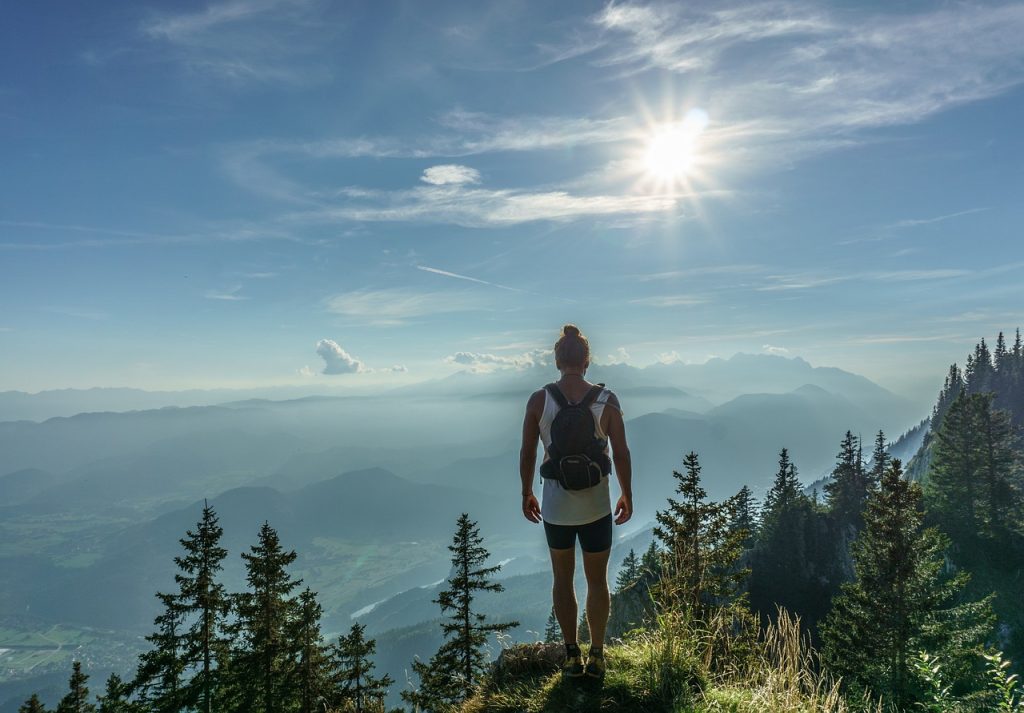 Then there are regional paths (marked with GRP), 25,000 of them all over France. These are marked in yellow and red. The last category is the local path (PR) indicated by a single color. These connect villages and towns, or historic sites within a limited region. Beyond this, you might have signs clearly indicating paved or unpaved paths.
On the other hand, taking a non-strenuous day hike is easy to do almost wherever you are vacationing.  Just go beyond the city or town where you're staying and you'll likely find some trails, natural areas, and parks nearby, especially with the help of a map from the tourist office. For example, if you're visiting the Alsace Wine Route, you can take a couple of hours to explore the route by foot, passing by local vineyards. It's not necessary to do an entire trail in order to have a great experience. That's true for all the hikes.
Great Regions in France for Hiking
Some regions in France come to mind when you think of immersing yourself in nature, including mountains. In reality, every region of France has wonderful hiking options. Not all are mountainous, if you prefer flatter terrain (like I do!)  Here are some great regions for hiking, mountainous or not.
In Le Jura, a region in eastern France, you can wander dormant volcanos in the Jura mountains and foothills, or you can meander through the Vosges Mountains in Alsace, alongside Germany. Wine trails in Alsace wind through villages and country roads. The French Alps provide challenging (and less challenging) options, especially if you head up to Le Mont Blanc (the highest point in Western Europe) and Lac Blanc, the lake with the views. You don't have to climb the mountain to get there, though. You can do a day hike of Lac Blanc by taking a cable car at La Flégère.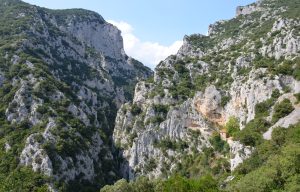 Then don't forget the Pyrénées mountains for a variety of fitness or interest levels. For unforgettable views of the Pyrenees Mountains and the Bay of Biscay, try the Sentier du Littoral. Many of these hiking areas have wonderful towns and villages to visit or find lodging. Also in this area is the famed Route de Napoléon, the first part of the Camino de Santiago pilgrimage, leading to northwest Spain.
But you don't even have to head for the hills to have a great hike. Fantastic hikes with unforgettable sights exist in flatter areas of France. In Alsace, you can stroll along the Wine Route, and in Brittany, scope out the rocky coastlines of the western edge.
It's really a country made for hikers (and bicyclists too!)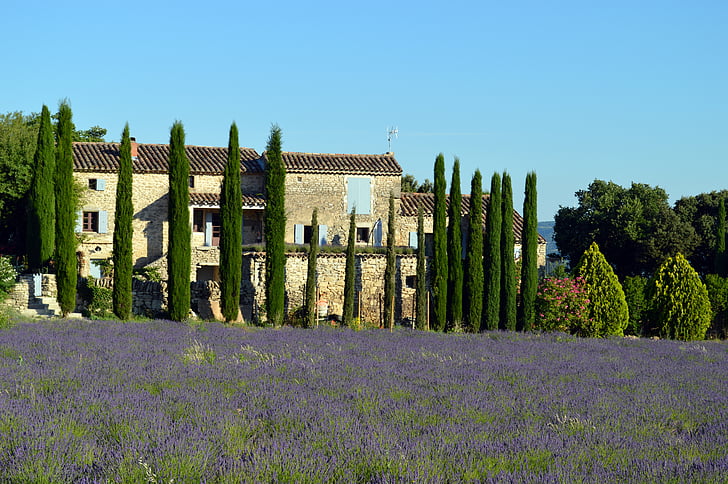 Serious hiking
You may want to dedicate a significant portion of your vacation to hiking. You're equipped with your boots and poles, water bottles, and other gear. You've planned your trip around hiking and will discover the beauty of the region on foot.
Getting one of the IGN maps in advance is a good idea for planning ahead. Sometimes you can find a hiking or biking map for a particular region from the tourist office, which (I did when I was in Alsace) after your arrival in France. The best official hiking maps are published by the Institut Geographic National. The green ones give you a great overview (perfect for casual walkers) while the blue ones are very detailed, with close-up views of terrain and other details. Though they aren't available in the U.S, you can either buy these maps from a newsstand/kiosk, tobacco store, or bookstore in France, as well as on their website. If you're planning ahead, you can order one in advance from their site.  https://boutique.ign.fr/cac.html  (If you happen to open to the French site, click on the English option quickly, because it disappears!) If you go to their site, IGN even allows you to customize your own map for under 20€, though the premade ones you can buy cost less. (IGN covers biking information in France as well.)  Photo of Cévennes .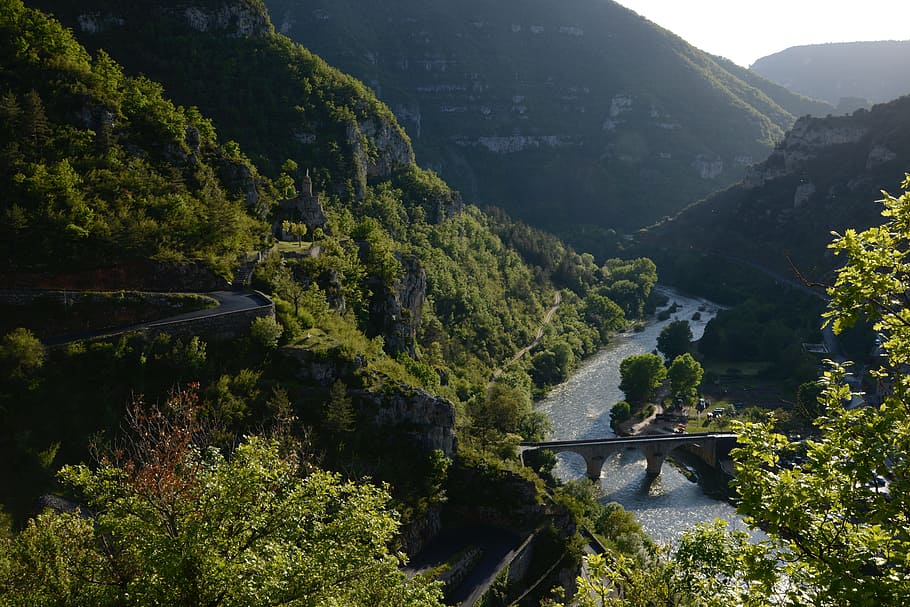 National Parks
In addition to the routes mentioned, France is full of national parks and regional natural areas. Many of these extend hundreds of square miles and have hiking options. The Pyrénées National Park in the southwest corner contains gorgeous falls and the amazing Cirque du Gavarnie, a natural amphitheater with terraced cliffs.
In Provence (near Marseille), check out the Calanques National Park (a calanque is like a fjord.) Also in Provence, Port-Cros is an island park and marina, both protected lands. Combine it with a dip in the Mediterranean on a secluded beach!
In the Cévennes region, you have the sizeable Cévennes National Park, mostly in the Languedoc-Roussillon, a mountainous area in southwest France. Through it runs the Chemin de Stevenson, which takes two weeks if you hike the whole trail. It's named after Robert Louis Stevenson, who hiked here in 1878.
Don't forget the Verdon Gorge region and the Cascade Loop. This post has details on the area and hiking options.
It is easy to find companies that provide itineraries and lodging for a package price.
Practical Matters
Of course, you'll want to have the right footwear (broken-in hiking boots), a water supply, sunscreen, maps, and a flashlight (in case it gets dark before you get to your lodging. Try not to let that happen!) As for clothing, layers are best, because you can imagine how temperatures fall in the higher elevations, even though you're exercising. One person in your party should have a spare battery or phone charger, just in case. Make sure people not hiking with you know where you are.
On the longer hikes, you'll often be able to find a gite (a room in a home or a small bed and breakfast.) Many hiking areas are near small towns or villages. You'll want to do the research and make those reservations before you leave. Check my blog post on lodging options.
Hiking in France is a great way to combine the love of hiking, great exercise, and the discovery of natural beauty all across France.