The Atlantic Coast of France
Most people have at least heard of the French Riviera, so these smaller glitzy beaches of the Mediterranean come to mind when you think of beaches in France.
However, the Atlantic Coast of France consists of a multitude of memorable beaches and towns, strung like pearls from Brittany in the northwest all the way down to Spain. There are hundreds—I'm talking hundreds—of beaches along this very long coastline. The  European elite discovered this coast in the 19th century and many of the beaches bear Belle Epoque architecture and other signs of former opulence. These features add historic charm to beaches that already attract surf-seekers. (AND surfers. See below.)
This post is the third in a series of three covering France's beaches of the Atlantic Coast. Previous posts are The Sunshine Coast: La Vendee (#1), and Of Villas and Oysters: Charente-Maritime (#2).
Heading south, you'll reach the Silver Coast (le Côte d'Argent), which covers three French departments (like counties), La Gironde, Les Landes, and Les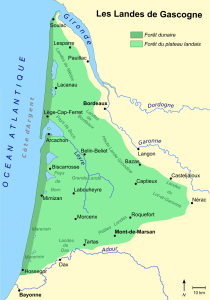 Pyrénées-Atlantiques. This segment of coastline begins at the Gironde Estuary (the largest estuary in Western Europe.) You'll notice the cleft carved into the coastline near Bordeaux, an easy drive inland.
But let's talk about beaches. There are notable features of this area. First, almost the entire coastal area is encompassed within a huge regional park (Parc Naturel Regional des Landes de Gascogne), providing pine forests, hiking, and camping galore. You'll also see sand dunes (including the largest in Europe, La Dune du Pilat near Arcachon.) This is also the European capital of surfing. The waves and long coastlines have made the area a magnet for surfers and championships.
Though there are countless beaches on the Silver Coast, this post will highlight just a small sample, north to south.
Lacanau
This town slightly northwest of Bordeaux overflows with natural beauty, a lovely lake, plenty of water activities (and a center for surfing), and pine forests all around. The long, straight coast is perfect for long walks along the surf. There are several beaches in Lacanau. South Beach is particularly suitable for people with disabilities (and has won an award for its level of care.)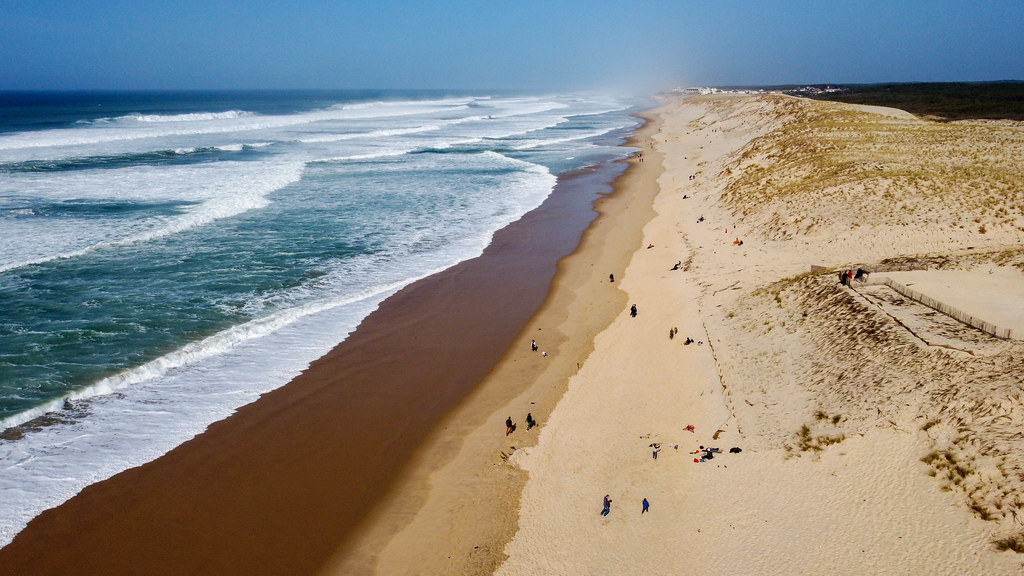 Arcachon
A larger town on the coast is Arcachon, due west of Bordeaux. The town itself is very popular and interesting to see. There is a small, protected bay, Le Bassin d'Arcachon, with milder waves for children.
Just south of Arcachon is the famed Dune du Pilat, the largest sand dune in Europe, at two miles wide. You can access the dune by stairs. Near Arcachon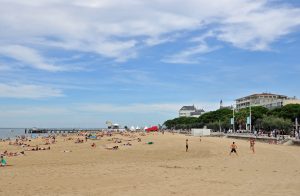 is the smaller town of Le Pyla-sur-Mer. The beach there is La Corniche, if you enjoy smaller towns and beaches. (Find a road trip in this area and throughout the Bordeaux region in my book, Hit the Road in France: 9 Road Trip Itineraries Across France, just updated and expanded.)
Mimizan
Going south in a nearly straight coastal line, you'll find Mimizan, a popular beach resort. There's a town and a resort, two distinct areas. You can escape from one to the other if you need to! Mimizan Plage is a beach resort, a clean family beach. Along with six beaches, you'll find shops, restaurants, and all you'd expect at a resort.
The town of Mimizan is known as a Ville Fleurie, a town awarded for many flowers in the town. Nearby is the Aureilhan Lake, for nature trails, picnics, and boating. At one end is the Promenade Fleurie, a 40-minute walk through flowers and beautiful plants.
Capbreton
This town is north of Biarritz and, like Mimizan, is divided into the beach section and the town. You'll find beaches in both sections, with the port and beachfront restaurants to the north of the town. Several beaches connect to each other. They are long and sandy, and you can find some that aren't too crowded. You'll see a jetty erected by Napoleon where you can still walk to the end for good views.
Biarritz/Anglet/Bayonne
These three towns are clustered together. You've likely heard of Biarritz. It's known to be glitzy, but has its fun and down-to-earth aspects as well. It's a haven of surfing as well as all things beach resort. It touches the town of Anglet and a bit further east is Bayonne, where the famous Bayonne ham comes from. Nearby is the town of Hossegor, another beach resort and surfing destination.
(Top image is Biarritz, aerial view)
St. Jean-de-Luz
This picturesque town is enough of a draw by itself. Add to that a long, sandy beach and you have a perfect combination. Along with that, the atmosphere blends French and Basque culture. Surf, sail, dive, lie in the sun then hit some of the shops, restaurants, and cafés. You're not far from Biarritz if you want to include both on your beachy vacation.
Surfing
Southwest France is well-known as the European capital of surfing. It's no mystery since Biarritz was the birthplace of surfing. The waves in the town of Anglet (north of Biarritz), are well-known to be challenging and well-suited to experienced surfers. However, even a beginner can take half-day lessons in Biarritz or in many other towns along the Basque coast to get their feet wet. So to speak. Boards and wetsuits are included.
La Plage d'Hendaye is known for gentler waves and is good for beginners. It's on the border of Spain. For the more experienced, Capbreton and Hossegor (north of Biarritz) are good choices. Surfing is woven into the culture of this part of France. If you don't partake, it's fun to watch those who do.
So, these three posts on the French Atlantic coastline should give you plenty of new options for your French beach vacation, for decades to come!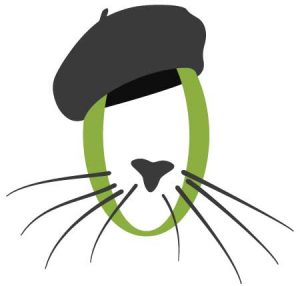 Related Posts
Hidden Beaches in Brittany, France