A few months ago, I wrote a post about the Alsace Wine Route. That's the route I took for my recent trip to Alsace in eastern France. This road trip isn't only fantastic if you're a wine-lover. It's also memorable if you're a history-lover, a fan of good food or architecture, or simply beautiful, photogenic places! What struck me was how many well-preserved buildings from as far back as the 14th century still stood on cobbled streets and plazas. It was a visual feast!
One of the best aspects of this road trip is how close the towns are, so you spend more time visiting and less time driving. Some towns are only 10 minutes from each other, making the area a good candidate for biking or even walking. In fact, we saw many bicyclists in groups or individually almost everywhere we went.
Some of the details of each town are outlined in the previous post on the Wine Route. I'll give more details and photos, so you'll take a deeper dive. Since vineyards and winemaking are an important feature of this region, I'll also tell you what's distinctive about Alsatian wines.
You can follow the wine route from Strasbourg to Colmar or vice versa. We began in Colmar and went north from there to Strasbourg. Most of the towns and villages had similarities in architecture and cuisine, yet each one had distinctive elements. And another reason to visit, this is the region of the wonderful Christmas Markets!
Colmar was fairly crowded with tourists and for good reason. The following photos tell their own story. As you wind through the streets, you see the old Tanner's area and Petit Venise, Little Venice. The canal winds through this part of town. Flower boxes hand on railings and windows.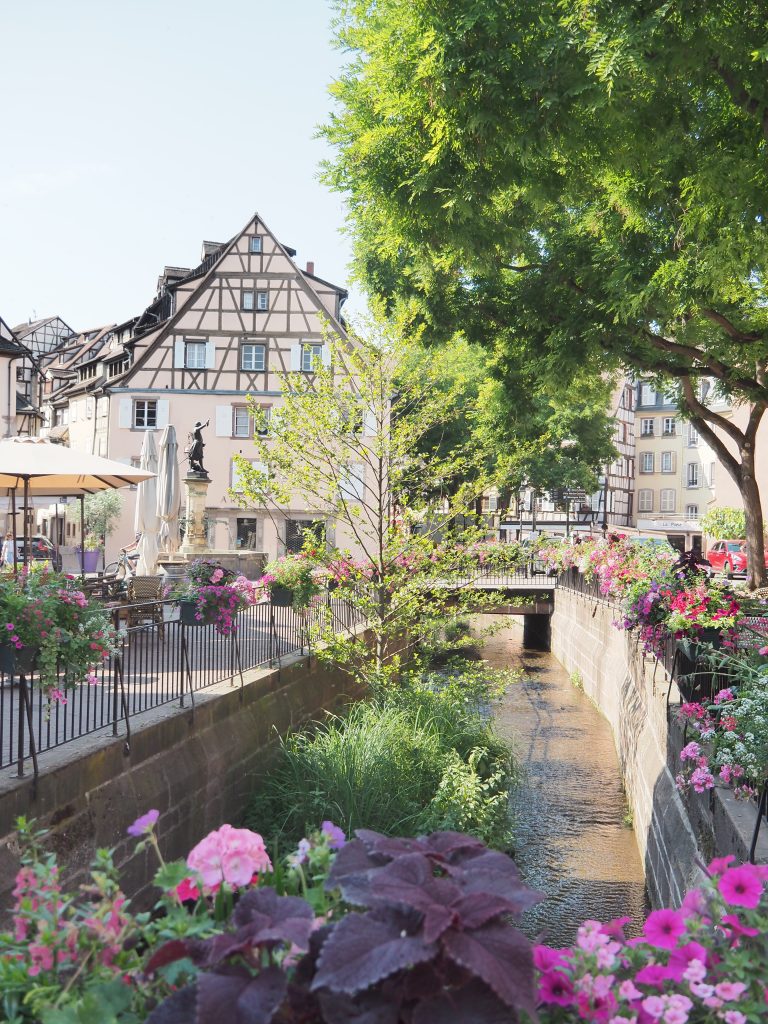 Next, the village of Eguisheim was a short drive to the south. There's free parking and a restroom right before you enter the town. Stroll around for a couple of hours, have lunch, then go to the next town. We ate at a place called L'Assiette d'Eguisheim, which was the best meal I'd had yet.
After that, on to Kaysersberg, a bit larger than Eguisheim. Climb the hill to the castle ruins for a great view. Instead of a canal meandering through the town, savor the sound of the rushing stream gurgling under the medieval bridge and elsewhere. Several great restaurants offer memorable meals, including tarte flambée (which you find everywhere in this region!)
Following a night in Kaysersberg, we went on to Riquewihr for a short visit and lunch, then Ribeauvillé to the north.
After Ribeauvillé, we took a tour of a vineyard in the village of Hunawihr and learned a lot about Alsatian wines (see below.)
In each town or village, you're treated to Alsatian cuisine and wines, along with unforgettable scenery and shops with locally themed souvenirs. After Ribeauvillé, we took the winding route up the mountain to the Château de Haut-Koenigsbourg. This 13th-century castle was damaged and rebuilt twice and currently is an amazing place to visit for the whole family. Since you're high on a hill, you can take panoramic shots of the surrounding vineyards, along with imagining what life was like 700 years ago.
Finally, we arrived in Obernai. Though filled with the same iconic half-timbered buildings, the streets were wider. A double medieval wall surrounded the town, and a tree-lined walkway on one of them invited a refreshing stroll.
A half-hour further, we arrived in Strasbourg. I have to say, it was my favorite. Quite a bit larger than the others, Strasbourg vibrates with energy, provides so much to see, and had some memorable scenery. (Of course, they all did!) Check out my post on Strasbourg for a few more details.
Wines from Alsace
Wines from this region are less famous but very good. They are mostly white, except for the Pinot Noir. (Pinot Noir is also produced in the Burgundy region.) The main types are Pinot Gris, Gewurtztraminer, Riesling, Muscat, and Pinot Noir. If you're a wine-lover, you'll want to keep this in mind: In Alsace, the Riesling and the Muscat are drier than in Germany or elsewhere in France. Gewurtstraminer is sweeter. My favorite was the Pinot Gris, which although dry, was fruity so it seemed sweeter. Many soil types exist all over Alsace, so one domain might have parcels of land in several different towns so they can produce different types of wine.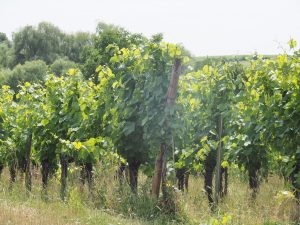 Housing Tip
For about three years, I've used Booking.com exclusively for all my housing. During this trip, I stayed in 7 different places. All but one of these were apartments. We got wonderful housing for a very reasonable price. I invite you to use my link for Booking.com found on the sidebars of all my posts and the resource section. I receive a tiny commission for any completed travel and it costs you nothing extra. It's a way to help Oliver's France continue being ad-free. Thanks! (And did I mention I use Booking exclusively for a good reason?) 🙂
Thanks for joining me on this brief zip through Alsace. I'll include more photos on Facebook and Instagram over the coming month or so.
Related Posts
French Food Specialties: Normandy and Alsace