French Food Specialties: Part 2, Provence and Southwest France
You likely know how loved French food is. But you may not know all the differences in each region of France. Each area has its specialties. We've embarked on a series covering a couple of regions per week. Last time, we saw some specialties of Normandy and Alsace. Today, we move south.
Provence
In the southeast corner of France along the Mediterranean is a sunny slice of France: Provence. It's well-loved for the climate, beaches, beauty, and food. Provence is more than the area we call the Riviera. The region of Provence actually covers 6 French departments (like counties.) Much of this area is agricultural and its cuisine reflects the crops and animals that graze there. Olives reign supreme, and the olives themselves or their oil are found in many local dishes.
Herbs that flourish under the Provence sun have a strong presence as well: Thyme, basil, lavender, rosemary, tarragon, mint, chervil, savory, and chives. Another plant, garlic, is a signature flavor as well. 
Provence cuisine is characterized by simplicity and local flavors, with a decidedly Mediterranean flair. In coastal areas, fish is a theme, and many restaurants boast the catch of the day. You can find ravioli stuffed with sardines, or soupe de poisson, supplied by the local catch.
A Provençal specialty is Pissaladière. That name might lead you to think it's some kind of salad, but it's actually pizza dough covered with anchovies, olives, herbs, and lots of caramelized onions. Even some types of bread (fougasse) may be accented with garlic and olives. 
Corn-fed lambs roam high in the rugged Provence mountains, and their meat is a delicacy. They are well-known for having superb flavor, especially those from the pastures near Sisteron.
Other typical flavors are spreadable… tapenade, made of olives, aioli, a mayonnaise made of garlic, or l'anchoïade, a blend of anchovies, olive oil, and capers. And you'll even have a chance to taste truffles that flavor certain meals.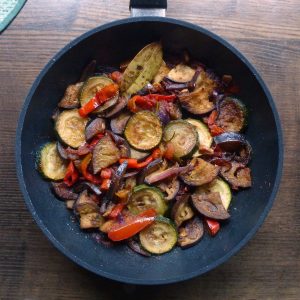 Ratatouille is a dish made of eggplant, zuchini, peppers, tomatoes, and onions, along with herbes de Provence (an herb blend). La bouillabaisse is a famous fish stew you must try if you are near the coast. There is a specific procedure to eating it, starting with a hearty red broth. You mix in a sauce, croutons, and fresh fish from a platter. La boeuf en daube is a meal made of chunks of beef slow-cooked with onions and olive oil. And don't forget les grenouilles (frogs) or les lapins (rabbits) à la Provençale ! 
Cheese.  Famous in Provence is a goat cheese called Banon, a small, pungent disc wrapped in chestnut leaves. The dry, rocky terrain of the south of France is suitable for raising goats, so many types of goat cheese are the result. You'll find goat cheese in many recipes, including salads and pizzas. Roquefort is a specialty of the region and comes from a town by the same name to the west of Avignon. 
Beverages.  Rosé accounts for half of all the wine produced in Provence, which is the largest region in the world for dry rosé. Provence supplies about 80% of the table wine for all of France. The best-known Provence wine comes from the small seaside town of Bandol. Most wines in Provence are named for the area where they're produced. Les Côtes de Provence is the largest category of Provence wines.
Pastis is an anise-flavored liqueur you can dilute as much as you like (since it's quite strong!) It is a traditional aperitif in the South of France.
The Southwest
Not surprisingly, the southwest of France has a unique own slant on its cuisine, influenced by the Pyrénées mountains to the south and a very long, straight coastline and green pastures for grazing.
Most traditional meals in this area are heavily meat-based, with mutton, beef, lamb, pork, and duck. Along the coast, you'll find plenty of mussels, oysters, and lobster. Some seafood is cooked in wine. The lamprey, an eel, is also very popular, cooked in red wine "en matelote". The nearby area called the Perigord is known for foie gras, the world-famous duck or goose liver pâté, and for black truffles, which cost several hundred dollars per kilo to buy! (You can probably afford a truffle omelet, though!)
The city of Bordeaux and its surrounding wine-producing towns are in the southwest, where many meals are made with wine, parsley, shallots, and garlic (à la bordelaise.)
Along the Spanish border is the Basque country. Food can be spicier here, with the addition of espelette peppers. Bayonne ham is a local specialty of the Basque country. It is salt-cured, has a strong flavor, and is a trademark of certain recipes. Throughout the region, more dishes are prepared with walnut oil than olive oil.
A signature dish of this corner of France is cassoulet, a hearty stew of beans, pork, sausage, and duck. Again,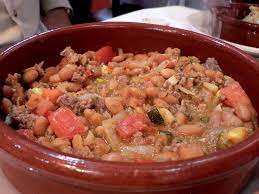 many versions of this exist, including some lower-fat versions. Duck confit (confit de canard) is duck slow-cooked and preserved in its own fat. You can try rabbit and prune stew, made from local Agen prunes, or Piperade Basque, an omelet filled with tomatoes, peppers, onions, and garlic.
Desserts and cheese. Try Touron, a Basque specialty, which is a colorful marzipan roll cut into cookie-like pieces and containing nuts or candied fruit. A favored cheese in the region is a firm but crumbly goat cheese called cabécou.
Beverages. The Bordeaux region is the largest wine-producing area in France, and possibly the world. Bordeaux wines are made up of a blend of grapes from the region, including Cabernet Sauvignon, Merlot, Malbec, and Cabernet Franc, among others. The region is mostly known for red wines, including Médoc, Pomerol, Graves, and Saint Emilion, though white Sauterne wines are also produced here. The best way to discover many Bordeaux wines, as well as the surrounding region, is to take a wine tour, where you can visit several vineyards, taste many varietals, and learn about the local culture at the same time.
Cognac is a well-known brandy made from white wine in the city of Cognac, about 60 miles north of Bordeaux. Cognac is currently so widely produced that some brands are quite affordable. Armagnac comes from the Gascony region and is the oldest brandy distilled in France. Though both are brandies, they are made by different methods. Some say Armagnac has a more complex flavor, due to longer distillation. It also has a lower alcohol content than Cognac.
Join me for the next stop on our journey to Burgundy and the French Alps!
Related Posts
Five Foods You Must Try in France
French Market Culture: Buying Fresh in France
7 French Specialties You've Never Heard Of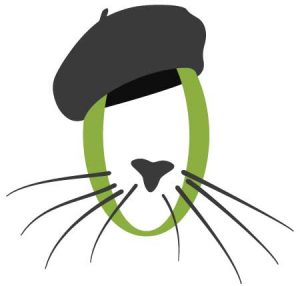 Note: Featured image shows stuffed tomatoes from Provence